In parallel with the week-long Egyptian-French forum 'Making the Sustainable City', bringing together a host of local and international actors to discuss solutions to the challenges faced by Egypt's cities, a photo exhibition exploring the life of Cairo's rooftops is also being held.
The aim of the exhibition is to shed light on the rooftops of Cairo where Egyptians can not only find more affordable housing but also engage in various forms of social and economic practices that often fail to capture the view of the general public.
Speaking to Egyptian Streets, Clémence Curty, affiliated with the French research institute CEDEJ and one of those behind the exhibition, said that the idea of the project was to show the diverse urban practices of the city and to make visible segments of the population that are often hidden from the casual observer.
"The idea was to show people who are 'hiding' on roofs, what they are doing. The idea was to make visible people you don't see every day […] and to show the diversity of [the city's] activities," Curty said.
She points out that the project, which she carried out together with PhD student Marie Piessat, was also initially driven by a curiosity about what was going on on top of buildings across Cairo.
"We knew that there were people living on roofs, we saw satellite dishes and things like that, and we wanted to explore more, maybe there [would be] some surprise up there. That was the first idea, to climb up and see what was going on there," she says.
The exhibition's around 30 photographs portray the daily lives of people living and working on rooftops in mostly working-class and informal areas of the city.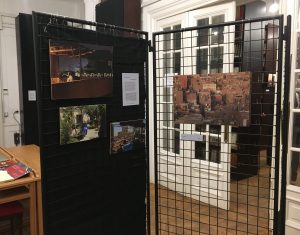 One set of photos shows a bar on a rooftop near Mohammed Naguib square. "A lot of other bars refused to let us take pictures because of the consumption of alcohol […] but the man in the front of this photo was like 'no problem, go ahead'," Curty explains, letting out a laugh.
Another set displays a rooftop garden that had been built on top of a mosque. "A company was building small farms on rooftops and the manager of the mosque heard about the project because it was happening on another roof in the neighborhood […] so they [started growing things such as] basil and coriander through a very specific technique that doesn't need too much water and that's not too heavy for the roof," she continues, adding, "this story is a really positive one, it gives hope of what can be done in Cairo."
Each set of photographs is accompanied by a written description of the story behind them. Between each story are also wide-view panoramas of the city, giving the exhibition-goer a nice combination of an up-close and far-away view of these often unseen places of Cairo's diverse cityscape.
The exhibition is open until Wednesday, November 29.
---
Subscribe to our newsletter
---