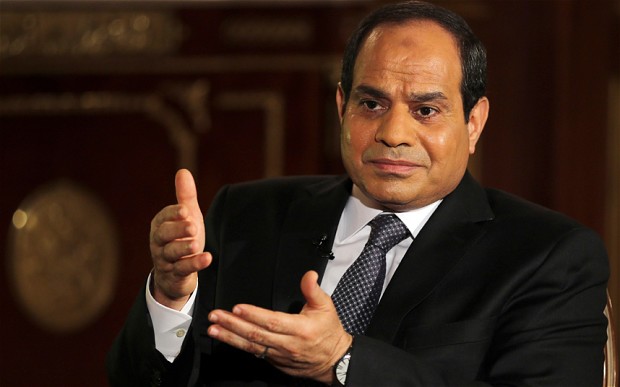 In a thinly veiled threat to critics and opponents, Egypt's President Abdel Fattah al-Sisi warned on Wednesday of any attempts to destabilize the country and boycotting the elections.
Al-Sisi's speech came one day after several figures from the opposition, including former presidential candidate Hamdeen Sabahy, called on Egyptian people to boycott the coming elections they described as a "farce".
Al-Sisi, both president and presidential hopeful, said, "By the way, it's not appropriate for anyone to think that they can disrupt the security of Egypt while we [Sisi and the military] are here. I would rather die first before anyone disrupts its [Egypt's] security."
The president pledged that he will not allow anyone to threaten the 100 million Egyptians and that would require getting rid of him first.
"What happened seven or eight years ago, will never happen again in Egypt," al-Sisi said in reference to the 25 January 2011 revolution, "What failed at the time, will not succeed now. No, it seems you don't know me well enough."
Al-Sisi, while intensely gazing at the Defense Minister Sedky Sobhy who was sitting on his left, said that his life and the Armed Forces life are the cost for the security and stability of Egypt. He further added that he is not a politician "who just talks".
The president further said that he could call on Egyptian people to take to streets, again, to give him a mandate in the face of "evil people". In 2013, al-Sisi demanded a similar popular mandate of Egyptian people, whereby he took severe measures against the Muslim Brotherhood group including the Rabaa sit-in dispersal that was described by several international rights organizations as a "massacre".
"I haven't yet asked Egyptian people to give me another 'mandate' in order not to torment them, but there will be other measures against anyone who thinks of disrupting Egypt's security," al-Sisi concluded.
A few days ahead of al-Sisi's speech, opposition figures in Egypt called on boycotting the elections after the arrest of the ex-military chief of staff Sami Anan. They further accused the regime of orchestrating the elections to be in favour of presidential hopeful al-Sisi.
To watch the full speech:
https://www.youtube.com/watch?v=oQ0XzQ24z08&feature=share