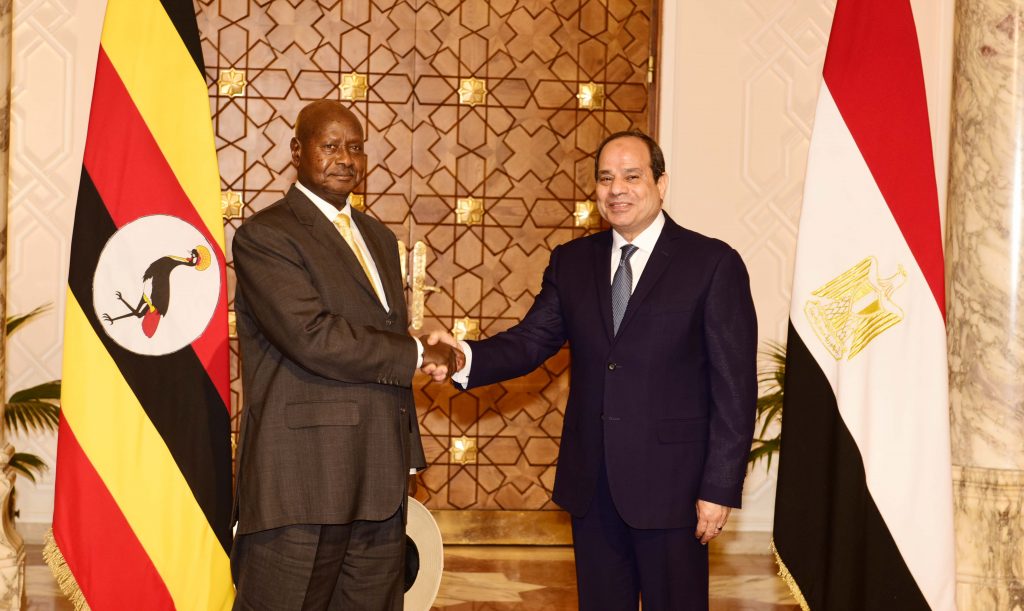 President of Uganda Museveni head out to Cairo on Tuesday for a much anticipated two-day visit.
During a joint press conference, President Abdel Fattah el Sisi revealed that they discussed bilateral relations, trade, combating terrorism, the South Sudan peace process, and more prominently, the stalemate on the River Nile water-sharing laws between the Nile Basin countries.
These talks have been prompted by the recent technical talks that took place last week among irrigation ministers in Addis Ababa, Ethiopia, which ended in deadlock as reported by Hossam el-Emam, a spokesman for Egypt's Irrigation Ministry.
The stalemate in the water management plan is not new for the Nile Basin countries. However, the future of these treaties and laws is unclear seeing that Ethiopia's new prime minister, Abiy Ahmed, was sworn in a month ago.
Egypt is mostly concerned with the Grand Ethiopian Renaissance Dam (GERD) that is currently being built as the Nile disputes take place although Ahmed have reiterated that the dam will not impact the other countries. Further disputes between the three countries are due to the duration of the start of the operation of the dam, with Egypt pushing it to be a period between 7 and 10 years with Ethiopia pushing to three. According to Egypt Today, the Central Agency for Public Mobilization and Statistics (CAPMAS) reported that Egypt's average water-per capita is expected to drop from 663 cubic meters per year to 583 by 2025.
Sudan's stance has generally been supportive of Egypt's although lately it has been oscillating in light of their current turbulent political state, and the newly revived border disputes.
The legal framework that governs the use of the River Nile waters has long proven to be ineffective and unclear. Countries have been searching for a new legal regime that satisfies all parties.
The Nile Basin Initiative (NBI), an intergovernmental partnership of 10 Nile Basin countries, proposed in 2010, a Cooperative Framework Agreement (also known as Entebbe agreement) that "seeks to develop the river in a cooperative manner, share substantial socioeconomic benefits, and promote regional peace and security". It seeks to replace a treaty signed during the colonial era between Egypt and Britain in 1929.
As reported by AFRIK-NEWS, representatives of upstream countries said they were "tired of first getting permission from Egypt before using river Nile water for any development project like irrigation". However, several countries, including Egypt, Sudan and Uganda are dragging feet to ratify the new agreement that would reduce Egypt's share of the annual flow. Negotiations have stalled over Cairo's refusal to approve a new Nile water share plan which could possibly reduce its water quota, a real concern when considering Egypt's surging population.
---
Subscribe to our newsletter
---