Coinciding with the 49th anniversary of the first moon landing and the longest lunar eclipse in the 21st century, Egyptian Adventurer and entrepreneur Omar Samra joined a group of international analogue astronauts to take part in a unique lunar analogue mission (Lunares 3) in Pila, Poland
The crew spent 15 days in total isolation, carrying out numerous experiments and research to provide insights into the spectrum of human traits essential for future lunar settlement; as well as to further the advancement of space exploration and science.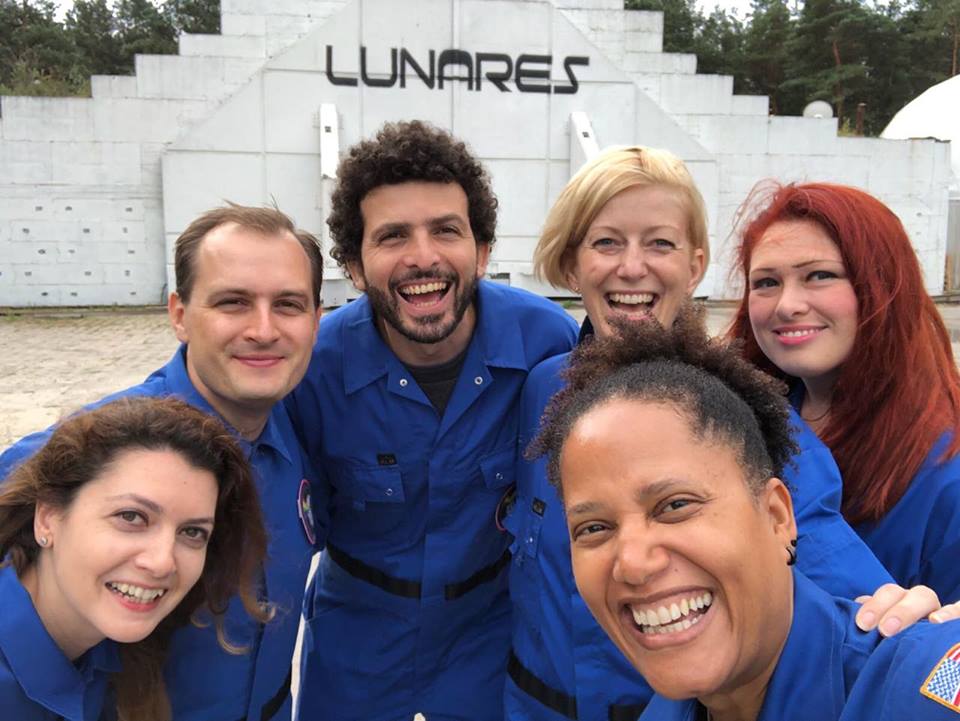 Throughout the mission, they carried out 40 research projects covering a wide array of fields including crew psychology, physiological performance, robotics, hydroponics, bioengineering, and creative performance.
 "I feel privileged to have been selected among this group of talented scientists, engineers, artists and aspiring astronauts; and to represent Egypt in humanity's quest to improve how we survive and thrive during future long duration space missions," said Omar Samra, whose title was Vice-Commander.
One of the most notable research projects of the mission used Virtual Reality (VR) technology inside the habitat, to train crew in operating hazardous equipment during space walks. The crew then stepped onto the moon landscape to perform the learned tasks in real-time, which allowed them to analyze things like time perception, physical and cerebral memory. Operational scenarios using VR are already being developed, and will allow future astronauts to work safer in outer space.
The team also conducted various tests to analyze shifts in microbial population of the habitat and the crew, in order to understand existing challenges and optimize for a healthier environment. The research lays the foundation for a broader body of work that aims to suggest best practices for future space missions.
Possibly the most unique work of the mission is its collaboration with Monash University in Australia. The crew used sophisticated equipment to map their nearby lunar crater. These comprehensive data sets were then sent to Earth and transformed into a 360 degrees visual presentation so that the team in Australia could see and feel what the crew was experiencing in their lunar environment. This allowed a professional choreographer to perform and record in this virtual environment. This technology will open up new pathways and possibilities of communication and understanding between earth and moon settlements both in the sciences and arts.
Mission commander, Dr. Sarah Jane Pell highlighted that "The team exemplifies the next generation of space colonists: we are curious, brave, capable trans-disciplinary, hackers, artists, global explorers and imagineers."
Some of Omar's responsibilities during the mission included growing Egyptian arugula and red radish micro-greens in the habitat's BioLab. He was responsible for the crew's physical performance research, which aimed at understanding how astronauts can work and live better in space.
This entailed an overall physical fitness and dietary plan; organizing a series of workouts to ensure the crew stayed healthy and active throughout the mission given the limitations of space in the habitat and the often sedentary nature of research work. He also curated a lunar Olympics and cultural even to bring the crew closer together.
---
Subscribe to our newsletter
---