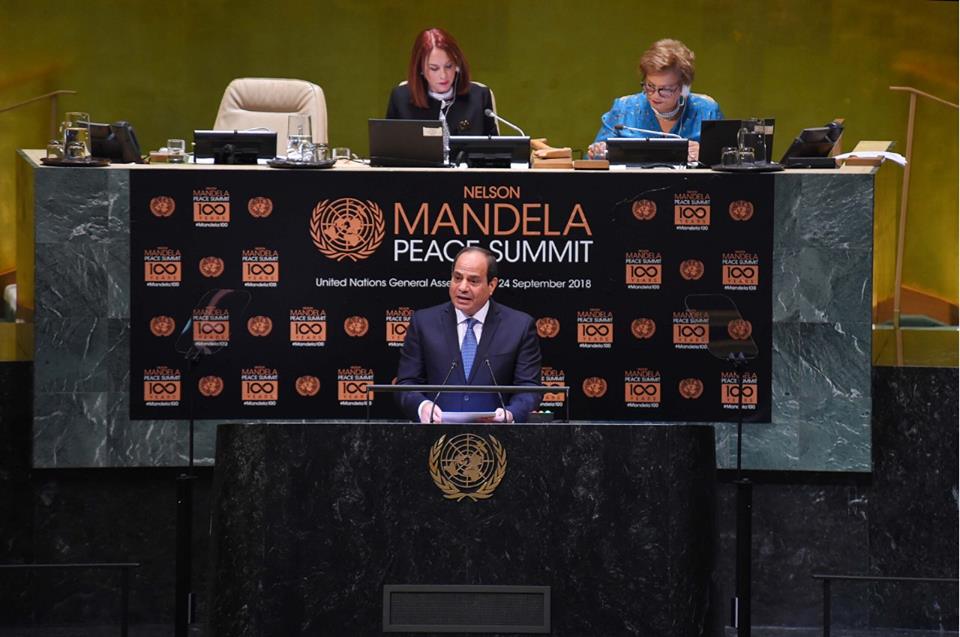 In his speech at the Nelson Mandela Peace Summit of the 73rd United Nations General Assembly, President Abdel Fattah al-Sisi stressed on the need for cooperation, empowering people, improving health care, fixing an ailing international cooperation and rendering the world better and more peaceful.
His speech was delivered on Monday at New York during his official visit where he also met with US President Trump. The latter commended the Egyptian president on his efforts to combat terrorism and stated that the "relationship [between the two countries] has never been stronger".
It was my great honor to welcome President @AlsisiOfficial of Egypt to the United States this afternoon, in New York City. Great meetings! #UNGA pic.twitter.com/dsMZWodpWr

— Donald J. Trump (@realDonaldTrump) September 24, 2018
"We all have to show solidarity and sincere cooperation to defeat terrorism and fight extremism, racism, discrimination and sectarianism," Sisi said during his UN speech before adding "Let us move together and forward to achieve the goals of this historic summit. Let us recall the values and ideals adopted by Nelson Mandela throughout the stages of his struggle, and make our common goal the empowerment of our people for a better future in a more peaceful and stable world."
"Our meeting today is an occasion to confront ourselves with what the international system needs to develop in order to preserve those noble values and goals. Our African continent, to which Nelson Mandela is still a symbol, faces challenges that are fundamentally: the need for all our children to receive education that qualifies them for the future, the suffering of our youth from unemployment and advocates of terrorism and extremism who target their minds…the scarcity of water and food, desertification and the weakness of health care," Sisi explained while mentioning the difficult decisions the continent would have to make in order to progress.
The Egyptian president also spoke protecting youth from extremist ideologies and the specific challenges that plague Africa.
During this visit, President Al-Sisi also met up with IMF Managing Director Christine Lagarde who expressed that Egypt's economy was showing "strong signs of recovery".
---
Subscribe to our newsletter
---