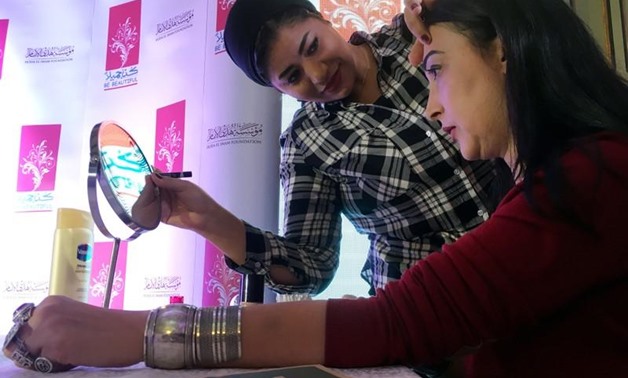 In light of October recognized breast cancer awareness month, Cairo Marriot Hotel hosted a one-of-a-kind makeup workshop on 10 November called "Be Beautiful" for female cancer patients to help them feel beautiful during their chemotherapy.
"Be Beautiful" is a program that is based in Lebanon and United Arab Emirates founded by cardiologist Dina Omar. The program consists of workshops that offer women makeup tips and nutritional advice as well as mental health support groups. This month it will be introduced to at least seven hospitals in Cairo and hope to expand to five governorates within the year. Omar hopes to cater towards at least 5,000 Egyptian women in the first year.
Hanadi el-Imam, founder of Hoda el-Imam Foundation, is responsible for organizing the workshops in Egypt along with Omar. She believes that if the patients feel good about themselves and feed their body the right nutritions, it will have s positive impact of their mental health and this ultimately "strengthens their immune system."
Merhan Khalil was diagnosed with multiple myeloma, a blood plasma cancer. She got a bone marrow transplant and started chemotherapy in 2012. One of the most common side effects of chemotherapy is hair loss. When her hair started to fall out in the shower, she participated in the workshop because "It helps a lot mentally … to feel beautiful and to feel that the medicine didn't change us," Khalil told Reuters.
After feeling like her hair was burnt as a result of chemotherapy, breast cancer patient Faten Fawzi went to the hairdresser to shave all her hair off. "I was devastated and started crying," she shared.
At the workshop, she was learned how to treat her dry skin and fill her eyebrows in."But after that I put on a chic wig that looked like my hair and you couldn't tell at all that I had cancer." Although she does not wear her wig often, Fawzi is very particular about her makeup and eyebrow routine because it makes her feel good about herself.
It is evident that patients of chemotherapy want to hide their treatment-induced imperfections because it makes them feel insecure and reminds them of their illness. Others have also expressed their discomfort when society expressed pity.
"I didn't want to look sick," Ghada Salah, a breast cancer patient said. "I didn't want people to think 'poor her, she has cancer.'" To conceal the effects of chemotherapy, she often wore wigs and hats.
The number of cancer patients in Egypt has been increasing the last few years. Egypt today reported that in 2017, the National Cancer Control Plan forecasted that the rate of cancer in Egypt will triple by 2050.
According to the National Cancer Control Plan, the current rate of cancer is 113 in every 100,000 people. However it is expected to increase to 341 in every 100,000 people.
World Health Organization (WHO) stated that cancer kills 1 in 6 people worldwide where around 70 percent of deaths occur in low- and middle-income countries.
---
Subscribe to our newsletter
---