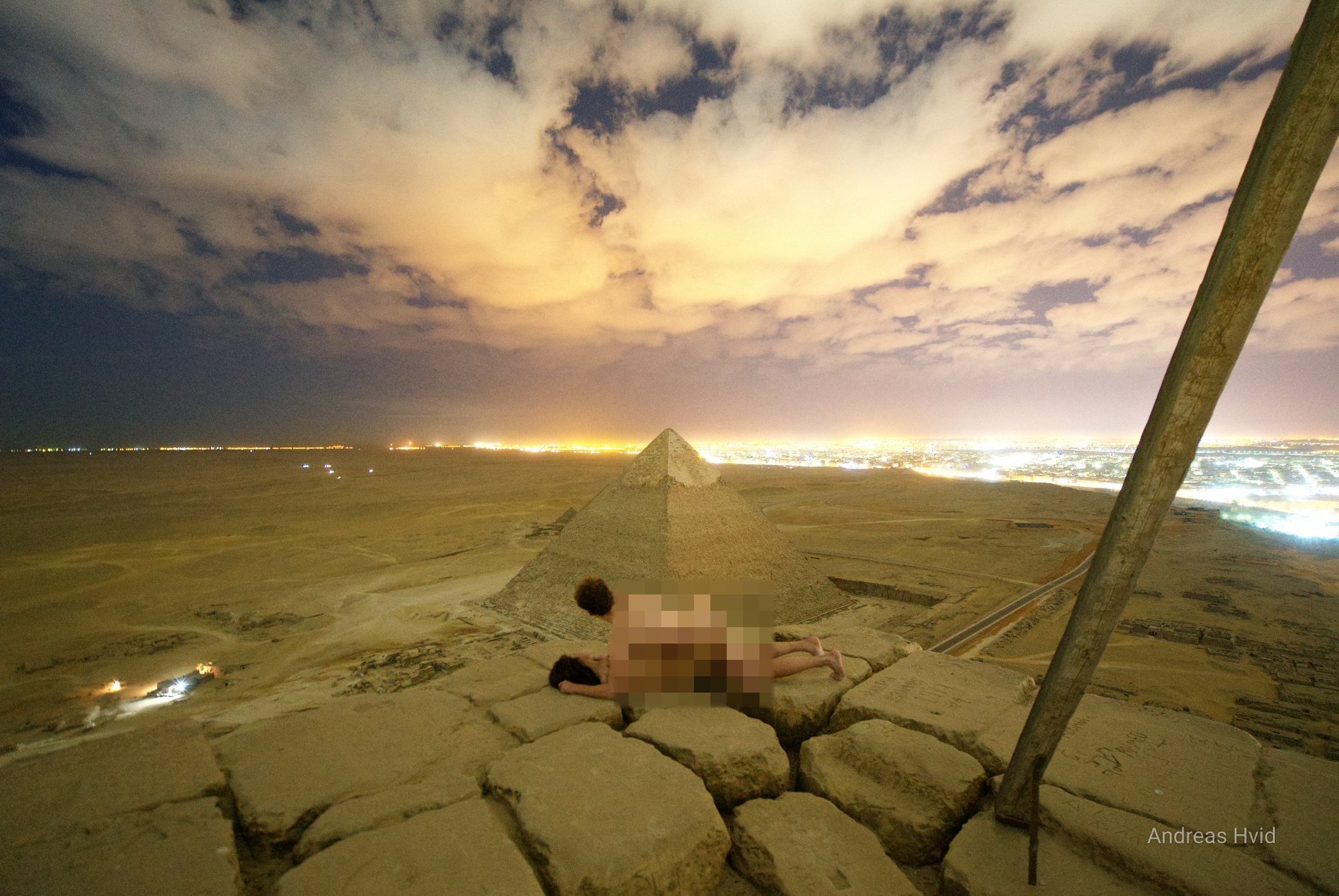 A Danish tourist couple who recently visited Egypt engaged in sexual intercourse on top of one of the seven wonders of the world, the pyramid of Khufu in Giza, and shared the picture on social media. The incident incited a great deal of outrage on social media platforms.
The couple released a three-minute video on Youtube where they documented their climb. The video ends with a pan of Cairo's skyline at night and a shot of the woman taking off her shirt. A photo of them during the intercourse taken by the man's camera that he shared on social media, circulated the internet angering many Egyptians and foreigners. This rage lead to an investigation.
The Minister of Antiquities, Khaled Anani, described the incident as a "violation of public morality", stressing that the incident and the video will be investigated by the prosecutor.
It is important to note that climbing the pyramids is illegal in Egypt, which leads many critics to say that the incident shows disrespect for the laws of the country, its history and its conservative society.
Ashraf Mohei, Director General of the Pyramids of Giza, said in an interview with Al Ahram Online that the video that is being circulated on social media sites is fake. He added that there are intensive security procedures in this area, noting that the surrounding area appears well lit in the video.
The video was posted on YouTube on 5 December, by Danish photographer Andreas Hvid, who often publishes images on social media sites from various high places around the world with a naked subject.
In an interview with Denmark's Extra-Pladit newspaper, Hvid said he had dreamt of climbing the Great Pyramid for many years, adding that "he has been contemplating the idea of ​​taking a nude picture."
Upon sharing the picture on social media, Hvid received mix responses. "I'm sad because a lot of people are very angry, but I've also received positive responses from many Egyptians, which I think deserves to be mention," he said.
Hvid explained that he had tried to climb the pyramid with a different friend earlier, but they were arrested by the guards, and they were inquired at local police station.
But recently, he contacted one of his friends in Denmark, whom she accepted to climb with, and came to Egypt at the end of November. Since then, Hvid has traveled to Asia, stressing that he will remain outside Egypt in the future.
Mohie confirmed that the investigation would include finding answers to the way the couple bypassed the security zone to climb the pyramids, adding that there is a high fence of 18 kilometers around the pyramids, as well as the presence of tight security in the region.
---
Subscribe to our newsletter
---