From diving and breathtaking coral reefs of the Red Sea to the dunes of the Great Sand Sea, Egypt is an undiscovered destination for adventurous foreign travelers. Events occurring in the Middle East don't give the country the best reputation. Egypt is still considered dangerous outside of the tourist zones of Sharm-el-Sheikh and Hurghada.
Constant news about Egyptian politics, Egypt's unstable economic situation, and gender inequality has stereotyped Egypt as an unsafe place to be. Though the country is still recovering since the 2011 revolution, Egypt is full of amazing places, hospitable people and 7000 years of culture.
I happened to be in Egypt absolutely by accident; visiting a friend for a week in Dahab. Sinai fascinated me with its incredible nature and some kind of unexplained energy. Its international chaos, easy-going atmosphere and crazy mix of people made me stay. Dahab became my base-camp in the Middle East.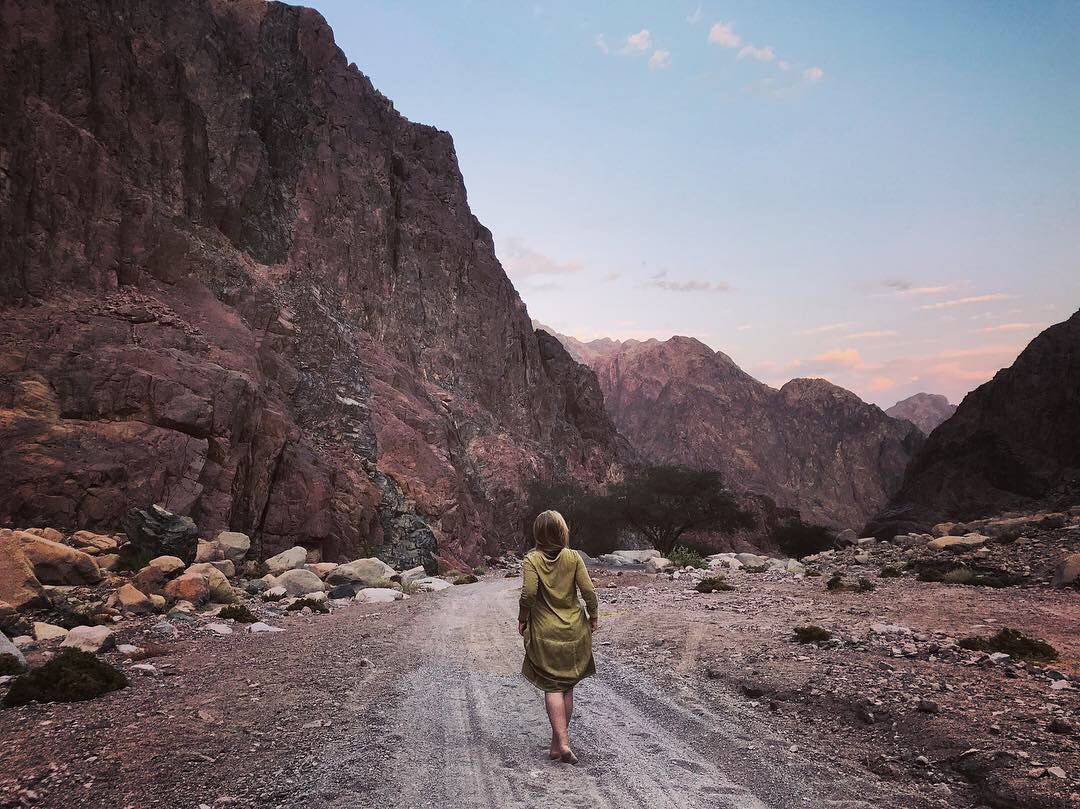 Based on my research and conversations with locals, the country intrigued me. I decided to get out of Sinai's tourist zone to meet another side of Egypt.
How does Egypt greet me? What are the real stories and people behind all the news and noise of the media?
From exploring different places, meeting new people and breaking stereotypes, you can see that Egypt is diverse. After nomading for about 10 days around the country, from Dahab to the Western Desert and Siwa Oasis, I discovered fascinating stories about people. These people created another view of Egypt in the constant chaos and instability of the developing country.
DAHAB: FREE-DIVING AS AN ART
You can find all of the extreme water sports activities in this international village; including diving, free-diving and kiting. Dahab is not only about sport, it is about lifestyle, culture and even art.
I met Mleegy in his coffee-shop near the sea. He is an architect and barista. In love with coffee and the sea, Mleegy free-dives.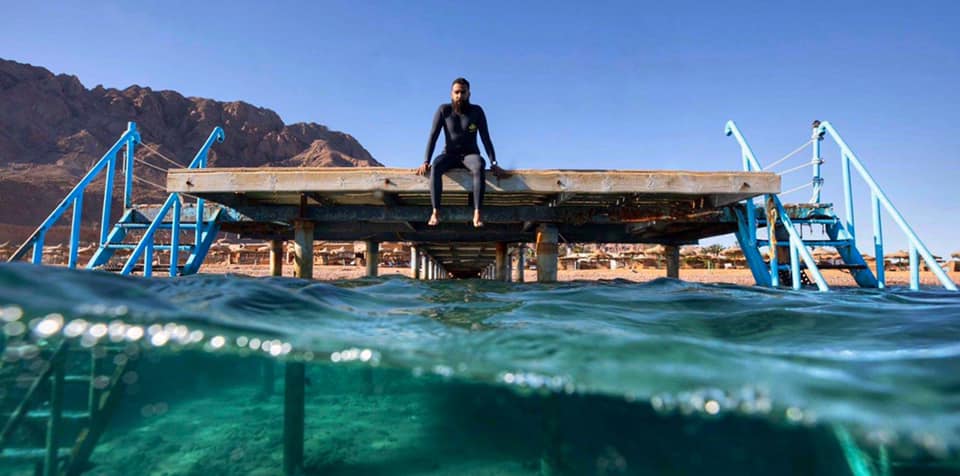 Free-diving is a hype. The concept is simple: you take one breath, then dive as deep as you can without equipment or air tanks, and then come back up again. You can see people from all over the world coming to Dahab, the Mecca of Free Diving. It's main attraction is the Blue Hole with a total depth of about 100 meters for free-divers.
"They say you scuba-dive to see around and you free-dive to see inside," Mleegy responded when I asked "Why not usual diving?". He told me, "It's not about what you see underwater, it's about how you feel. You live in the moment, you are happy. This state of mind could only be achieved by meditation and self-control. What burns more oxygen is your brain, so the main thing in free-diving is to actually to control your mind. Sometimes it's really difficult, but once you succeed, you can feel that it's a way into yourself. You will want to come back again and again."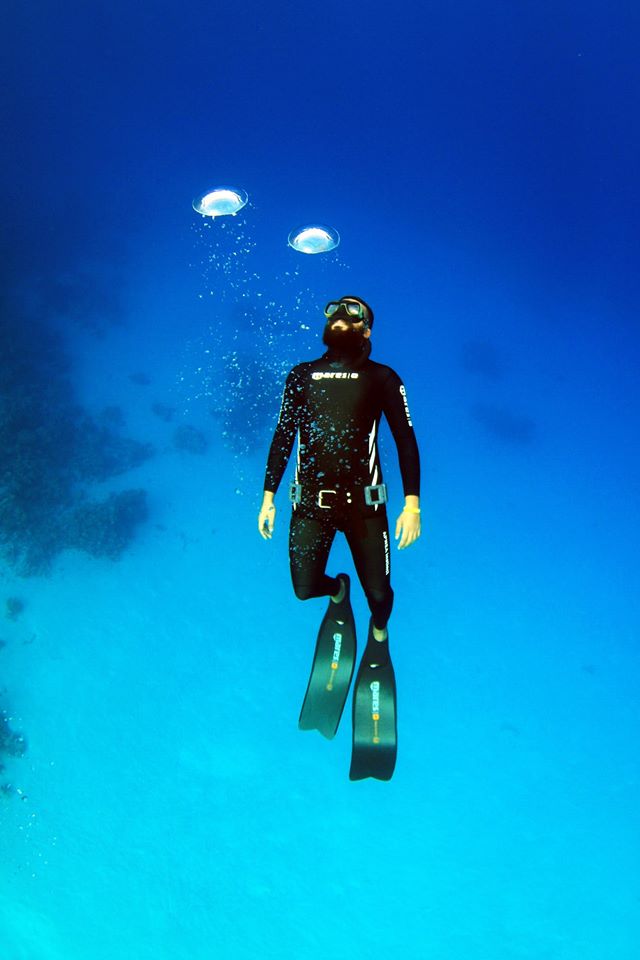 Free-diving is an art accessible to everyone. Mleegy's latest project involves capturing the free divers who never graduated and who don't know about consciousness and meditation; Bedouin kids. The project is led by Dutch traveler and free-diver, Huub Waaldijk.
"Bedouins are the poorest people in Egypt, even though they work hard from an early age. Looking at these kids, you can see something wild and supernatural. The only joy the Bedouin kids have is the sea, you can see them jumping from boats with their only toys: car ties. They free-dive," Mleegy shares.
"Once a friend of mine took a photo of a Bedouin kid playing in the sea. The photo resonated with people and we decided to make an exhibition and photo-book. We wanted to show people the happiness and joy, the magic of the moment and the freedom. We wanted to show that free-diving is not about competing in how many meters you can dive or how long you've been underwater, but about enjoying every moment of life, like these kids do."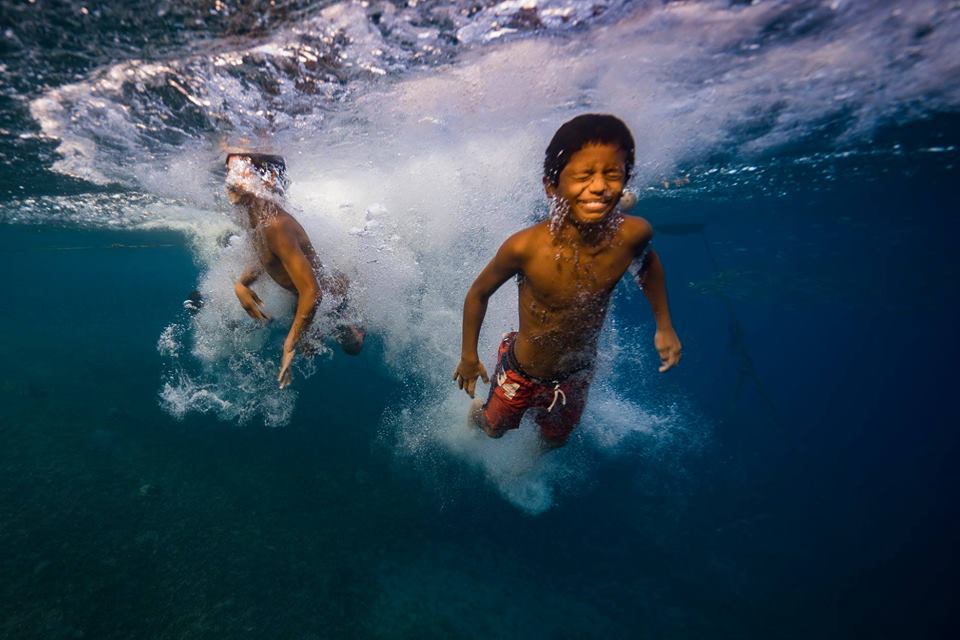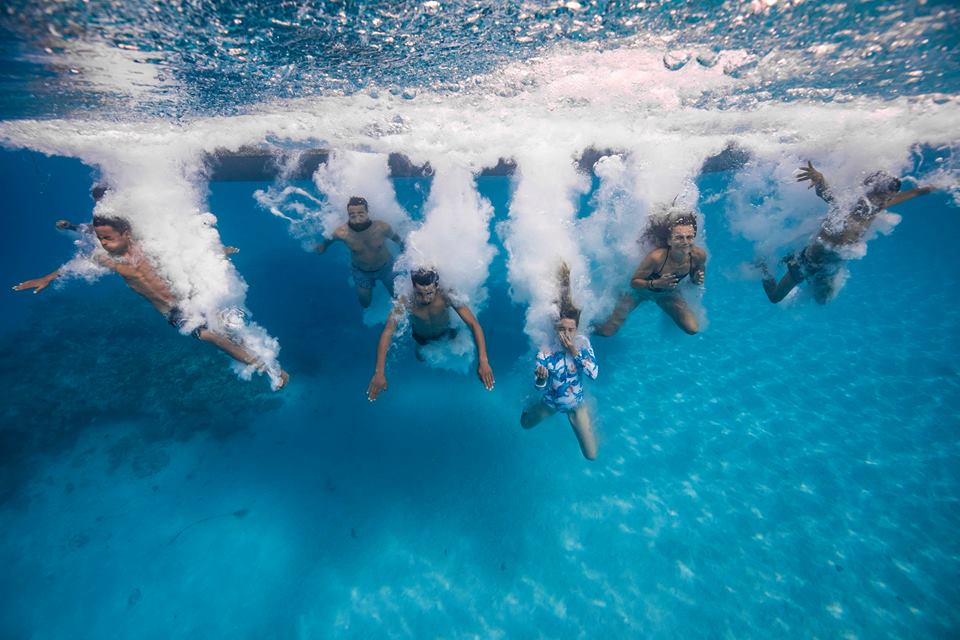 CAIRO: SHAPING THE FUTURE OF EGYPT WITH CREATIVITY
Cairo is one of the largest cities in the Middle East – chaotic and overpopulated with over 30% of the population living below the poverty line. It is the main center of Egyptian business, political and social life, impressive with its energy and dynamism.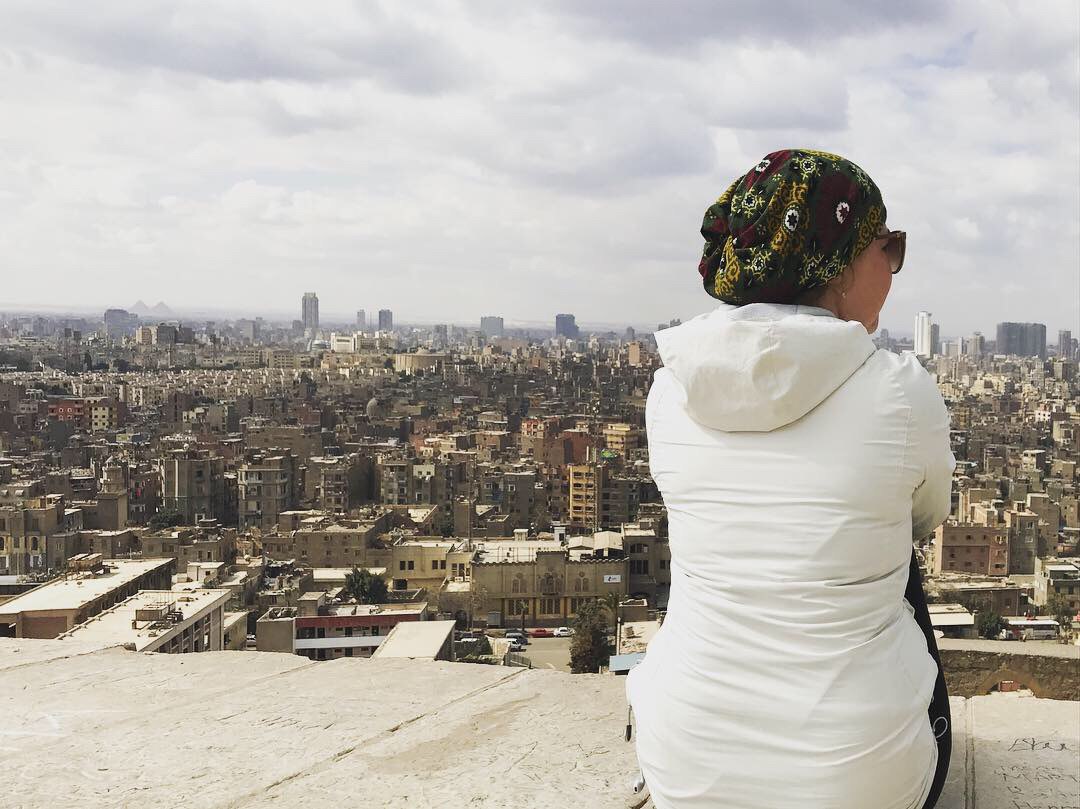 Nada, my Airbnb host, was the first person who introduced me to Cairo. As energetic and charismatic as the city itself, she seemed like an extraordinary person. We ended up walking and talking in the streets of Zamalek.
Nada is a founder of a non-profit organization called Thoth Egypt, where she teaches children how to perform and how to be a part of society through creativity.
"We are getting involved in small steps toward sustainable development motivated by one thing and one thing only, that civic engagement leads people to the power to want. Practicing civic engagement builds up its value, so that we end up empowered and ready to lead others".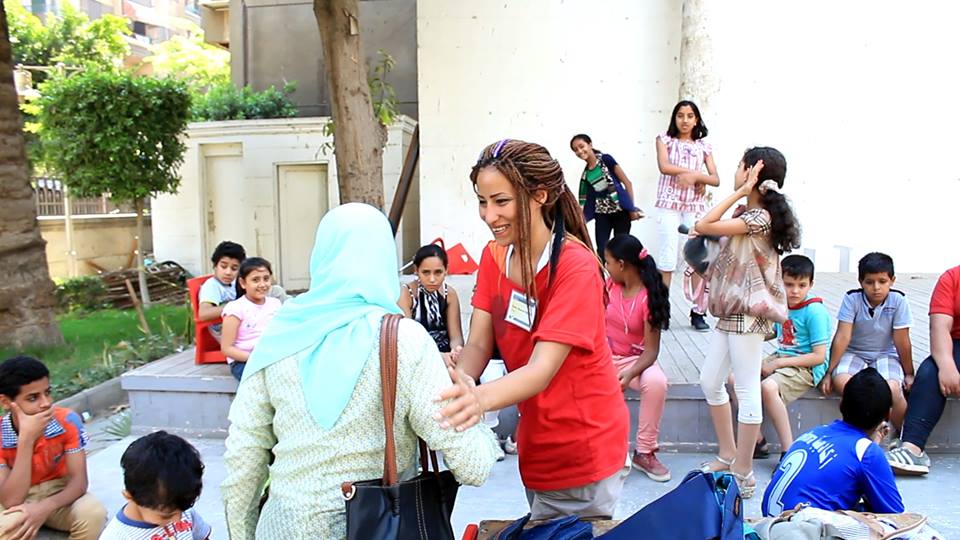 Nada started her activities 5 years ago and is now working to grow this leadership organization. "It took one action of creativity and the thought became a performance and it grew to some performances. I felt it happening in very slow motion, followed by passion and drive and by 2015 that thought became an official civil society organization."
Nada also launched a new project connected to Egypt's Sustainable Development Goals, namely Thamarah meaning 'what you can eat out of every tree'.
"Cairo is overpopulated, dusty and consumes huge amounts of perishable food. Poor families from metropolitan areas come to serve in Cairo as doormen. They guard densely populated buildings of Cairo, where people do not separate solid waste and it creates tonnes of rubbish. The rubbish is a huge problem in Cairo and Egypt."
Nada and her team started to empower doormens' families to organize the solid waste from the buildings. She also taught them to grow green vegetables and herbs that can create sustainable income for these families.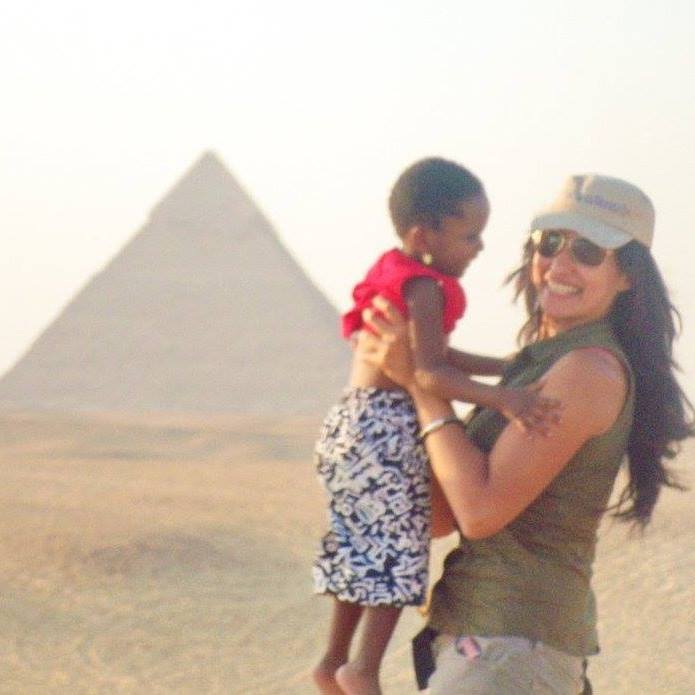 "It's not the easiest time for Egypt, but I believe in the Power of Want. This power comes from the individual. It means to live active and empowered; to fix what was ruined politically and socially for many years," Nada said.
"The thought was sparkling enough for me to survive the obstacles, risk of acceptance and accessibility through the confused transitional period in Egypt after the revolution."
WESTERN DESERT: OPENING SIWA TO THE WORLD
Eight hours from Alexandria through the desert and you are in the most distant oasis in the Egypt. Mysterious Siwa. When I saw the picture on the Internet, I felt this was a place I needed to visit. The oasis becomes the main destination.
Closed for centuries from the rest of the world, the oasis was a sacred place for ancient civilizations like Egyptians, Greeks and Persians. They believe an Oracle lives here and that it can still predict the future.
Alexander the Great and Cleopatra visited Siwa to know their fate and to make important decisions. The place is full of legends and myths not properly explored by archaeologists. Date fruits and olive plantations, ancient temples, hot springs, mineral salt, serenity and limitlessness of the Western Desert, unique language, culture and traditions – that's how I can describe this island in the desert.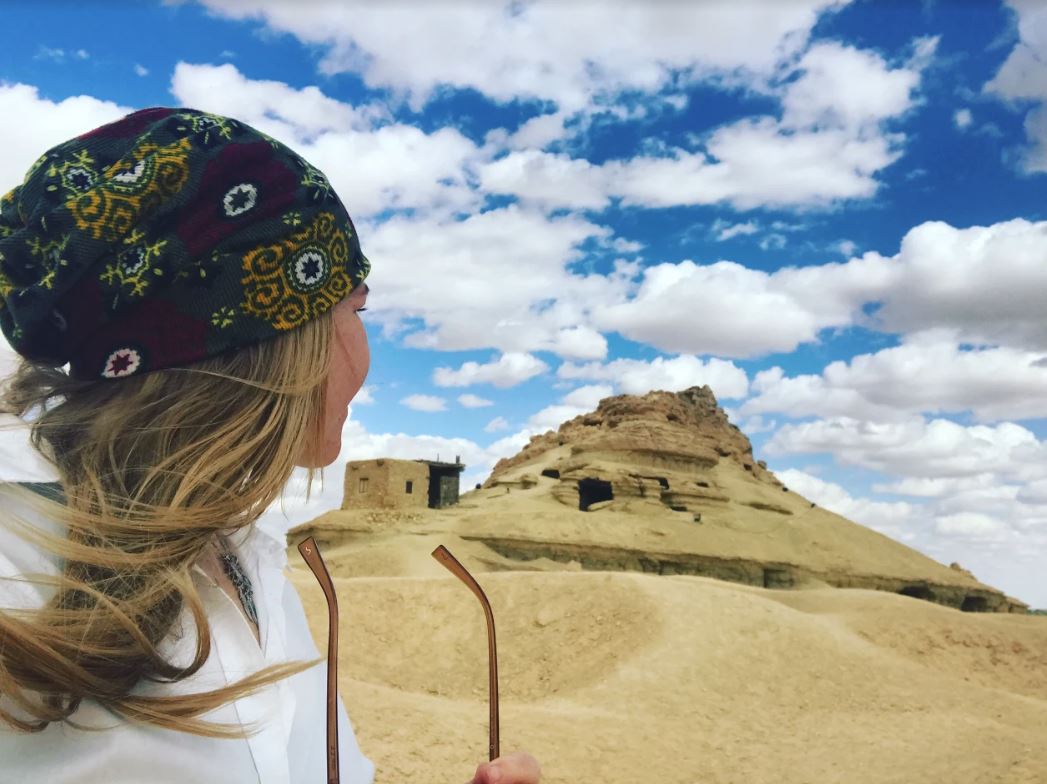 I was lucky to be introduced to Aly, who became my guide through the treasures of the oasis. "I am Siwan, it's different from Egyptian," the son of the Sheikh says proudly. His family once ruled Siwa and until now Aly preserves the traditions of his family.
"Siwa is a community closed from the rest of the world. I was born very curious and the curiosity took me to where I am. I talked to foreigners coming to Siwa and became interested in the Big Land, the differences in culture and religion, languages and traditions. I decided to go out and to meet people outside."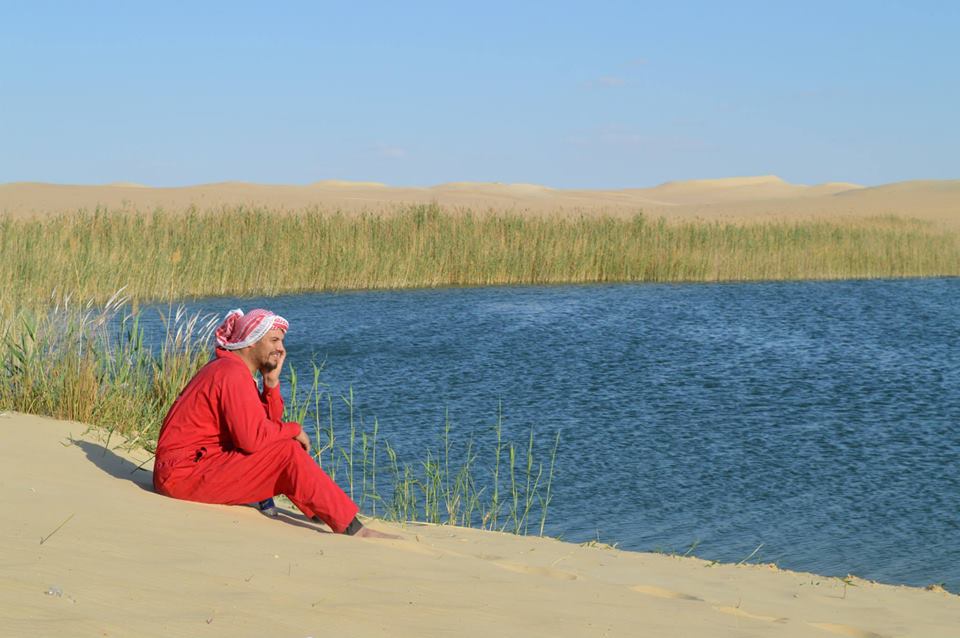 Aly spent several years in Europe, traveling and working in England and Greece. "I never had an idea to move from Siwa or from Egypt. I always knew this is the place I belong to. I consider the time abroad as getting an education, studying from people with different mentality."
Aly is now back to the oasis where he found his purpose in gardening palm trees and doing his best to change old Siwan mindsets and the community.
"Times are changing and people are changing, but in Siwa people's mindsets have remained the same. Attitude to women, to health and especially attitude to the nature are still lacking in knowledge and education to be in line with the rest of the world."
In love with people and nature, Aly often shows oasis to international guests, he was also one of the founders of the association to save Siwa's heritage.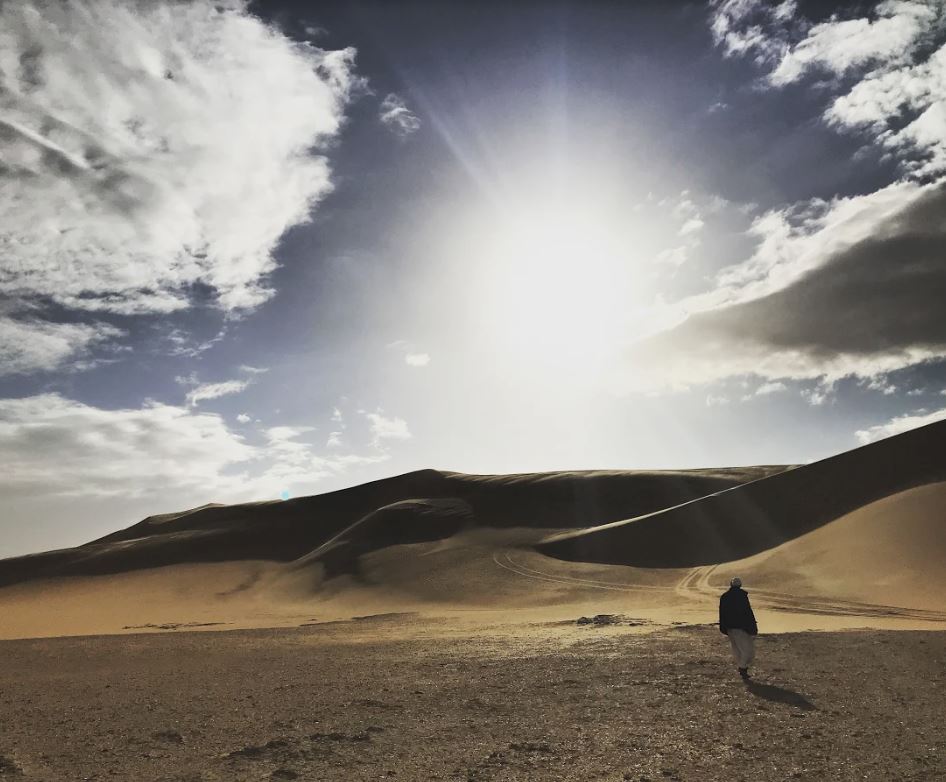 "The main challenge is the absence of long-term thinking and desire for change. For example, we established a project to make Siwa free from rubbish. We taught about 120 people, gave them tools and uniform and they cleaned Siwa everyday. Isn't it great? But where should we put this rubbish?
The government just put it in special places 20 km from Siwa and during the wind storms all this plastic flew to the desert. By cleaning our houses and village we polluted the environment and destroyed the purity of the desert. We need to find investors and teach people recycling for our next step."
Aly believes that if more foreign educated and adventurous people came to discover the oasis, Siwa could become a better place and a center of ecotourism. "Yes, it's for adventurous people, because we are really far from civilization, the road is not perfect, and there is no airport". But, once you go there, you will be rewarded."
Siwa is one of the most rare places in the Universe. You need to take your time, not to rush, to experience the environment and wild nature, and to give yourself a chance to feel the energy. Then you will definitely remember Siwa forever.
EGYPT: THE PLACE I BELONG
"Yuridia. It's a very beautiful name. Is it Colombian?" I asked. "It's a funny story. I got it from the Soviet spaceman Yuriy Gagarin, my parents really liked this guy."
It was one of the most unusual things you could hear in the middle of the Western Desert. I watched this Dutch-Colombian girl with interest and admiration.
Half Colombian and half Dutch, Yuridia came to Siwa several years ago while traveling around Egypt with her mother. They decided to stay and established an English school for children.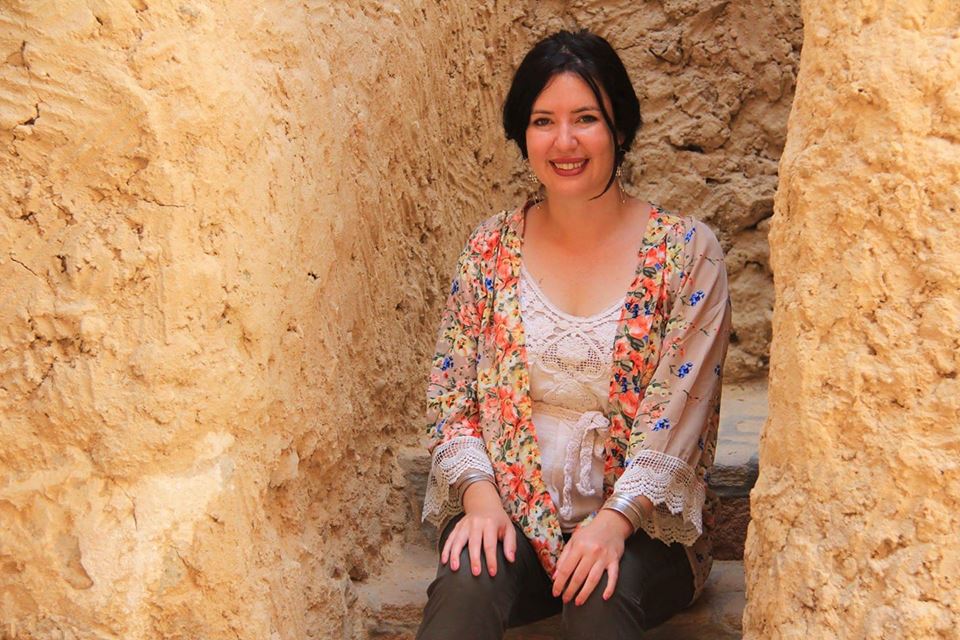 "I am a big advocate for education and I have to say, in the big cities education is very acceptable. But in rural areas like Siwa, education is still a very big problem that is an absolute priority to address. In the end, a good future starts with good education. I have the feeling now that the majority of youngsters are growing up in a broken Egypt."
Siwa is a closed traditional community. You can mainly see men at the streets, women don't go out and don't work outside. It can be really challenging for a white-skinned, beautiful girl to communicate with the locals.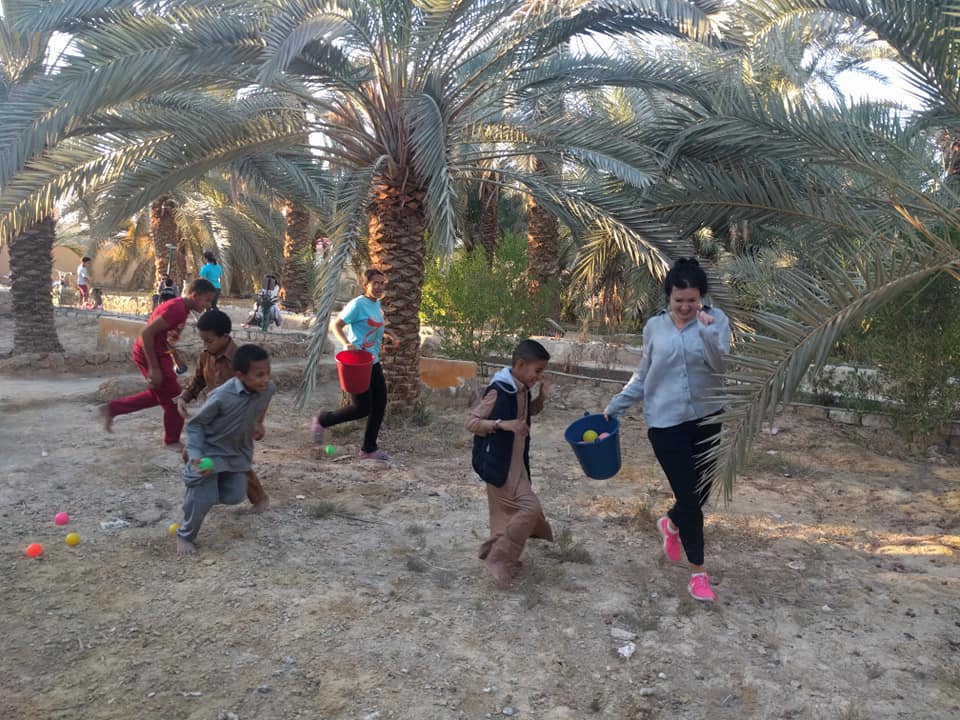 "I guess my biggest challenge was for people to take me seriously. Siwa is one of the most closed societies in Egypt and very strict when it comes to traditional role division of men and women. For locals it was very strange to see a young woman like me working with different people from the society. They didn't take me seriously and even tried to meet me for other things. But it just takes time, seriousness and a lot of persistence to show the people what you really want to do and to break the traditional role patterns."
Watching this brave girl far away from civilization, trying to change a place in the middle of nowhere, I asked the question which I often ask myself, "Why?".
Yuridia smiled, "I don't have a rational reason why, I think this is a feeling. I love Siwa and Egypt without really being able to explain why. It's like when you are in love. I have always had an inexplicable interest for the Arabic culture, language and history. Egypt for me was a beautiful example of where this comes together. In the years I have been here, I have to say that I stumbled upon many difficulties, but there is this feeling in the air that soothes all of your worries.
"My Egypt has a simplicity in its daily rhythm that is soothing for the soul. Everything is possible here and if you can't do something today, it's no problem. No worries, never worries, tomorrow is another day."
So far, Egypt greeted me with the dust and noise of Cairo, tonnes of plastics and eco-disaster in Dahab, traditional gender roles and hundreds of military checkpoints on the way.
Egypt welcomed me with warm-hearted people, mysterious temples, an energetic atmosphere, limitless desert, 7000 years of history and incredibly wild places where you feel like Indiana Jones discovering a new world. This world is chaotic and unstable, but something new is starting to be formed from the chaos. I believe it. It just takes time.
Edited by Richel Hodder