A series of demonstrations that started late December 2018 for four months toppled not only President Bashir who has been in power for 30 years, but also his vice president and minister of defense Awad Mohamed Ahmed Ibn Auf, who seized the former president's power in a military coup on Thursday.
Upon announcing his leadership for the transitional ministry council, the streets of Khartoum and various states including Atbara, Port Sudan and Gadarif flooded with people demanding the fall of Ibn Auf whose history does not stray far from Bashir's crimes – including his involvement in the Darfur genocide. In 30 hours, Ibn Ouf announced his resignation handing over the leadership to successor Lieutenant -General Abdel Fattah Abdelrahman Burhan.
I have been observing closely the protests for the past four months through social media as the hashtags #SudanUprising and 'Tasgutbas' took over Twitter. From afar, the protests do not give the on ground action justice. Once I arrived to Khartoum, I had to witness this historic moment first-hand. I went after the news of Bashir's expulsion and after Burhan took over as celebrations filled the streets of Khartoum. I was astonished by the amount of organization and effort that has been put into this, which explains why it was able to continue for four months with minimum disturbance.
"Where are you going?" asked a seller at a kiosks in Omdurman. "I am going to the protests, can you please keep my belonging with you?" a 14-year-old girl responded as she handed him her phone and some money. Around 30 minutes later, the girl returned to pick up her things.
"Why are you back so soon?" the seller said shockingly. "They said that my appointed mission is not here. I should go near the airport next to the army headquarters," she explained. "They" are a group of young civilians consisting of both men and women who thoroughly organized the protests alongside the Sudanese Professionals Association (SPA).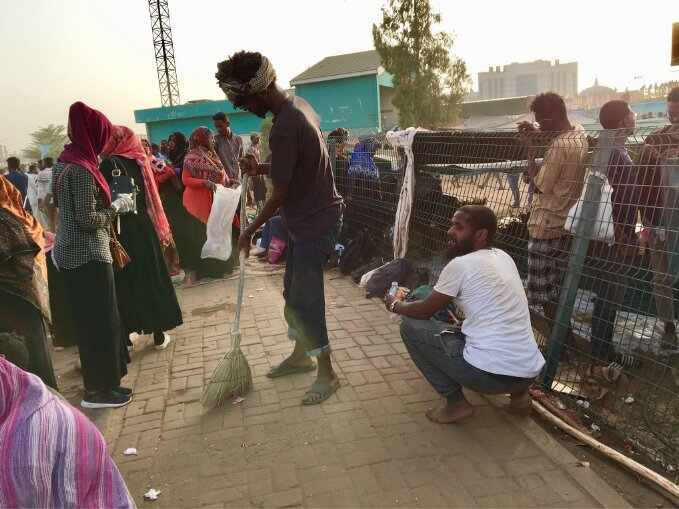 As I walked towards the General Command of the Armed Forces, I witnessed around 11 heavily armed pickup trucks, all of which belonged to the Rapid Security Forces or RSF, a rebranded version of Janjaweed initially appointed to eradicate rebel movements in Darfur, located in the west of Sudan and which resulted in the Darfur genocide. The former Sudanese government summoned the troops to Khartoum as soon as the anti-government demonstrations began in an attempt to combat the movement killing 51 protesters from December to the end of January according to Human Watch. Since the sit-ins began in early April at the army headquarters, at least 20 have been killed.
"Lift your hands up, and the inspection is with kindness," protesters were repeating as we approached an inspection site. "Kandakat from this side; men from here," one of the inspectors said. 'Kandaka', singular of Kandaka, is a title given to female protesters which refers to the Nubian Queen Kandaka or Candace.
I passed four inspection stations as I walked towards the headquarters. Each station was blocked by a pile of bricks. Inspectors were looking for any sharp objects. One of the inspectors was holding a pile of pocket knives that he took from protesters. "Why do you have so many pens in your bag?" he asked one of the female protesters. "You only need one," he said as he handed her back one pen.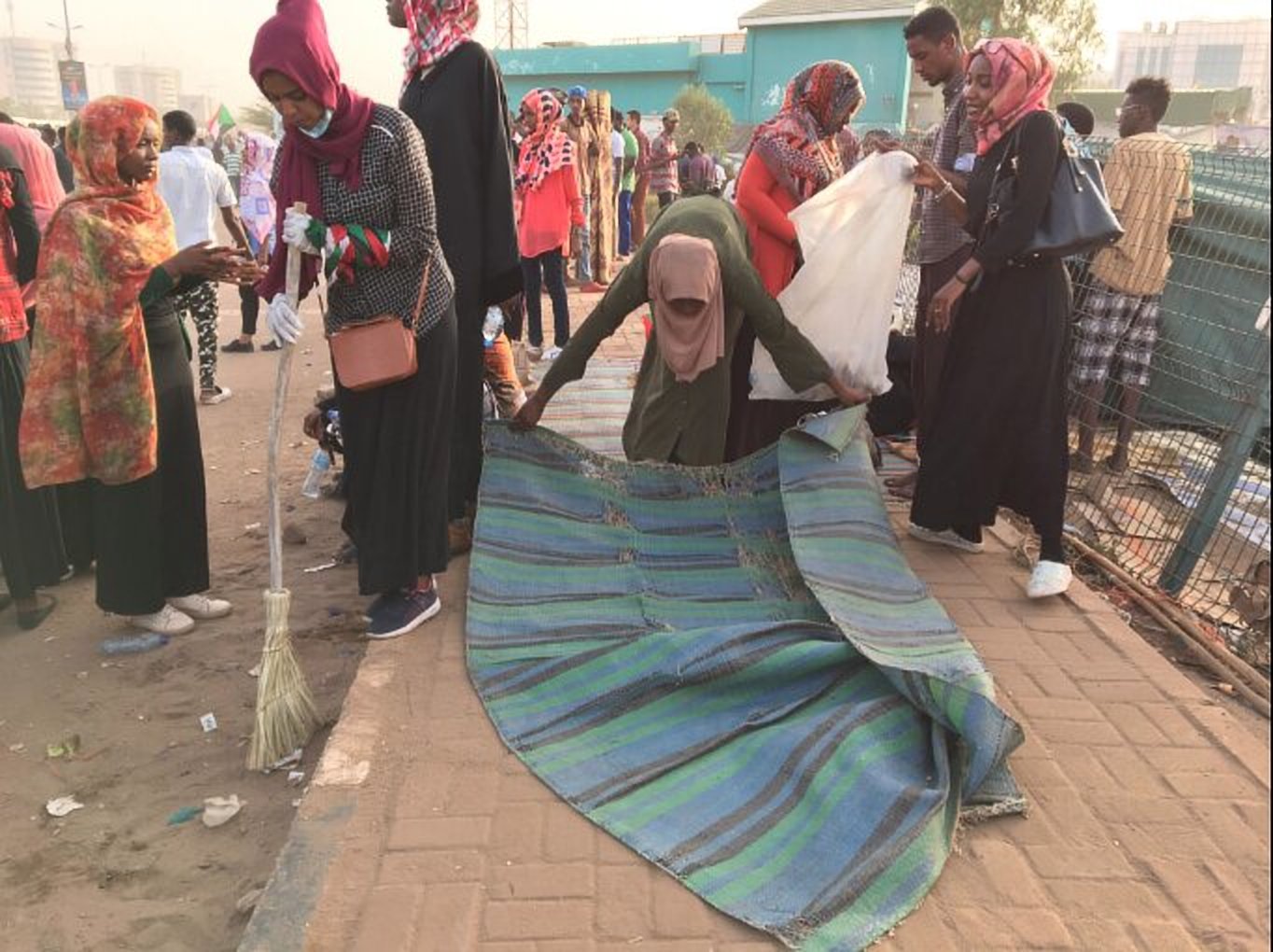 There were two roads, one for those walking it, and another for those walking out. As I was passing the last inspection with a confused frown on my face, one of the inspectors said to me "First of all, smile ya Kandaka!" I instantly laughed as my face light up with a smile.
To the right of the army headquarters were a series of services: pharmacies, medical care, ambulance trucks. To run away from Sudan's throbbing sun, several tents were placed as well as trucks that were throwing water bottles and small packs of cake to protesters to quench their thirst and hunger. Others were walking around with jugs and water bottles to spray cold water at protesters to cool them off. "Water, water, for the heat," they chuckled.
People have also said that there are several charging stations around the area of the sit-ins. An area where people can install VPN because social media sites such as Facebook and Whatsapp were blocked and, more interestingly, a barbershop.
I also spotted several women with face paint and make up painting the Sudanese flag on people's faces, a man holding up a wrap of white textile used for making banners, and children passing around the Sudanese flag. There were also a group of people distributing top-up coupons for mobile credit and others were selling cigarette packets. Over on Twitter, several bank account numbers were circulating encouraging people to transfer money to allow them to provide these services for the protesters for free.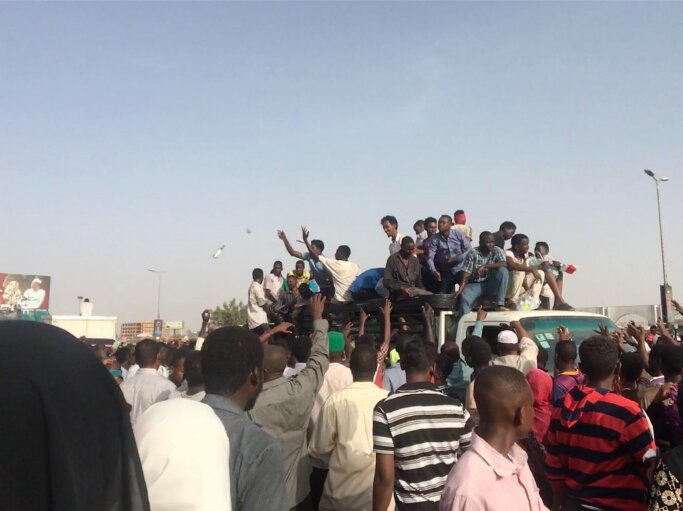 "Tasgut tani! Sagatnaha w hansageta tani! (Fall again! It fell and it will fall again!)" I heard as I walked across the sit-ins followed by 'zaghareet'. The army headquarters is the home for the protests for almost a week where thousands come and go every day and night and others spending the night in the streets near the gates in tents.
Pleasantly, groups of young men and women were in charge of keeping the area litter-free collecting plastic and paper waste such as water bottles and tissues off of the streets to ensure that the area remains clean at all times. I saw others brushing dust off of the side walks as their colleagues placed matts on the floor for people to sit on and rest. This is the friendliest I have ever seen Sudan. Strangers were helping one another and proudly smiling on each others' faces as they cooperated in taking down two presidents. "Do not go and leave us, at night they will stray us!" chanted protesters as I was exiting the sit-in.
As I mentioned, this was very organized with designated roles assigned to every person. And those who could not physically participate? Their role was to spread the world through social media to grab regional and international media's attention. For the first time in 30 years, every single Sudanese person regardless of gender, skin color, religion, and tribe felt included with a will to take down a regime that segregated and marginalized their own people for 30 years.
In his official statement on Saturday, Burhan dissolved any previous commands announced by Ibn Auf and ensured "a military council and a civilian government will be formed. The transitional period will be a maximum of two years. Those responsible for the bloodshed will be held accountable," affirming that Sudan will uphold high standards for protection of human rights in accordance with the international law.
"The provisions of the Declaration of Freedom and Change are fully implemented in accordance with the demands of the victorious Sudanese revolution. The delegation representing the demands of the street will be composed of ten people representing the components of the declaration, which will reach its objectives by adhering to our unity and peaceful means of resistance. We will not depart until the demands of the revolution are fully implemented," The SPA guaranteed.
The move comes over recent economic hardships have left civilians hopeless. Prices of bread have doubled to three pound per piece of bread. The limited supply of petrol has queued citizens for hours at gas stations across the country and empty ATMs have left people cashless. The highest price for 1 USD equals SDG 72 in the black market as of April 2019, up from around SDG 20 in last January 2018.
The chants "zanagat, zanagat", which roughly translates to it got too tight, took over the streets of Atbara where they burned down the National Council Party headquarters in December 2018.
Sudan's economy has been struggling for over two decades after the US placed a 20-year embargo on the country for allegedly sponsoring terrorism. The trade sanctions were recently lifted in October 2017.
The country's economy further plunged after South Sudan seceded becoming the world's youngest independent country in 2011. Oil exports was Sudan's main source of foreign currency, yet after the divide, most oil fields are now located in the independent state of South Sudan costing Sudan three quarters of its oil outputs.
Although the demonstrations began as a youth movement, gradually they have gained the support of  professionals including doctors, professors and the middle-classed segment of society.
The protests in Sudan, compared with the unfurling and contemporaneous events in Algeria, have sparked Egyptians to reflect over the current political situation in the country as well as the future of Sudanese-Egyptians relations.