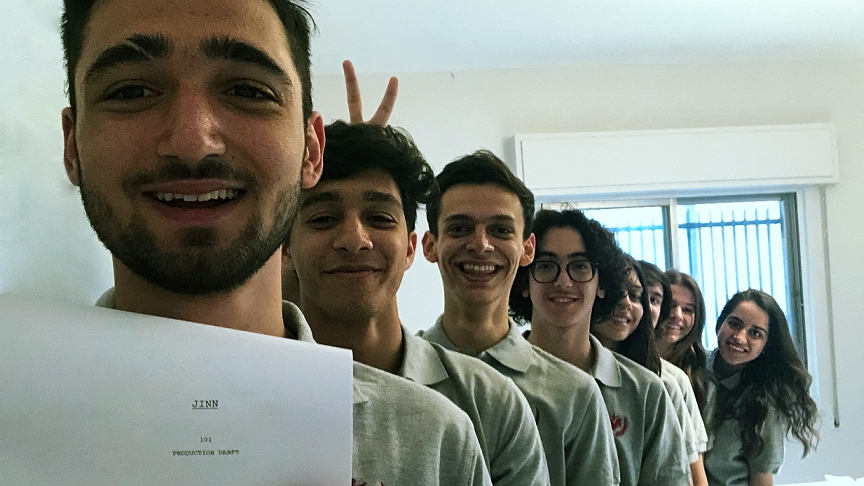 The popular streaming website Netflix debuted the teaser for its first ever Arabic original series titled 'Jinn' which will be available starting June 13.
The supernatural show is set in Jordan and it about a group of teenagers who mistakenly summoned a Jinn during their visit to the Jordanian city of Petra.
"When a girl accidentally releases a jinn in the form of a teenage boy, they learn that they've also unleashed an ancient darkness that threatens the world," the show's synopsis reads.
The six-episode season drama is directed by Lebanese director Mir-Jean Bou Chaaya who believed that "this is a great opportunity to portray Arab youth in a very unique way," he said in a statement adding that the authentic approach Netflix portraying is what drew him to this project.
"We are really excited about this. It is very common in Middle East that people know someone who has a Jinn story, so it's nice to take that and turn it into a fun and mysterious teen adventure that everyone can enjoy," elaborated the Oscar nominee Jordanian screenwriter Bassel Ghandour.
"On a broader note, I love that Netflix is investing a lot in the region, it's a real turning point. We have such a rich storytelling culture, and we'll finally be able to enjoy Arabic content with Netflix quality."
Jinns or genies are mystical entities that originated in pre-Islamic Arab culture, which later blended in with Islamic mythology with endless fables and stories. One of the most popular Jinns fable is the Genie character in Aladdin.
Jinns are known to be powerful creatures that can take the human form, and can be good or evil. Most of the stories that circulate about Jinns, however, are of those who cause harm or do evil.
Netflix was introduced to the region in early January 2016. As the streaming site expands, so do their programs as it is now introducing shows from different regions to a global audience who might have not encountered these series otherwise. This also becomes an opportunity for the world to learn more about folklore Middle Eastern culture.
"Creating Netflix's first Arabic Original, and one of the first teen-focused shows ever from the Arab world, has been an unforgettable experience," co-writer and executive producer Rajeev Dassani said, "We've had so many local teens tell us they've never seen themselves accurately represented on screen, and it is both our pleasure and our responsibility to bring that to them and, in doing so, showcase all that the region has to offer."
The supernatural genre has been very popular on a global scale for the past years accounting for almost half of the most watched series with shows like Game of Thrones, The Walking Dead, Stranger Things, and Supernatural having a massive global fan base.
The genre's popularity emerges from the way fantasy upstages culture in a way other genres do not. Mythology is a prominent factor in almost every culture across the world and these stories tend to resonate on a global scale. The most popular mythological tales that people are often exposed to are those of the West including American and European mythos. However Eastern mythology has not received the same attention and this might be the first show to shed light on this culture.
---
Subscribe to our newsletter
---