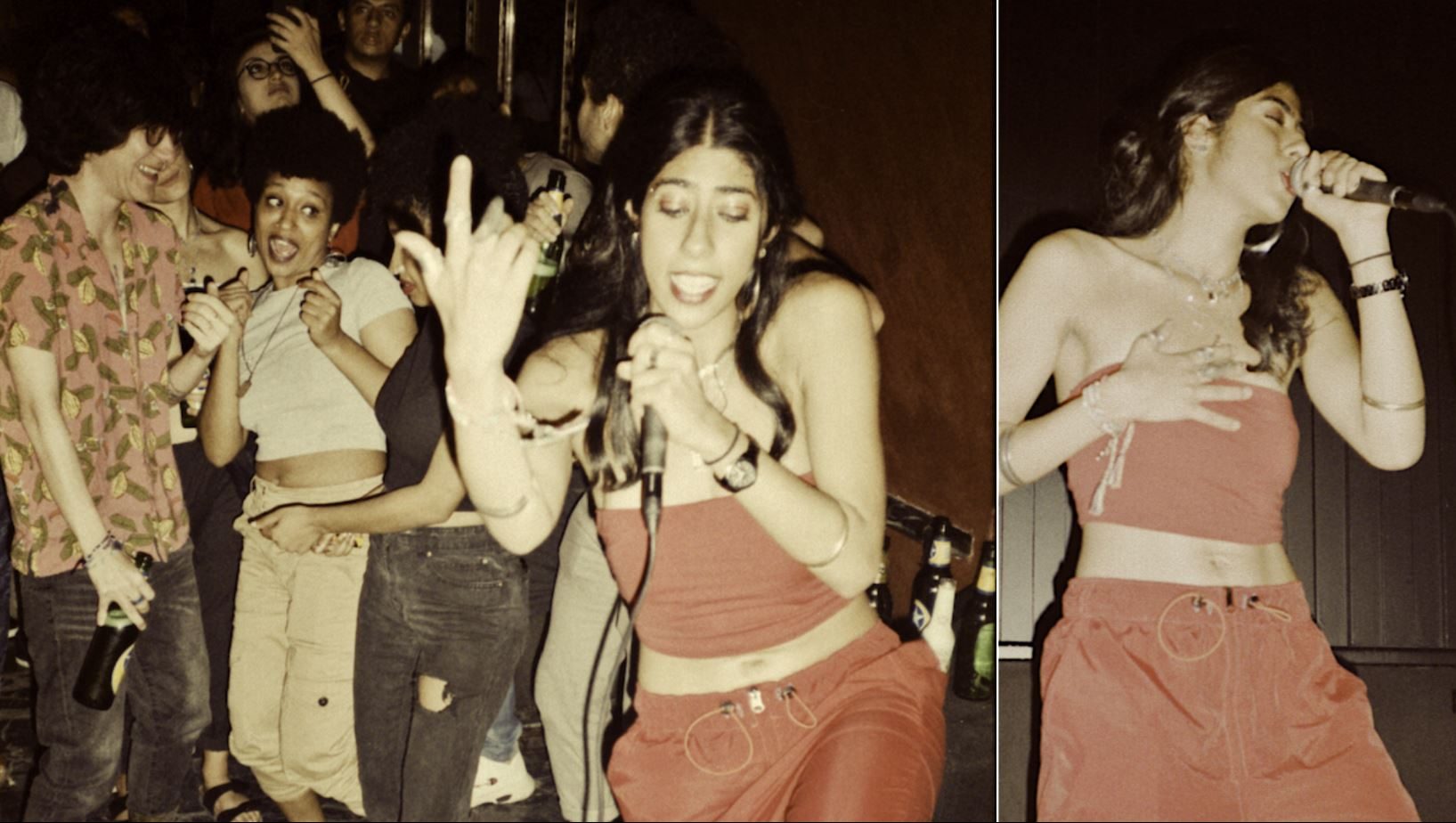 Egypt has always harbored significant cultural elements of art, music, cinema, and literature. Yet, this is often only attributed to the past- ignoring the current artists breaking through in a contemporary setting. Cairo born rapper, Felukah, combines elements of poetry with music to create heartfelt rap from a unique perspective.
The 21-year-old rapper unashamedly presents her identity as an Egyptian woman with lived experience in both Cairo and New York. Felukah entered the scene with her mixtape Battery Acid and her E.P. Yansoon in 2018. She has described rap as housing "pain, power, and resistance" all at once, which is visible in the 12 tracks on her latest project, covering issues from sexism and racism to everyday struggles and relationships. Her debut album Citadel was released on streaming platforms last month on June 27th.
In a country where there's so much existing stigma surrounding women and their behavior, the female rap scene is vital to breaking these barriers. Felukah's music challenges ideas of human politics and addresses the barriers we develop internally.
What do you currently do? How do you balance music with other aspects of your life?
I'm presently in my junior year at Hunter College in New York, studying to earn a BA in Creative Writing. I work at a restaurant downtown and occasionally babysit. In between these side hustles is the time I carve out for my calling: writing.
I self-published my third collection of poetry, Kahirati in June and was lucky enough to hold a reading/performance night at one of my favorite bookstores in Cairo, Al Kotob Khan, to celebrate the release.Music is a medium of expression I have grown to love because of writing; hip hop encapsulates poetry in real-time vibrations. The transition from poetry to rap is an open door and I plan to keep expanding my artistic horizon. Dance also resonates with me on a very deep level.
Your latest project Citadel dropped on all streaming platforms last week. What are your thoughts on this new release? Can you explain your album title and the vision behind it?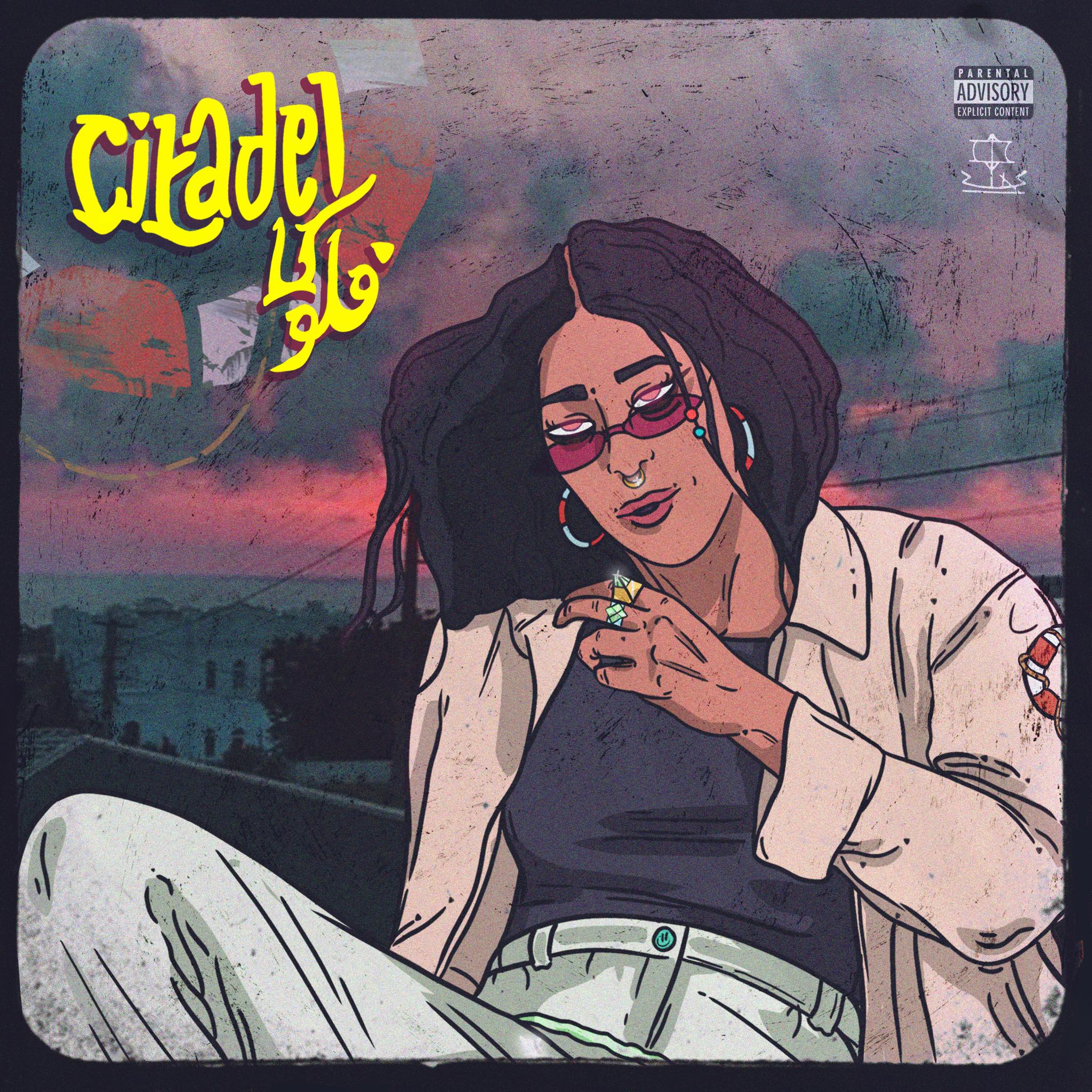 Citadel: noun – 1 a fortress, typically one on high ground above a city
Citadel has been the focus of my life for the past 7 months; growing with the writing, development, and arrangement has taught me a lot- both professionally and personally. The concept I was working with centered on a single metaphor: understanding the self as a city. Old Cairo had a citadel built to protect its grounds and my aim was to construct a similar symbol to protect my essence.
Between two of the biggest cities in the world, New York and Cairo, I came to understand that my entity of self operates in its own city. I inhabit a space between these two worlds, and I too have built a citadel to protect my own power. I value legacy because much of my understanding of the world stems from collective memory. Embedded in me is a yearning for nature, revolution and documentary poetics.
What's your favorite song on Citadel?
Moonlit Window (Interlude) is a track I hold close to my heart. I developed it on the piano the night I returned from a trip to Morocco with my sister and best friend. I wrote to the light of the moon entering my window and realized I was safe. I would always be safe. Love brought me to where I am and like the cycles of the moon, there are rhythms I have learned to this life of creating and expressing. I feel the interlude encapsulates that sentiment in a simple and lullaby-like fashion.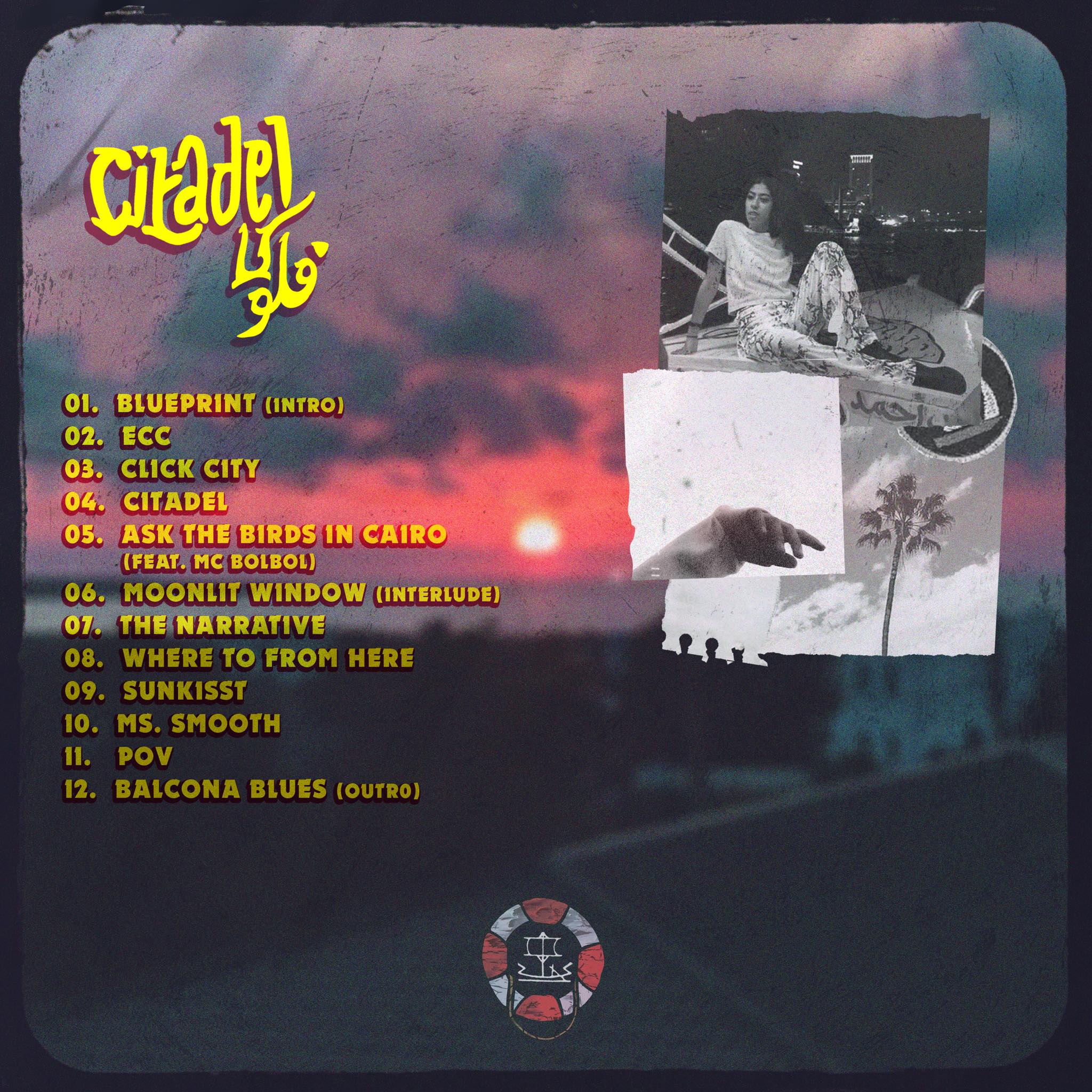 I also really enjoyed writing Whereto From Here; the track was produced by Egyptian producer Rageh and I also wrote my fastest verse to it. The message is reflective and rhetorical while the flow stays heated. It was important to me that the album covers a variety of experiments with sound, flow and style. That's how I feel like I'm growing.
Who are some other Egyptian artists you admire?
There's a lot of heat emanating from Cairo right now. I connect deeply to the vision and flow of rapper/producer Tي and artists like Zeyada and BLUFRANK. Marwan Pablo and Lella Fadda are also redesigning the scene in Egypt with their authentic sound. An impressive amount of groundbreaking music is being recorded and produced in Cairo.
Beyond independent artists is the emergence of artist collectives. SLOVVDK is an artist collective composed of musicians, producers, visual artists whose work really resonates with me. I debuted my album before it dropped at their showcase at Cairo Jazz Club in early July. That show meant a lot to me and the artists I've gotten to know as a result of it mean even more. I also worked with Droogs Rules on the shooting of my second music video Ask the Birds in Cairo set to be released this month. The wave in Cairo is inclusive and hungry for the recognition it deserves.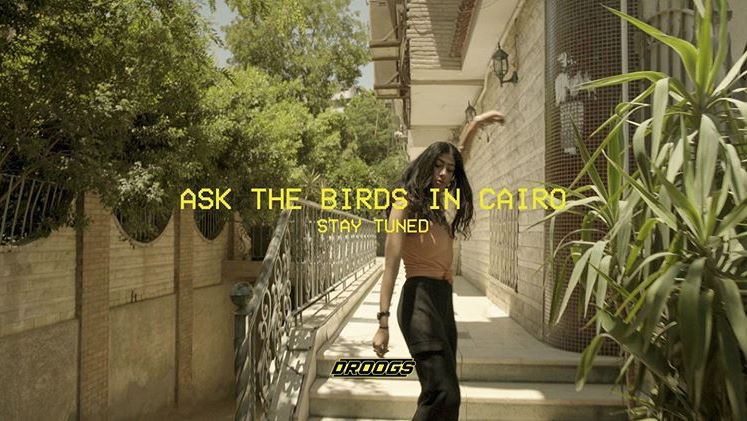 What is the biggest barrier you face as a female rapper?
Stigma clings to rappers everywhere. There is an assumed aggression that I work to defy on the daily in my work and in my life in general. Not as a female, but as a human, I want to engage more with peace than with anger. I'm trying to challenge the form by entering with my own poetic substance. My favorite thing is reacting calmly on a hype track— I want to bring a smoothness of funk and a lyrical grace to every beat I record on.
Being an Egyptian female rapper rapping primarily in English actually gives me the advantage of almost creating the space from scratch. There's no formula I'm trying to follow. This is all expression and creative outpour. I want to work with more women in Egypt and raise the collective understanding/appreciation for alternative hip hop in my country.
Where have you performed in Egypt? Where do you hope to perform?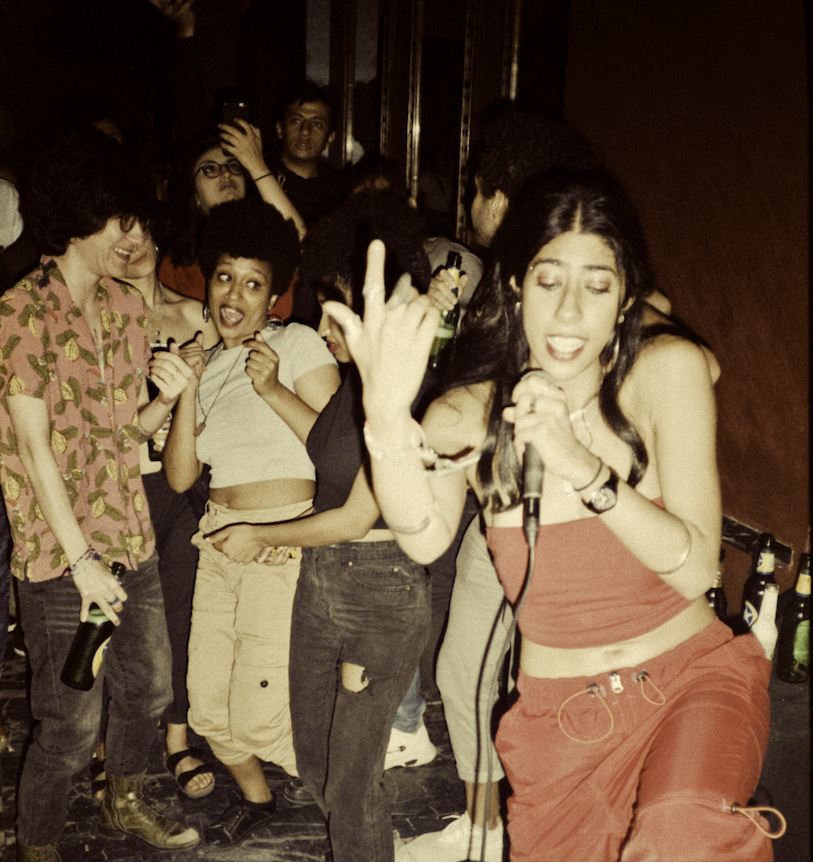 This past summer I had the privilege of performing at Al Kotob Khan and KMT House in Maadi and also at the renowned Cairo Jazz Club. I've also performed at Room Art Space in the past and plan to frequent each of these venues in the near future. In 2016 I presented a slam poem at a TEDx Youth event at Darb 1718 and I hope to return to the space and perform my music alongside various talented artists I've been working with.
I also want to perform at non-music venues like on a series of feluccas strung together, or at the Bibliotheca Alexandrina. It's really cool to see spaces reused for creative expression and outlet. Playing a show at the Botanical Gardens in New York is also on my bucket list.
Egypt, and Cairo especially, seem to have a major influence on your lyrics. How do you work to fuse your Egyptian identity with your music?
The fusion occurs naturally because it exists within me. My thoughts are often a strange mix of Arabic and English.. even though English is my first language there will always be certain emotions, concepts and sentiments I can only express in my native tongue. I'm comfortable making a living and earning my degree in New York, but both my heart and my calling reside in Cairo.
Sometimes it's a line as simple as, "my mind's on Arab Spring every season— قاله يعني ايه الكلام ده؟" that re-centers my focus on Egyptian identity and collective progression. Citadel is filled with tracks that toggle back and forth between Arabic and English from line to line. While some may say that I'm limiting my demographic to a bilingual audience, I think the cohort deserves its own music that reflects the cultural splits we grew up with.
Who would you say your music is for? What would you tell those people?
I started making music to be able to listen to rhymes that remind me of my purpose and keep me grounded to a lightness of being. The fact that my audience has expanded beyond a few friends and family members is incredibly special because it means people can relate to the stories I'm telling. I let my lyrics get personal but the songs stay relatable. Someone somewhere might get stuck on a line or a certain intonation and cherish how it makes them feel. I hope my work inspires people to trust the vision they hold deeply and manifest it through collaboration.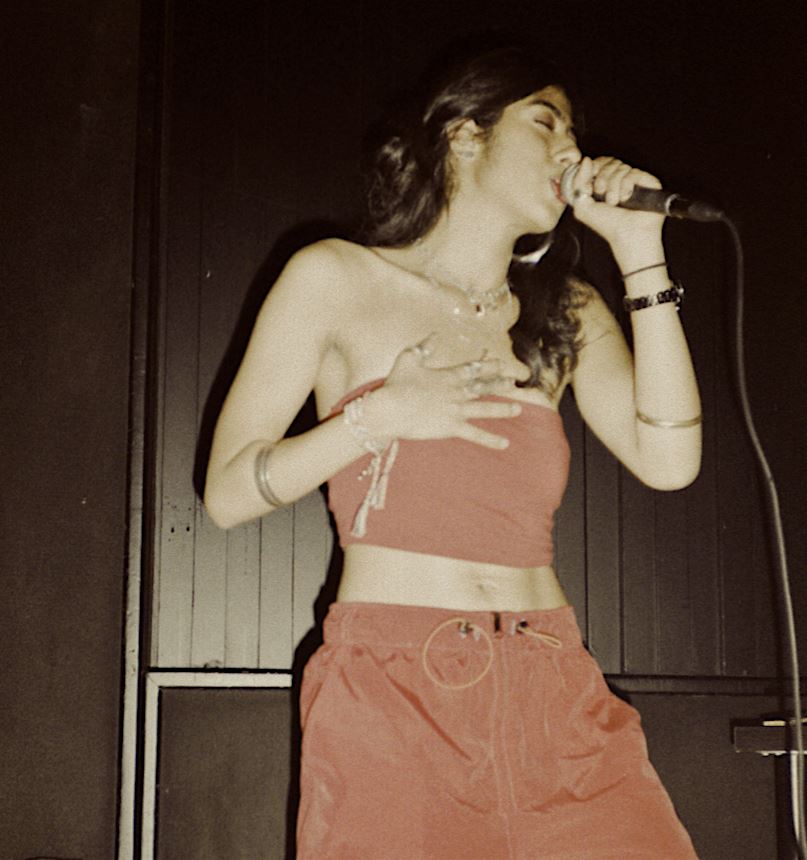 What are your thoughts on the music scene in Cairo? How do you think it could be improved?
The music scene in Cairo is blossoming in my eyes. I was in Cairo for one month this past June and was lucky enough to perform at three gigs, shoot a music video with some really cool people from Droogs Rules, and collaborate with innovative artists. Every time I go back, new music venues are popping up and artists are gaining momentum to perform and promote their work.
Of course, the scene is in need of more female artists. I know of many talented artists who just don't think they're good enough or have the stamina to compete. I ask them to forget competition and push forward; in order to elevate the culture we need to put work out. We need to trust in the process of becoming/creating and believe that we have a place in this world.
Keep an eye out for Felukah when she's back in Cairo in December. In the meantime, follow her social media and stream her music!
Spotify: click here
Soundcloud: click here
Instagram: @felukah
Website: https://www.felukah.com/
---
Subscribe to our newsletter
---