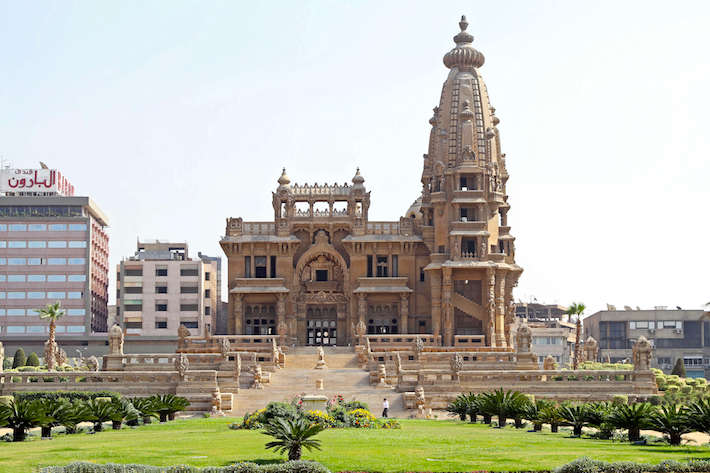 Cairo's long awaited landmark Baron Palace will open its doors to welcome the public this October after its restoration is complete.
Its much-needed renovation, which started in August 2017, was reported to cost 100 million EGP.
According to Mostafa Waziri, secretary-general of the Supreme Council of Antiquities, 90 percent of the refurbishment process has been completed as of now.
Inspired by the Hindu temple of Angkor Wat (Cambodia), the mansion is often referred to as the Hindu Palace. It was built by a Belgian millionaire and the founder of Heliopolis Edouard Louis Joseph, or Baron Empain at the end of the 19th century.
It has been the object of various folktales and stories by Heliopolis' inhabitants through the years with fears of satanic underground rooms and ghosts warding the general public at bay. The palace's fearful reputation stems from the fact that both the baron's daughter and wife died in the house. Helena, the wife, particularly met a tragic death by falling down the staircase
However, not many people are happy about the renovation after seeing that the outer paint of the palace was changed from a light beige to a burnt sienna color. Facebook page Egyptian Historians described the renovation as "a defamation" of Egyptian antiquities.
"Please respect us and admit the mistake you've made. You continue to literally destroy our antiquities and you have led us to wish that you don't restore anything ever again," wrote the page owners in a post.
On the other hand, another Facebook page Historic Cairo said that the burnt sienna color is "historically accurate."
The Ministry of Antiquities reassured the public that the restoration is carried out as accurately as possible after it studied old photographs and documentation as well as carried out tests which revealed the true color of the palace.
Empain arrived in 1904 to Egypt and launched his company with the plan of creating a railway that connects Mansoura to Matariya. After losing the railway contract, Empain stayed in Cairo and created the district we now know as Heliopolis.
---
Subscribe to our newsletter
---