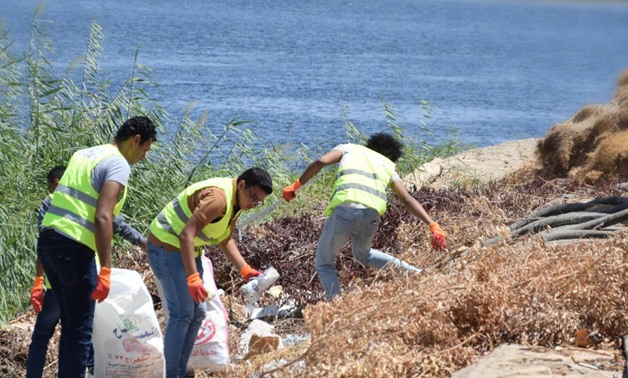 Youth Love Egypt Foundation (YLE) organized a clean up campaign over the weekend to collect plastic waste covering Upper Egypt's Aswan Nile shore.
With the help of fourteen volunteers, the campaign aimed to raise awareness to the side effects of plastic-based pollution.
The clean-up was executed in collaboration with foundations and NGOs based in Tunisia, Morocco, Algeria, Ukraine and Nigeria where volunteers in the respective countries cleaned up river and sea shores to eliminate plastic waste.
Youth Love Egypt Foundation is a national civic establishment which seeks to promote and maintain the country's tourism and environmental sectors. It is most active in terms of youth-focused activities, namely in the fields of education and cultural exchange.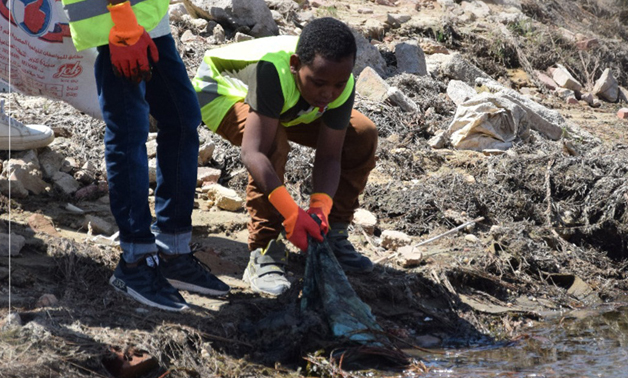 This campaign is similar to a campaign launched by non-profit organization Bassita in collaboration with Greenish called  'VeryNile', which aims to help clean up the Nile River and the shores along the river in hopes that it becomes a cleaner source for water and a step towards a sustainable ecosystem.
Egypt has been taking serious steps towards reducing and eliminating plastic waste and consumptions.
Egypt uses 12 billion plastic bags annually which not only constitutes an economic strain as raw material for plastic bag production are imported, but an environmental crisis as well. Plastic causes severe problems to the Nile river and the seas thus greatly affecting the marine ecosystem. As a consequence, it also negatively affects environmental tourism and diving.
Early June, Egyptian Parliament member Anissa Hassouna submitted a proposal to abolish the use of plastic bags in Egypt to the Prime Minister and the Ministry of Environment.
Hassouna suggested replacing the envinromentally-harmful use of plastic bags for bags that are more eco-friendly.
The MP stressed the non-recyclability of plastic bags and their incapacity for quick decomposition which eventually results in their presence in seas and rivers, polluting and altering aquatic ecosystems.
Moreover, the Parliamentarian highlighted the adverse effects of these plastic bags being burned along with other garbage, as is a common waste practice in Egypt, on human health.
Similarly, Egypt's Red Sea governor, General Ahmed Abdullah, has decided to ban single-use or disposable plastics starting from June 2019 after agreeing to the proposal submitted by Hepca (Hurghada Environmental Protection & Conservation Association).
The ban of the single-use of plastics will apply on any food related outlets, including restaurants, coffee shops, supermarkets, groceries, butchers, fisheries, fruits and vegetables shops and pharmacies, as well as plastic cutleries like knives, plugs, plastic hooks, cups and dishes.
EU-funded initiative was launched by the Egyptian environment ministry in 2017 calling for "Enough Plastic Bags", to eliminate the country's dependency on plastic bags, due to their negative effects on the environment and the economy.
The initiative aims to encourage citizens to reduce their consumption of plastic bags and to shift towards more environment-friendly alternatives.
---
Subscribe to our newsletter
---