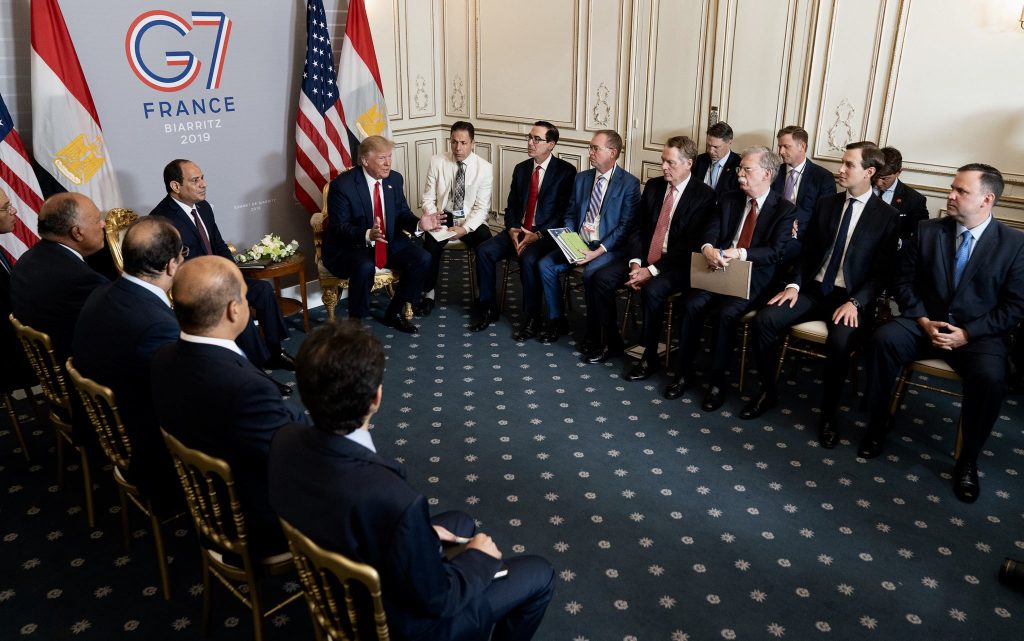 On the sidelines of the G7 Summit in France, Egyptian President Abdel Fattah al-Sisi met with US President Donald Trump; the leaders praised the strength of their countries' strong bilateral relations and joint cooperation in various key fields.
Bassem Rady, the Egyptian Presidential Spokesman, highlighted key topics both leaders tackled, including the US' unwavering support for Egypt's counterterrorism measures, finding a solution to the Palestinian conflict, and Egypt's economic reforms.
Regarding the issue of combating terrorism, President Trump praised Egypt's efforts in maintaining security in the country, as well as its 'promotion of values of religious tolerance and freedom of worship'.
Reiterating the idea that fighting terrorism constitutes a global mission, the Egyptian President stressed the need for the international community's engagement in curtailing terrorism namely through slashing support, in terms of monetary and the procurance of equipment, to terrorist groups.
Great meeting this morning with President @AlsisiOfficial of Egypt at the Hôtel du Palais in Biarritz, France! #G7Summit pic.twitter.com/zLMcgQtPdR

— Donald J. Trump (@realDonaldTrump) August 26, 2019
Moreover, Rady stated that Egypt was continuously consulting with the US administration on ways to consolidate stability in the Middle East region which is currently plagued by a series of crises in Libya, Syria, Yemen, and Sudan, with the latest being its governmental transition.
Regarding the Palestinian conflict, the US President acknowledged cutting financial support to Palestinian territories and expressed, in a vague explanation, that both Israel and Palestine were seeking put an end to the conflict by closing a deal.
Both leaders mutually praised the strategic relations between Egypt and the United States, expressing a keenness for upgraded frameworks of joint cooperation while noting the progress made by Egypt in implementing its economic reform program.
The relationship between both political leaders has been strong in the last years with President Sisi visiting the White House in Washington at the beginning of April 2019.
According to the American Chamber of Commerce in Egypt, Egypt is the second largest recipient of foreign assistance from the US while Israel is the first. In 2017, Egypt received USD 1.42 billion US$ in foreign assistance from the U.S while 1.32 billion US$ has been requested for the year 2019.
---
Subscribe to our newsletter
---