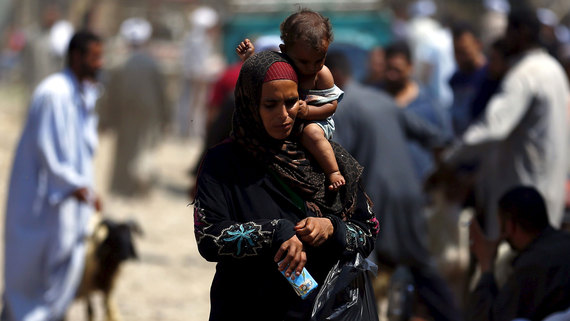 Single motherhood is a social concept that is clouded with stigmatizing notions across the world, and Egypt is no different.
According to data from the Egyptian Statistics Observatory, there are more than 12 million single mothers in Egypt as a result of divorce, separation, common law marriage, and widowhood. To this day, divorce is considered the number 1 culprit for destroying the nuclear family, and women carry most of the blame for not creating a 'stable household' for their children.
After graduating with a degree in architecture, Samia* married a man eight years her senior and gave birth to a son soon after. As they approached their third year of marriage, tensions were rising between them, but she found herself pregnant with her second child.
His contribution to the family and to the parenting of their child was almost non-existent financially, physically, and emotionally, Samia* says. She was four months pregnant when she took her son, moved out, and separated from her husband due to his neglect of the family. "He used to leave the house at eight in the morning and come back home at eight in the evening and go straight to bed," she recalls.
Financial Stability
Upon separating, Samia* filed for child support for her son and moved back into her parents' home. In Egypt, child support is calculated based on the father's net income. Her ex-husband fabricated his income statement, claiming that his monthly income is EGP 2,350, when in reality, his income as a sales manager at a reputable company is somewhere between EGP 10,000 to EGP 16,000 per month, according to Samia*. "He was angry that I filed for child support," she says.
Based on the false income statement, the court granted Samia* and her son EGP 500 each, a meager sum, unsuitable for the cost of living in Egypt. Providing women with insufficient financial assistance is a tactic of retaliation fathers often use to force women to stay in unwanted marriages.
Once their daughter was born, he refused to register her and pay for the medical fees that Samia* owed to the hospital she delivered at.
Similarly, Nada*, a single mother in her early 20s, was divorced when she was two months pregnant, reflects on her ex-husband's lack of involvement in their son's life. "He asked me to waive all my financial rights for the divorce and said he doesn't want anything to do with his son. …He even refused to come and register his newborn."
Unlike Samia*, Nada* didn't file for child support, instead the fine arts graduate relies on her family for financial support. "He was financially unstable, so he never supported me during the marriage. It was my dad who gave me money… He only agreed to divorce me once I waived my financial rights, so of course he won't [be supporting me or the child after the divorce]," she remarks.
Luckily, Nada's* family is able to generously support her and her child financially. "Thank God my family has enough money to support me, but this is very rare. I am lucky to have that."
Conversely, while Samia* awaits the court's decision on the newborn's child support, she is finding it difficult to make ends meet. Even though there is a court order that requires her husband to pay his financial dues, it is still difficult for her to receive it consistently without chasing him.
Both young mothers are unable to pursue a daytime job, because their children require constant care. Samia*, however, feels more pressure because of her family's continued support despite their limited financial means, saying she doesn't want to "burden" them even more. Even though her parents are financially supporting her at this time, Samia* says she feels restricted in her spending and does not feel financially secure.
Emotional Labour
Surprisingly, both women find their experience with motherhood unchanged after separation. This is because women bare the load of the emotional labor of parenting in most Egyptian households. Women are expected to raise the children and provide them with emotional support whether their fathers are present or not. "The most difficult thing about being a single mother is that I have to make sure my son does not feel like he is missing out on anything by not having a father," Nada* emphasizes.
This adds a tremendous amount of pressure on the mothers. It is important to acknowledge the mental health effects this has on single mothers who are also expected to single-handedly raise and support their children financially and emotionally. "I became both, the father and the mother at the same time," Samia* explains, describing the way she felt after her ex-husband remarried.
And while it is considered brave to leave an unhealthy marriage, Samia* blames herself for the situation her children will be raised in. "I look at my children while they are asleep every night with so much guilt in my eyes for choosing the wrong father for them," she laments.
Social Stigma
Finances and parenting pitfalls are far from the 2 women's biggest concerns, it is the social stigma associated with single motherhood. "It is the way people look at me," Samia* says, "Their eyes are filled with pity as well as blame because I chose to take legal actions."
"We are scorned, and people consider us cheap," Nada* adds. "People look at single mothers with disgust, like smelly trash they try to avoid."
In 2017, a 27-year-old called Hadir Makaqi shook the internet when she bravely announced that she will be a single mother to her newborn son, Adam. Her viral Facebook post sparked controversy, shedding light on the stigma single mothers face. She was perhaps the first woman in modern-day Egypt to proudly claim and celebrate single motherhood.
According to Al Arabiya, the 27-year-old married under customary law and later divorced from her husband while pregnant, an experience shared by numerous single mothers.
Hadir sought help on social media, calling for support from the online community in case the court granted the father custody of the child.
The internet was perplexed. Many began calling her degrading names, but some supported her and started a social media campaign under the hashtag #ISupportHadir.
Single motherhood continues to be a challenge for many women in Egypt as the stigma still overshadows the discourse.
While society does not provide enough attention and support to them, many single mothers find comfort in Facebook groups such as Egyptian Single Mothers and Single Mothers of Egypt, both of which have amassed almost 70 thousand members.
Through these online communities, single mothers are given a platform to voice their struggles with other members who share similar experiences.
*Names have been changed to respect the source's anonymity.
Cover photo courtesy of  Bodil Jane for UNFPA
---
Subscribe to our newsletter
---