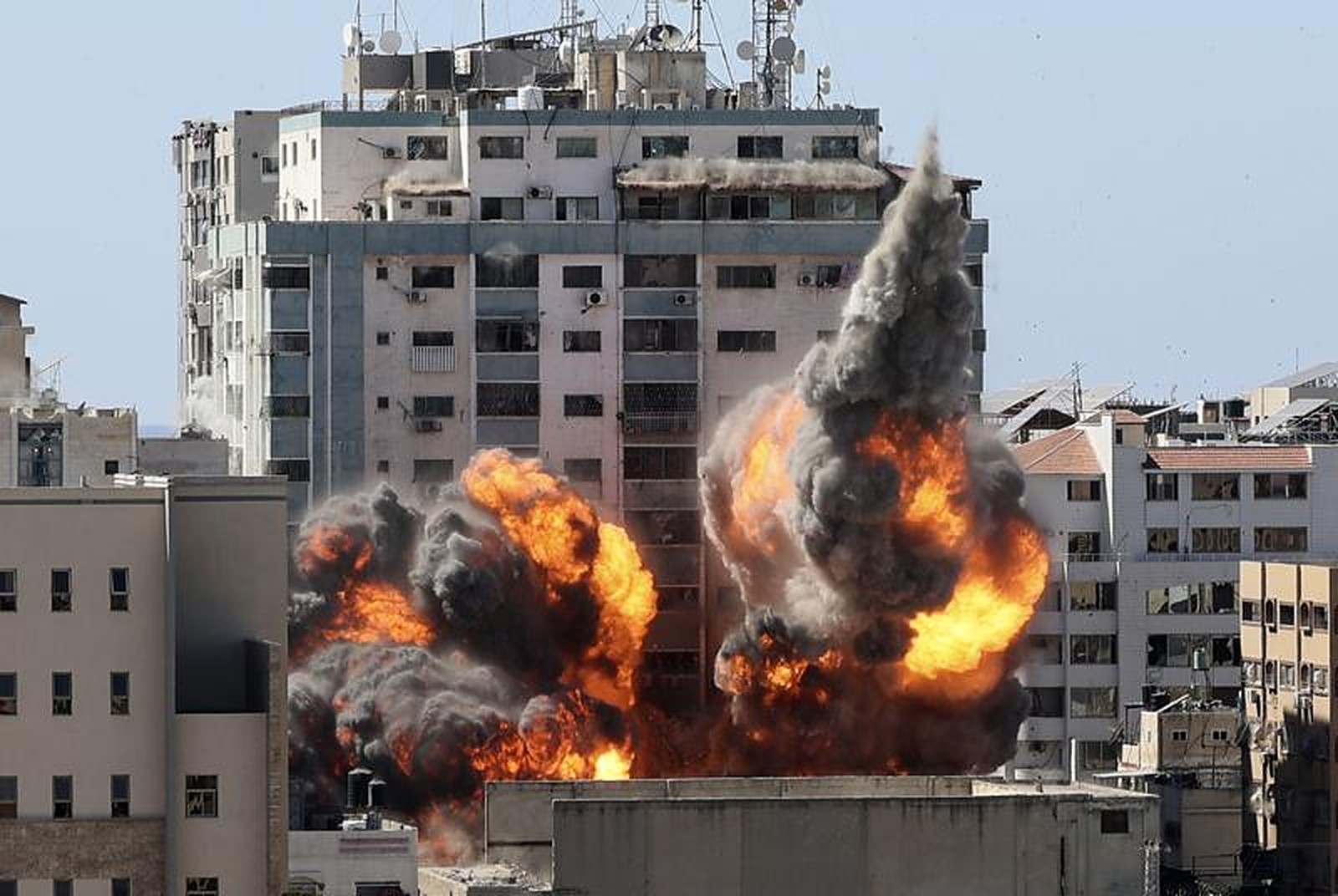 Israeli military on Saturday bombed a 13-storey building housing the offices of the U.S.-based news agency Associated Press and other international news media, including Qatar-based Al Jazeera, AP reports.
According to AP, the airstrike came an hour after the Israeli military warned people to evacuate the building, and staffers and other tenants safely evacuated the building.
Since 2006, the 13-storey building has served as a prime location for covering Israel's conflicts in Gaza, particularly the wars in 2009 and 2014. AP's camera also offered 24-hour live shots of Israeli airstrikes against the city.
"The world will know less about what is happening in Gaza because of what happened today," AP President and CEO Gary Pruitt said in a statement. "We are shocked and horrified that the Israeli military would target and destroy the building housing AP's bureau and other news organizations in Gaza."
The moment Israel bombed Al-Jalaa tower in Gaza housing international media outlets including Al Jazeera and AP. Reports and media personnel were not even allowed time to grab their equipment before evacuating the building #GazaUnderAttack #Palestine pic.twitter.com/jR2oMDyr68

— Marwa Fatafta #SaveSheikhJarrah (@marwasf) May 15, 2021
In a series of tweets, AP journalists reported the timeline of the incident and shared their experiences. AP's Gaza correspondent Fares Akram tweeted, "We ran down the stairs from the 11th floor and now looking at the building from afar, praying Israeli army would eventually retract."
And now bombs could fall on our office. We ran down the stairs from the 11th floor and now looking at the building from afar, praying Israeli army would eventually retract. https://t.co/WU2eLEX7kn

— Fares Akram (@faresakram) May 15, 2021
According to the Israeli military, the building also contained military assets belonging to the intelligence offices of the Hamas organization.
Dr Mostefa Souag, acting director general of Al Jazeera Media Network, said Israel should be held accountable, and that "the aim of this heinous crime is to silence the media and to hide the untold carnage and suffering of the people of Gaza," he said in a statement published by Al Jazeera.
Hours earlier, ten Palestinians, including two women and eight children, were killed in an Israeli strike on al-Shati refugee camp in Gaza Strip, which is considered to be "the deadliest single strike of the current conflict," AP reports.
The Palestinian Ministry of Health stated on Saturday that the sixth day of Israeli attacks on Gaza strip led to 139 Palestinians killed, including 39 children and 22 women, while 1000 were wounded as a result.
Egypt's Doctors' Syndicate issued a statement on Friday in support of the Palestinian people. The syndicate also stated that Egyptian doctors and healthcare professionals will be able to volunteer to treat injured Palestinians through one of its programs and that medical aid convoys will be organized.
---
Subscribe to our newsletter
---