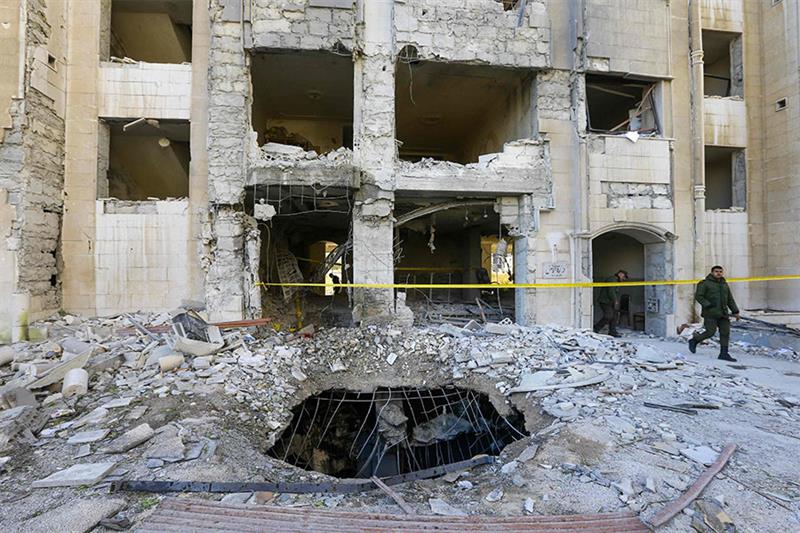 Israeli airstrikes targeted a residential neighborhood in the Syrian capital of Damascus early on Sunday, 19 February. The news was announced by Syrian state news media agency SANA, in a statement reported by AP News.
In a preliminary toll, Syrian authorities said the strike killed five people, among them one soldier, and injured 15 civilians, some of whom are in critical condition.
In addition to injury and loss of life, several residential buildings were destroyed in the airstrike. Citing a military source, SANA further reported that the airstrikes were heard around 12:30 AM local time, and that Syrian air defenses were "confronting hostile targets in the sky around Damascus." SANA also reported that the strike had damaged buildings connected to a medieval citadel and an applied arts institute housed there.
Israel did not issue an immediate statement on the attack.
Israeli airstrikes frequently target sites within government-controlled parts of Syria and in the vicinity of Damascus, and has said that it targets bases of Iran-allied militant groups.
Prior to today's news, Israel's last reported attack on Damascus was on 2 January, when the Syrian army reported that Israel's military fired missiles toward the capital's international airport, killing two soldiers and wounding two others.
The Israeli strikes form part of an ongoing shadow war between Israel and Iran. The attacks on airports in Damascus and Aleppo were reportedly carried out over fears that they were being used to funnel Iranian weaponry into the country.
However, AP news reported that an official with an Iran-backed group denied that today's strike on the Kafr Sousa neighborhood of Damascus targeted Iranian or Palestinian officials.
Today's attack comes just two weeks after a 7.8 magnitude earthquake struck Southern Turkey and Northern Syria, killing an estimated 45,000 people in the two countries.
Syria's Foreign Ministry condemned the attack saying it comes "at a time when Syria was healing its wounds, burying its martyrs, and receiving condolences, sympathy, and international humanitarian support in the face of the devastating earthquake." The Ministry further called on the United Nations Security Council to condemn it.
---
Subscribe to our newsletter
---