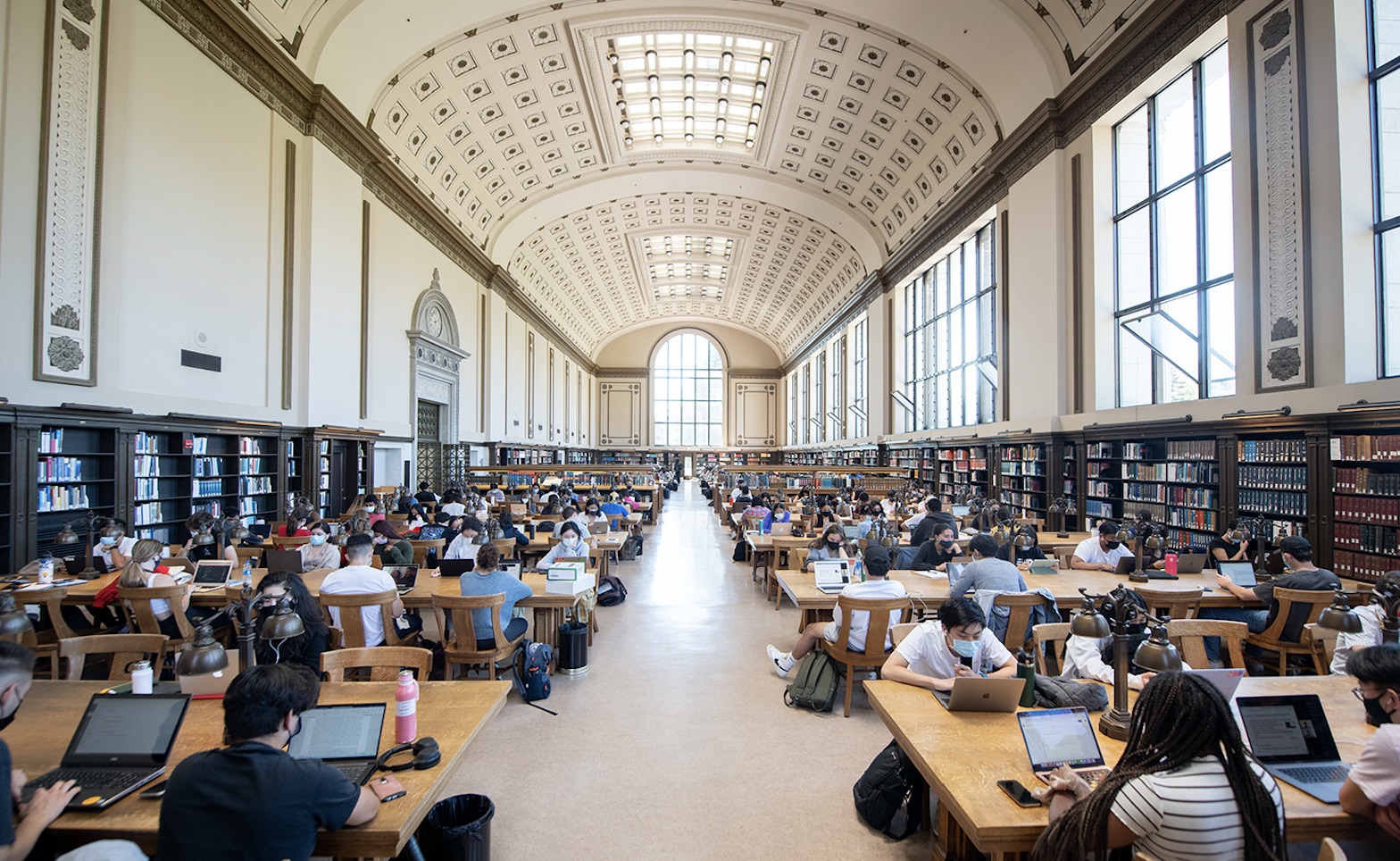 Many Egyptian students, both undergraduates and graduates, leave their hometown in a quest for a different future—one they failed to find in Egypt.
There are a variety of reasons why an overseas education is a tempting prospect for young Egyptians, a reality that a recent and notable increase in the Egyptian student diaspora confirms.
Almost 20 percent of Egyptian youth aged between 15 and 29 expressed their desire to live abroad, according to a 2014 survey conducted by the Egyptian Center for Population in cooperation with the Central Agency for Public Mobilization and Statistics (CAPMAS). More recently, various studies have pointed to various strong student Egyptian bodies extant abroad, namely in the US and Europe.
Recent UNESCO figures insinuate that the number of students from Egypt travelling abroad to study has almost tripled in the past decade—16,709 Egyptian students were studying abroad in 2012, while 47, 243 Egyptian students studied abroad in 2022.
The reasons as to why, are many.
The educational exodus
According to a report by the Global knowledge Index in 2021, Egypt's position moved from 83rd to 72nd in the pre-university education sector. Similarly, Egypt also placed at the 39th position in 2021, according to the ranking issued by the US Education News, which provides rankings for over the best universities and graduate school programmes.
Yet, despite the subtle advancements in the education sector, Egypt is ranked as the third largest 'sending' country in the Middle East, which implies that many of its students prefer to study abroad if they can afford to.
"The problem with the curricula in Egypt in most public and private schools is that they are outdated," Sherifa Amin, Assistant Professor at the American University of the Emirates says. "The education system in Egypt largely depends on the banking method, which basically loads students with information and tests them on their memorization rather than the digested knowledge."
"Although this is a big problem that affects the basis of the education system in Egypt, there is to a large degree efforts and awareness towards it," she adds.
For this reason, amongst many others, students choose to leave.
"I went to school in Egypt my entire life, but I chose to pursue a university degree at Sorbonne University in Paris," Lycée Français du Caire high school senior Tamara Hoshy tells Egyptian Streets. "Apart from the many positive aspects of studying abroad, no one can pass up an opportunity to study at one of the best universities in the world."
Like El-Hoshy, many students choose to study abroad—but they plan on returning to work in Egypt.
The International Development Program (IDP) reports that graduates who have completed their studies outside their home country are highly sought-after by employers anywhere in the world. Those who choose to study abroad gain an edge in several areas over those who have studied locally: flexibility, cultural awareness, and exposure. Their experiences propel them ahead in searches for internships and jobs, thus making them more employable.
"I was accepted into the University of British Columbia and Georgetown University in Qatar," explains business analyst Yassmina Adham, "but I couldn't go because with the living expenses and rent, it would have been incredibly expensive. However, had I gone to a university abroad, my chances at finding a job would have been much better."
Adham notes that having a degree from a university abroad strengthens a candidate's chances of employment as it makes employers view them as a higher calibre. Such degrees also increase chances of also finding jobs based abroad, with better pay and packages.
Like Adham, other students vouch for the opportunities that studying abroad offers.
Data Scientist Chahira Adel, who studied mathematics at the University of Waterloo in Canada for her bachelor's degree and at the Institute of Polytechnique de Paris for her master's degree, explained that the quality of an education she received in Egypt could not compare to what she received abroad.
"If I had chosen to go to the top private university in Egypt, which would have been the American University in Cairo, I would have been limited to only two maths-centred majors which are Actuarial Science and pure Math," she notes. "At Waterloo, there was an entire maths department, with over twelve different majors to choose from."
A life away from home, but at what cost?
Leaving Egypt in pursuit of a better future may seem like an easy decision for some, but for others, it comes at a heavy cost.
"I came back to work in Egypt after I had been abroad for five years in Canada and France," explains Adel. "Living abroad is far from luxurious, and even though I might not be receiving a high pay at my job, I did not want to miss out on life with my family and friends here."
Maya Rakha, a graduate student of International Security at the University of Groningen, thinks studying abroad also requires sacrifices..
"[For] my undergraduate degree, I studied International Relations and European Studies at the University of Nicosia in Cyprus," Rakha recounts. "I am an advocate of pursuing an education abroad as it helps broaden one's horizon and knowledge, but it comes with a price."
"If I had stayed in Egypt during college, I definitely would have had a better career
opportunities due to the networking that naturally happens within universities in Egypt," she says.
What is the future for Egypt?
A major issue that results from pursuing a global education is that students of high level of skills, qualification, and competition choose to never come back. This phenomenon is known as the 'brain drain' where developing countries are robbed of a number of intellectual and educated professionals in the best position to innovate and better the country's socio-economic circumstances.
According to research done by Gallup, 77 percent of the Egyptian diaspora have said that they wanted to continue living in their current residential location, with only 9 percent wanting to return back to Egypt.
To help curb the travel of Egyptian students abroad, the Egyptian government has introduced several policies and actions. This includes opening new public universities, forming academic partnerships with universities abroad, and working to boost the ranking of existing universities.
In 2018, Egypt's international branch campus law was ratified, and resulted in three international universities establishing branches in the New Administrative Capital.
One example of partnering with international universities and offering foreign degrees can be seen through Cairo University offering a masters in development economics from the Sorbonne University. This partnership may require that the student spend a semester at the foreign university, which can also add the study-abroad experience.
In addition to the efforts made by the government to enhance the education system in Egypt, and thus mitigate the number of students who look for opportunities abroad, there needs to be more emphasis on changing the core of the problems.
"To better the overall education system in Egypt, learning opportunities need to be more accessible and priorities for schools need to be restructured," she adds. "The change in education needs to start with the teachers because it is important that they are trained professionally."
---
Subscribe to our newsletter
---