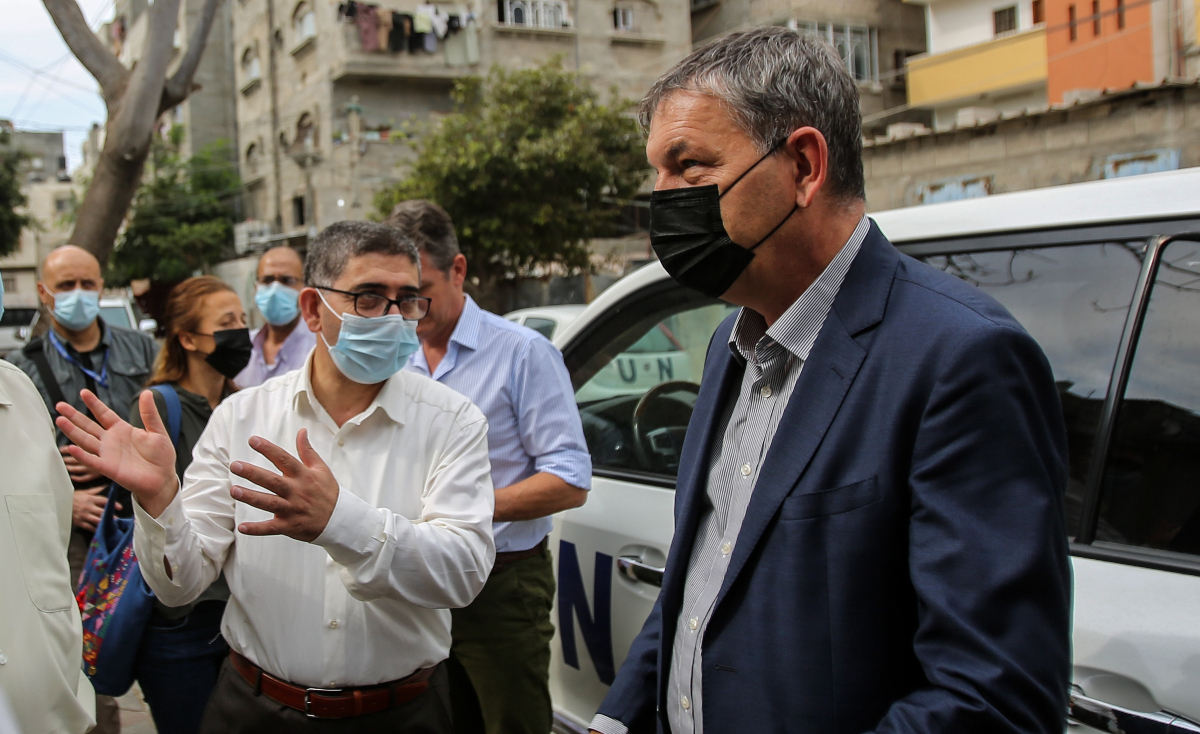 Egyptian Foreign Minister Sameh Shoukry received UNRWA Commissioner-General and UN Under-Secretary-General Philippe Lazzarini in Cairo, on 6 March 2023. The two discussed avenues toward the peaceful settlement of the Palestinian cause as well as Egypt's role in garnering regional support for the Agency.
The United Nations Relief and Works Agency for Palestine Refugees in the Near East (UNRWA) was established in 1949 to provide relief to the more than 700,000 Palestinians displaced in the wake of the 1948 Israeli invasion – anchored in national memory as the Nakba, or 'catastrophe.'
UNRWA's mandate has since been renewed every three years, in the absence of any resolution to the conflict or solution to the ongoing Palestine refugee crisis.
The agency, funded almost entirely by voluntary contributions from member states, provides access to education, health, relief, and social services to nearly 6 million refugees. As a result of compounding challenges, including the global economic crisis wrought by Russia's invasion of Ukraine in 2022, the agency has faced immense financial strains.
Following his meeting with Shoukry, Egyptian Streets reached out to Lazzarini for further comment on Egypt's role in supporting UNRWA's mission in light of ongoing pressures, the Agency's efforts to raise awareness about the conflict among Egyptian youth, and how UNRWA works to address the specific challenges faced by Palestinian women refugees.
UNRWA has issued a call for USD 1.6 billion for programmes and operations in 2023, due to the financial challenges that the agency is facing in light of underfunding, competing global crises, and inflation, among other factors. How have these obstacles impacted UNRWA's ability to deliver services to Palestinian refugees?
[…] Compounding challenges over the last year, including underfunding, competing global crises, inflation, disruption in the supply chain, geopolitical dynamics, and skyrocketing levels of poverty and unemployment among Palestine refugees, have put immense strain on UNRWA. Most Palestine refugees now live below the poverty line, and many depend on humanitarian assistance, including cash and food.
For example, in Gaza, the price increase is between 30 percent – 40 percent, which is resulting in a significant increase in Palestine refugees' needs. The war in Ukraine has distracted the world's attention away from the issue of Palestine refugees and their needs, as most financial support is directed toward those fleeing from Ukraine. Some of our donors have already begun to take austerity measures. All the repercussions of natural disasters, conflicts, and wars are increasing the number of refugees fleeing their homes, leading to the division of resources on bigger groups of people.
In your meeting with Egyptian Foreign Minister Sameh Shoukry, you discussed UNRWA's keenness to consult closely with Egypt in light of its important role in supporting the agency's activities and mobilizing international support. How would you describe Egypt's role in supporting and raising awareness of UNRWA's mission?
Egypt is a founding member of UNRWA and has historically and politically supported the Agency. As a significant regional power, Egypt's support to the Agency and its advocacy on behalf of UNRWA are very important. The continued support affirms Egypt's commitment to the Palestinian cause, and my meeting with the Member States in the League of Arab States helps shed light on the challenges facing UNRWA and negatively affecting the lives of Palestine refugees. The Agency is grateful for the support of the Egyptian government and will continue to rely on Egypt for mobilizing global political and financial support. We look forward to continuing our strong strategic relationship with Egypt.
Another point raised was Egypt's commitment to working towards a peaceful solution to the Palestinian cause. What steps does UNRWA hope to see Egypt take towards this end, particularly in light of its presidency of the session of the Council of the League of Arab States at the level of foreign ministers?
Egypt's political and diplomatic competency is influential to the entire Arab region. Resolving the Israel-Palestine conflict has always been and continues to be a priority for Egypt. In light of the recent escalations in the occupied Palestinian territories, we are aware that President Sisi has been leading prominent forums and conferences to control the situation on the ground. I look forward to the Aqaba follow-up meeting in Sharm El Sheikh, hoping all parties will find common ground to instill a truce.
In the past decade, young people have been exposed to floods of online information about the occupation of Palestine, resulting in desensitization as well as misinformation. What steps can be taken to increase awareness among Egyptian youth about Palestinian refugees' plight and equip them with accurate knowledge of the situation?
Through our social media channels, we are constantly aiming to raise global awareness on the challenges facing Palestine refugees, and UNRWA's efforts to alleviate their living situation, and provide them with the needed humanitarian assistance. We are also keen on participating in forums that speak directly to the youth. In 2022, UNRWA Representative Office in Cairo participated in the World Youth Forum in Sharm El Sheikh where the Chief of the office gave a speech addressing the Palestine refugees struggle, and what is needed from the regional and international communities to collectively support the most vulnerable communities of Palestine refugees.
What efforts has UNRWA made to include young voices in the conversation about the Palestinian cause and leverage the tools afforded by social media to raise awareness and support?
We have more than half a million students in more than 700 schools and 8,000 Technical and Vocational Education and Training (TVET) centers. Our strategy for the next 5 years has a priority to focus on youth empowerment, so they can outgrow the feelings of despair. UNRWA is proud to have an Agency-Wide Student Parliament established in 2017 that provides an opportunity for UNRWA students from the five fields of operations to meet and work together to support their communities and advocate for their rights locally, regionally, and globally. It is a part of the Agency's Human Rights, Conflict Resolution, and Tolerance (HRCRT) Education Programme, supported by the government of the U.S. since 1999.
Our youths are constantly engaging in panel discussions about their experience in the student parliament, in schools, or training centers. Last year, Ghada Krayem, a young Palestinian refugee from Gaza, shared her success story as the first female technician in renewable energy at the 2nd edition of the Global State of Human Rights Conference, jointly organized by the European Parliament and the Global Campus of Human Rights in Venice, Italy.
How has UNRWA worked to address the specific challenges faced by Palestinian women – who face substantial barriers of access to education and exposure to gender-based physical and sexual violence, among other challenges?
Gender equality is an integral part of the UNRWA commitment to the welfare, human development and protection of Palestine refugees. An integral part of our protection framework to Palestine refugees is providing assistance to gender-based violence survivors. We have provided services to more than 4,000 survivors through implementing programs that address cases of violence, abuse, neglect, and exploitation of vulnerable groups, including women and children. Through these programs, we provide psychosocial support, medical aid and referrals to specialized services.
How has UNRWA's Gender Parity Strategy, implemented between 2016 and 2021, worked to promote the active participation of Palestinian women in organizational decision-making? 
On this year's International Women's Day, we have launched the UNRWA Gender Equality Champion Award. The award recognizes the work of UNRWA employees, leadership, teams, or projects that significantly contribute to advancing gender equality and women's empowerment across the Agency's programmes for Palestine refugees and within Agency staff. It will also celebrate achievements and encourage us to remain innovative and forthcoming. We are very proud of what we have already achieved, including full gender parity in our schools several decades ago.
Last year, ahead of Ramadan, UNRWA launched its first digital fundraising campaign in Egypt with the aim of supporting thousands of Palestinian refugee families through which anyone could start a fundraiser and invite their loved ones to donate in support of Palestine refugees. Will UNRWA be launching any such initiative this year? 
UNRWA launches digital fundraising campaigns yearly in Ramadan. This year will not be any different. It will not be targeted towards a specific country, but yes, starting a fundraiser is still an ongoing option for all currencies including EGP.
---
Subscribe to our newsletter
---