'Get Online Week' has been launched in Egypt and the Middle East and North Africa (MENA) region for the first time to empower and encourage the use of technology, raise awareness on the benefits of ICT and to promote the role of e-skills in the daily lives of every day people.
'Get Online Week' is a European digital empowerment campaign launched in Egypt by the United Nations Development Program (Egypt), the Ministry of Communication and Information Technology through its ICT Trust Fund, Microsoft Egypt and Telecentre Europe and Telecentre Foundation.
The theme for the campaign in the region is employment, digital jobs, social innovation and entrepreneurship for youth. UNDP in Egypt, and other GOW partners, engaged young innovators, entrepreneurs, public institutions, civil society and the private sector in a variety of diverse online and offline activities during the entire week.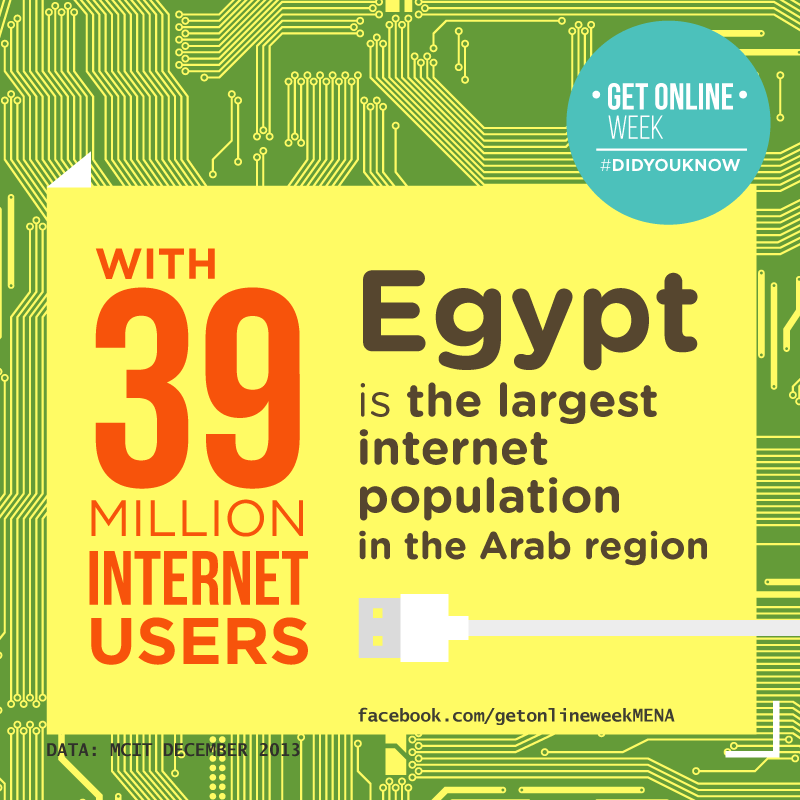 On the 21st of March to the 22nd of March, computer science students from nationwide universities participated in a mobile application development marathon. For two days, participants worked on developing and prototyping their own mobile applications that tackled one of the following issues: Women Empowerment, Child Protection and Environment.
Throughout the week, a series of webinars on topics related to innovation and entrepreneurship were live streamed online by different Egyptian innovators. The audiences were able to watch and engage with the presenters in real time.
Furthermore, on Wednesday the 26th of March, a round table discussion on youth entrepreneurship and innovation was held at the UNDP Country Office in Cairo. Participants included representatives from Ashoka, Cairo Sitters, Egyptian Streets, Eventtus, Flat6labs Se3eedy Geeks, Supermama, Tawseela and Yomken.
This group of diverse youth discussed the challenges they faced as entrepreneurs in Egypt, the opportunities for the growth of entrepreneurship, how business enablers can support them and finally the possible solutions for enhancing the entrepreneurial ecosystem. Proposed solutions included raising awareness on the meaning of entrepreneurship among young Egyptians, adding a strong component for entrepreneurship skills and mind-set in the formal education system, and mentorship for entrepreneurs by entrepreneurs – especially through large-scale workshops implemented by young Egyptian innovators.
[youtube http://www.youtube.com/watch?v=43jdTnVuXV0]
In celebration of the conclusion of 'Get Online Week,' a final event titled "Innovation and Creativity for Development" will be held on Thursday the 27th of March at El Sawy Culture Wheel from 12 pm – 2 pm. The event will begin with a High level panel discussion where representatives from ICT-based institutions, organizations, young entrepreneurs and private sector will discuss the growth of the ICT sector in Egypt and its impact on the national economic development.
The core of the event at El Sawy will be an Innovation Fair, where tech-related young innovators and entrepreneurs, institutions and organizations will have the opportunity to showcase their projects and initiatives to the general public. Furthermore, an open mic for people to share their ideas will be available, as well as a relaxed hangout space for workshops and discussions.
Several creative activities will be also held throughout the day such as group graffiti drawing with Amr Diwan, an artist from Alexandria. Also, Khadiga El Ghawas will show her artistic talents using light calligraphy and finally there will be two performances by Wasla Band and Deeb.

 To learn more about today's event and about Get Online Week check out http://getonlineweek-mena.com/ and www.facebook.com/getonlineweekMENA