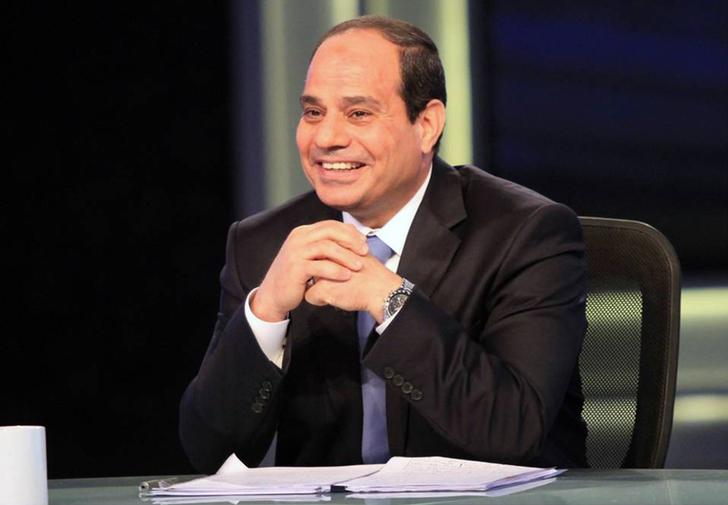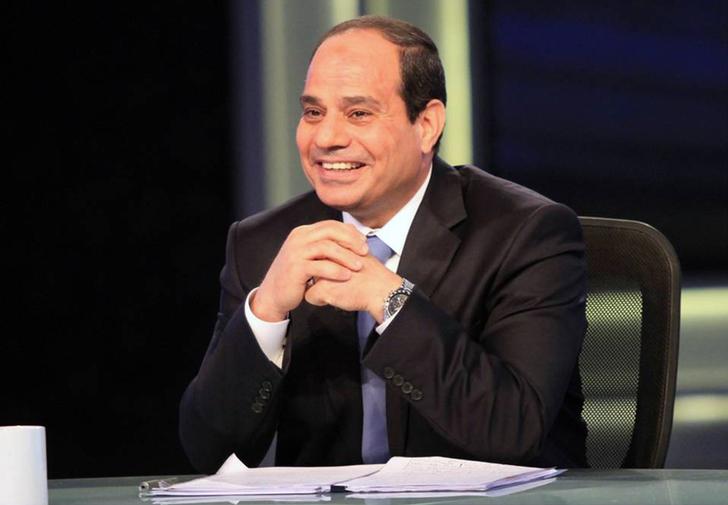 Former Military Chief Abdel Fattah Al-Sisi has been sworn into office at the High Constitutional Court in the presence of the country's top judicial, government and military brass.
The new President's first day will consist of several ceremonies which will be attended by 70 international dignitaries, including 20 world leaders.
Sisi had been declared Egypt's new President last week by the Presidential elections committee.
The 59-year-old strongman was chosen by 23.7  million votes (or 96.91 percent) of a total of 25.2 million voters (47.45 percent turnout) to lead the country less than 12-months after the fall of his predecessor, deposed Islamist President and Muslim Brotherhood member Mohammed Morsi.
The victory came after three days of largely festive, yet uneventful, elections in Egypt, in which millions across the country headed to approximately 14,000 polling stations to cast their ballots.
Sisi's sole contender crashes out of race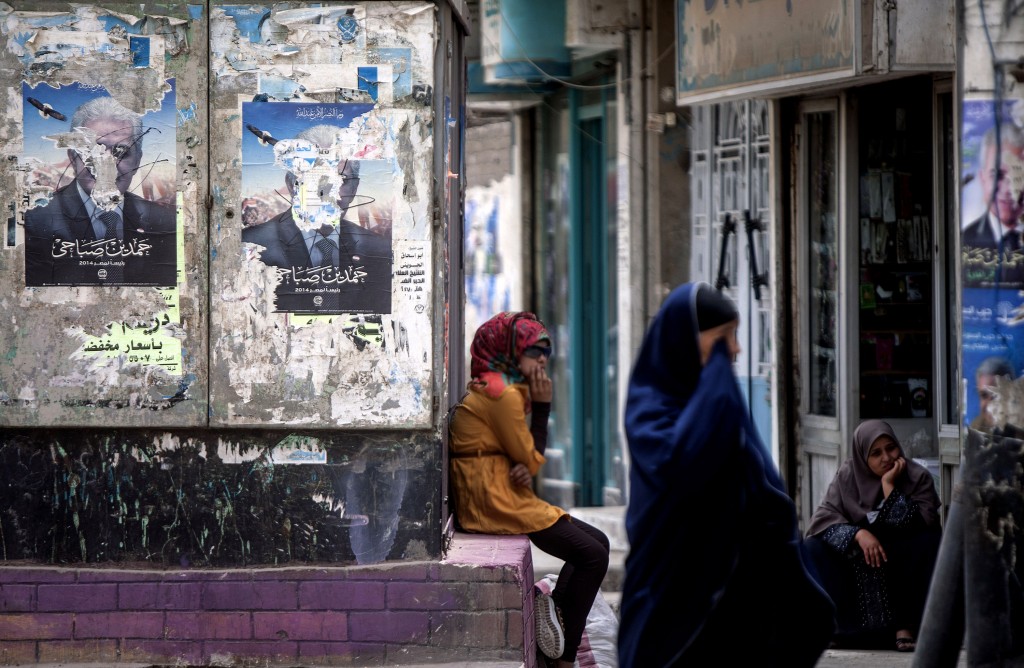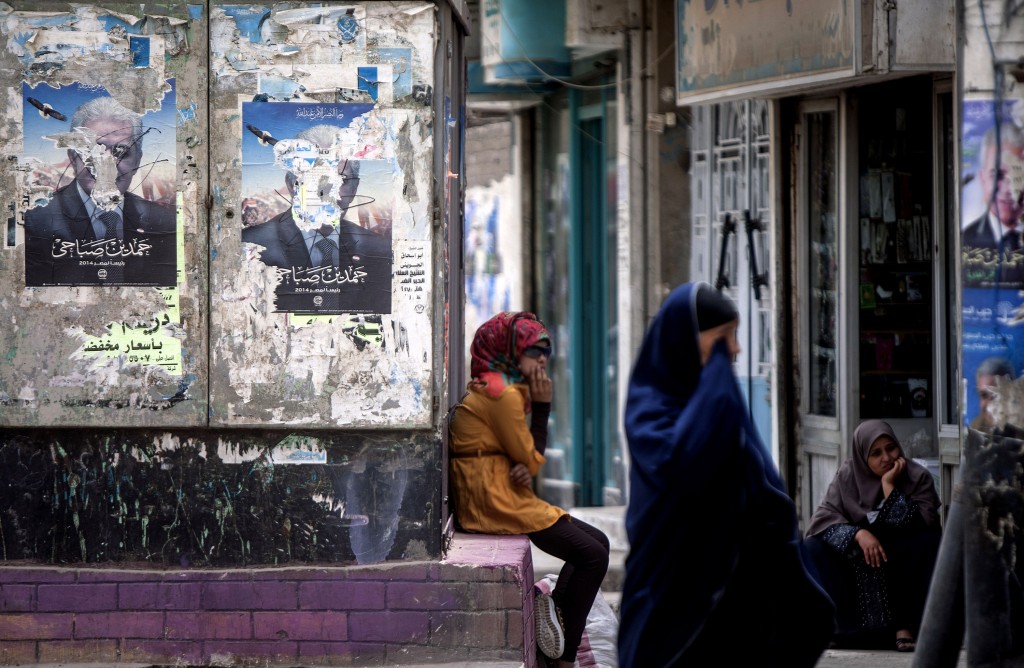 Meanwhile, Nasserist politician Hamdeen Sabahi failed to make any significant gains in the elections. According to the Elections Committee, Sabahi won a mere 3.09 percent (757,511) of the votes, while the number of overall invalidated votes surpassed one million.
Ayman Ashour, an Egyptian-American businessman and activist, believes Mr Sabahi would have been a more progressive choice.
"Sisi is way too authoritarian for me and his principles are too far from me," said Ashour who is currently in Cairo.
"Sabahi reformed from his early Nasserite days and now resembles the modern European 'left,' his principles and language are progressive. I have some doubts on his ability to deliver and to remain consistent, but I also believe he would be better for national security than Sisi."
However, Ahmed Awadalla was more pessimistic, warning on Twitter that Egypt is about to enter a 'dark tunnel.'
"Sabahi was the last hope to restore the January 25 revolution demands," said Awadalla. "Egypt re-entered the dark tunnel with very little hope for change."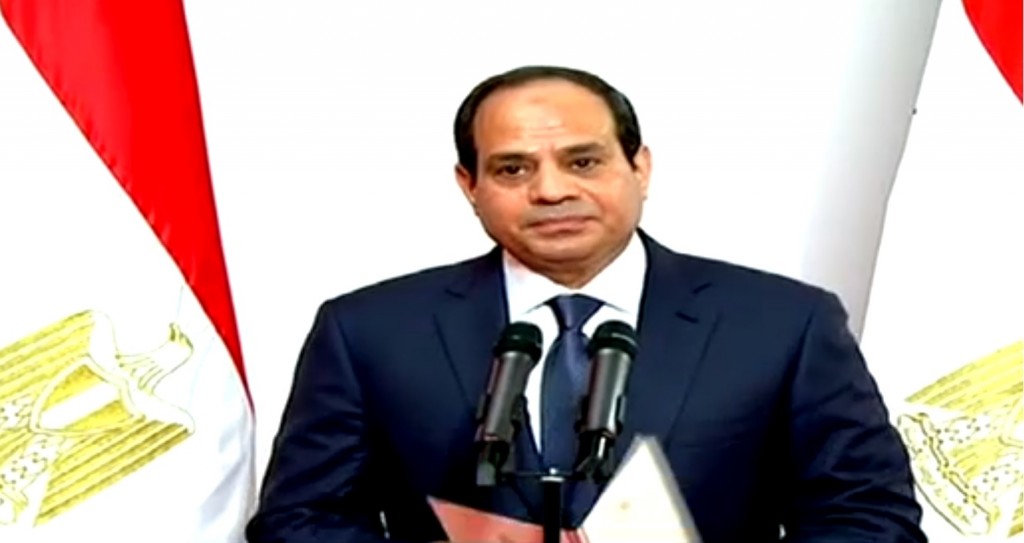 'Now is the time to work'
Less than thirty minutes following his official victory, Egypt's President-elect gave an address to the nation that lasted less than five minutes.
"I thank all Egyptians, at home and abroad, for their efforts," said the new President in a pre-recorded appearance that also thanked the military, media, judges, police forces and his contender, Mr Sabahi.
Following his words of gratitude, Mr Sisi declared that "now is the time to work…the future is a clean slate which we can fill in whichever way we want."
"Bread, freedom and social justice are the revolutionary concepts that we aim to achieve," asserted Mr Sisi as his speech came to an end.
Military rule under Sisi?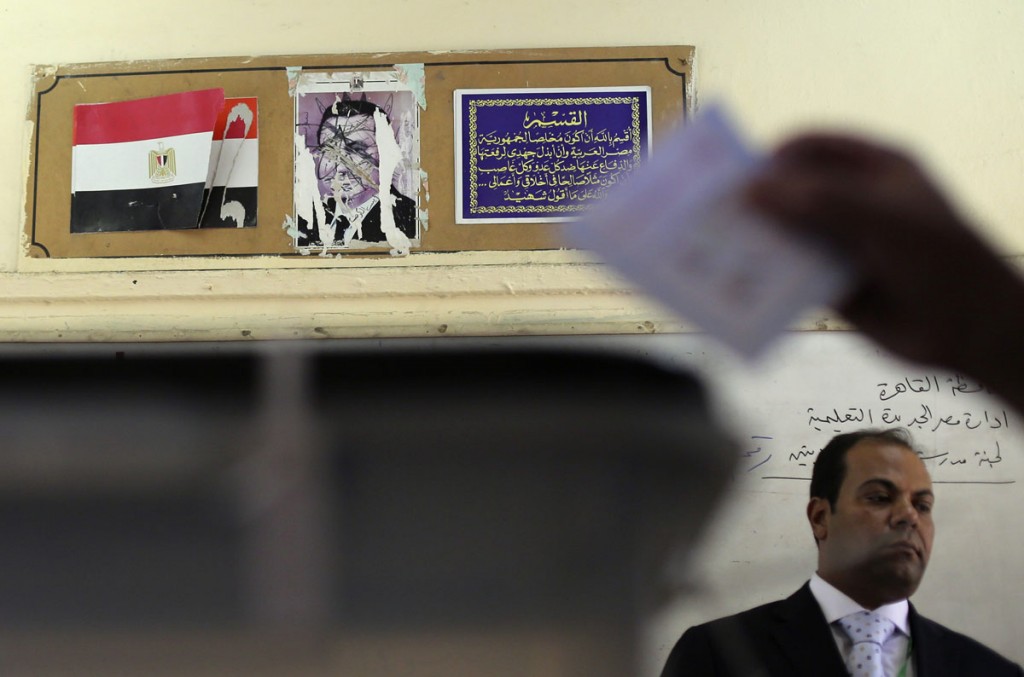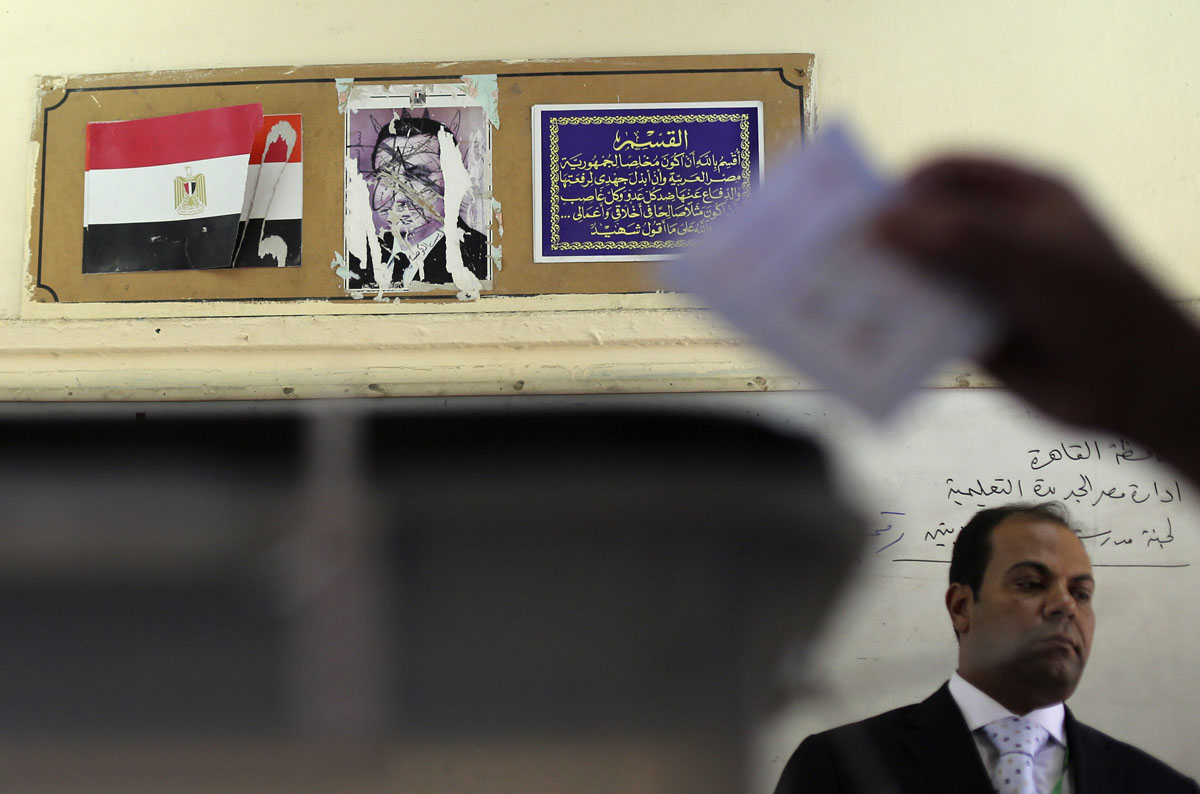 The victory of Mr Sisi marks the return of a President with a military background. All of Egypt's former Presidents, excluding deposed President Morsi and Interim President Adly Mansour, had long and illustrated Military careers.
Some activists and opponents fear that Mr Sisi's rule will reverse all and any gains made since the January 25 2011 revolution.
"The presence of Sisi and military rule in Egypt has impeded the emergence of a lively and capable civil society which is necessary for political progress and democratization in Egypt," said 21-year-old Mona Ahmed.
"There must be a system of checks and balances for any revolution and democracy to succeed. The military's current power makes that impossible"
Supporters of Mr Sisi, however, are willing to overlook his military background and the allegations of human rights abuses for political and economic stability.
"We have struggled for more than three years," said Mahmoud, a 42-year-old driver in Cairo who has three children. "Sisi will ensure the return of security and stability to our economy."
"It is about time we had a patriot as Egypt's President," said 19-year-old university student Manal Kamel. "Sisi has proven to be the embodiment of that and to really care about this country and her people."
Following the unofficial announcement of Mr Sisi's victory, thousands of Egyptians took to the streets to celebrate, waving flags, setting off fireworks and honking car horns.
Celebrations marking the official declaration of Egypt's new President were also held on June 3 at Tahrir Square, outside the Ittihadeya Presidential Palace and across the country.
Inside the State Information Service where the Presidential Elections Committee announced the results, attendees chanted "long live Egypt" and "Sisi, Sisi!" as the results were made official.
The celebration at the Square is heavily guarded, and entrance requires passing through metal detectors, declared the Ministry of Interior.
The mandate to rule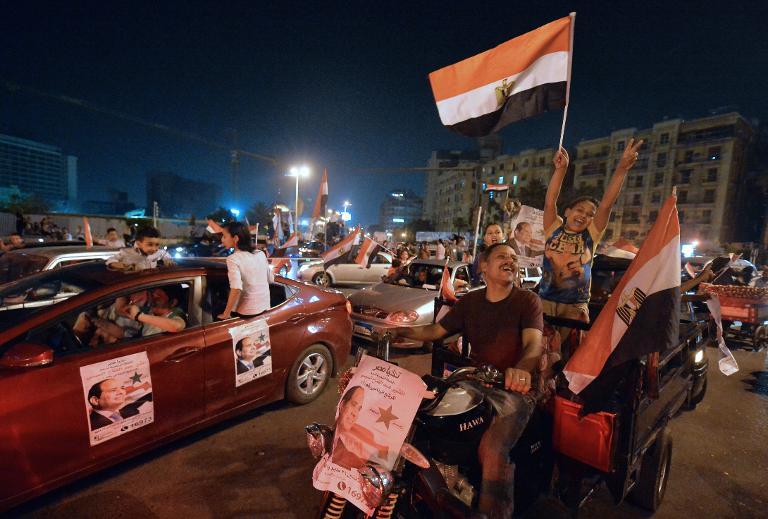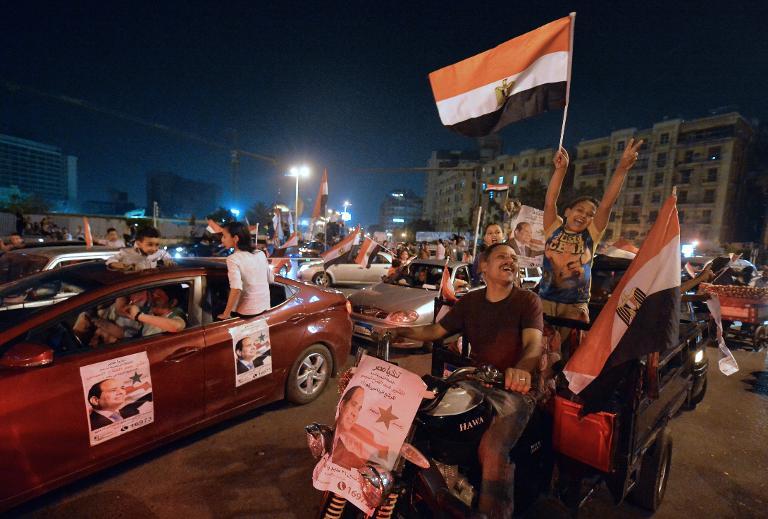 Some analysts and observers have pointed to the 'low' turnout as an obstacle to Mr Sisi's authority.
In interviews prior to the Presidential elections, Mr Sisi aimed to achieve a turnout of 80 percent (or 40 million out of 54 million registered voters).
However, the overall turnout of the Presidential elections barely broke 25 million voters (47 percent).
This is compared to the second round of the 2012 Presidential elections between deposed President Mohammed Morsi and former Prime Minister Ahmed Shafiq, which saw a turnout of 52 percent.
Nevertheless, others have stated that what mattered was Mr Sisi's ability to overwhelmingly surpass Mr Morsi's votes.
The government and the Presidential Elections Committee have also hailed the turnout, with the Elections Committee declaring that the turnout was 'strong.'
A future Egypt under Sisi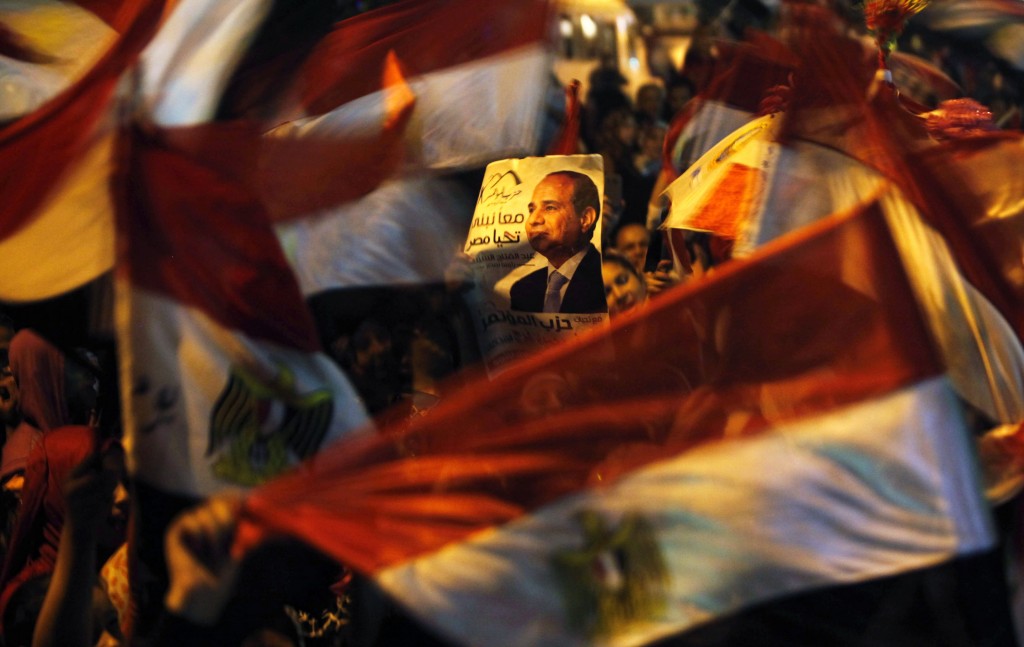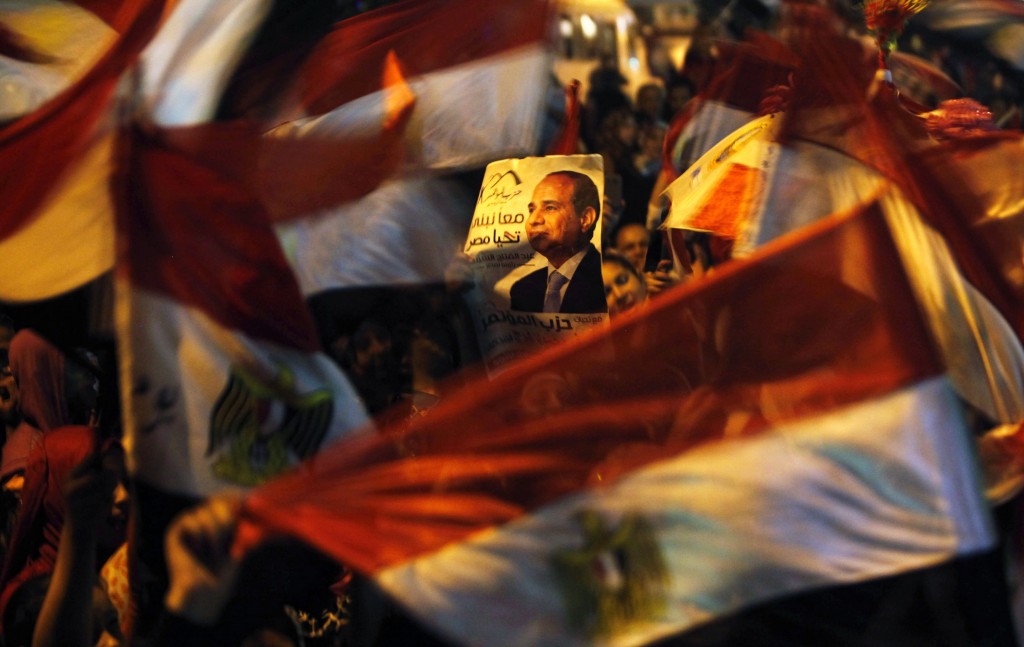 Mr Sisi, the man largely responsible for the ouster of the former Islamist President, has vowed to end the Muslim Brotherhood during his rule.
"Egyptians reject reconciliation with the Muslim Brotherhood," declared Mr Sisi when asked about the banned Islamist group, adding that the group is affiliated to violent extremists.
"It is not me that ended the Muslim Brotherhood. You, Egyptians, are the ones who ended it."
Mr Sisi also attempted to ally fears that the Military would be ruling Egypt, declaring that he is not the Military' candidate.
"I am not the Military candidate…the army will not have a role in ruling Egypt," said the new President.
In regards to the economy, Mr Sisi plans to tackle Egypt's high unemployment and boost development.
Egypt's new President is tackling development through the implementation of a plan titled 'The Map of the Future.'
The plan, a creation by former NASA geologist Farouk El-Baz, involves building new cities, making use of more than 90 percent of Egypt's territory that remains abandoned and constructing new roads, railroads and airports.
'The Map of the Future' also envisions the use of renewable energy (including solar and wind power) to provide a sustainable energy source for Egypt's rapidly growing population.
What is clear, however, is that millions in Egypt will be closely observing the new President's next steps.
"The elections prove he has the support," said one voter during the latest elections. "The question is, can he take the necessary action to fulfil the hopes of Egyptians?"
---
Subscribe to our newsletter
---