If you had asked the young Reda Abdel Rahman what he desired to become when he grew up, his answer would not have been 'doctor' or 'engineer'. "An artist!", he would say – and many years later this is an accomplished fact. 'Legend' is the name of the exhibition that showcased some of his work at Gallery Misr.
From the countryside
Born in the 'City of Beauty and Enchantment' on the west bank of the Suez Canal, Reda Abdel Rahman was bound to be fond of nature. Even in Cairo he picked one of the greenest areas to reside and work in: Dahab Island, in the Nile: "I live close to nature. It makes me feel close to the environment Ancient Egyptians were working in. On Dahab Island there are Muslims and Christians, churches and mosques. They don't have any problems at all with each other – so far."
The Minya born painter graduated from Minya University's College of Fine Arts, a faculty amidst greenery, surrounded by Ancient Egyptian cultural heritage. Reda Abdel Rahman grabbed this opportunity with both hands. He benefited from his five-year student career to visit places like the Bani Hassan tombs, the ancient city of Abydos, and Sohag more than regularly and let Ancient Egypt touch his soul.
Made by an Egyptian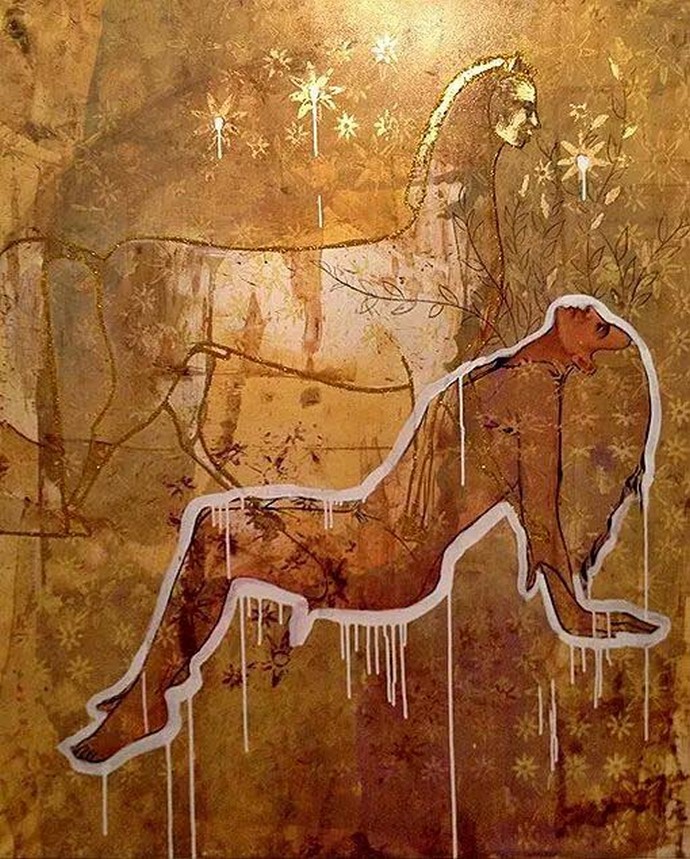 Ancient Egypt does not only constitute an inspiration source for the artist. Incorporating some of its artistic elements is Reda Abdel Rahman's way to make clear that his paintings are by the hand of an Egyptian. "This is not the only way to portray my Egyptian identity," he adds. "I also insert Coptic elements, such as halos, and the use a certain type of side view." The painter is not able to pinpoint who exactly had an influence on his work: "I learn from everyone. I can even learn from my students. I don't think that there are wrongs or rights when it comes to art. I do what I do, and that's my message."
From politics to religion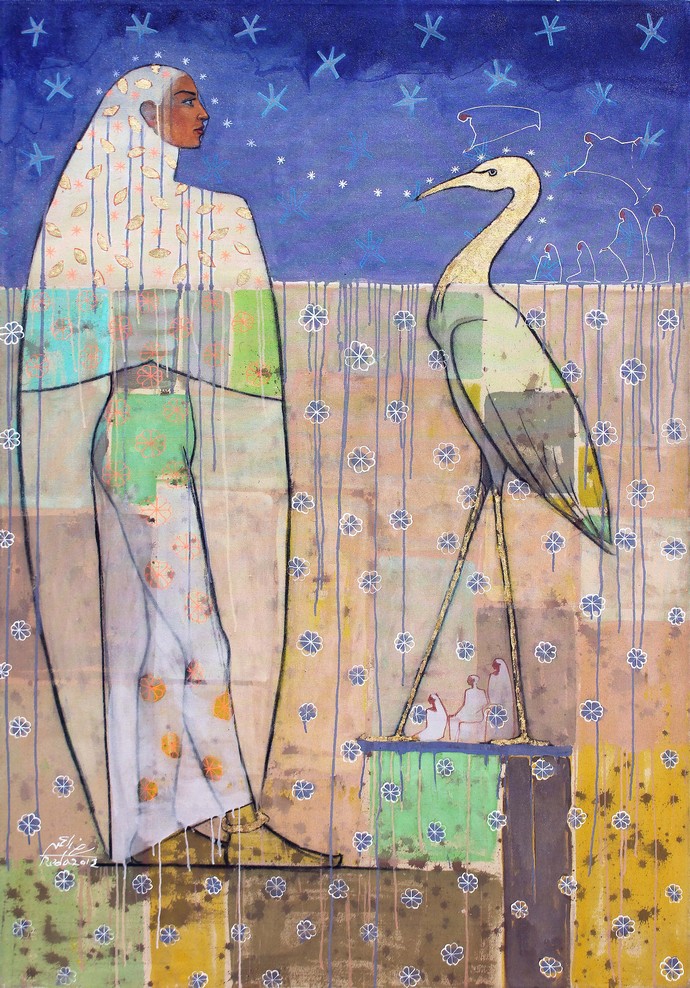 "You would usually find a sign that says "Don't Touch" next to a painting. But I would tell them: come, and draw what you're thinking." With 'them' the artist means the people he tried to establish a connection with on Tahrir Square, during the revolution. The unknown, the famous, professional artists, 'non-artists'… He invited them to draw what they were thinking on a big canvas. The political circumstances of living in Egypt have always influenced his work, and still do.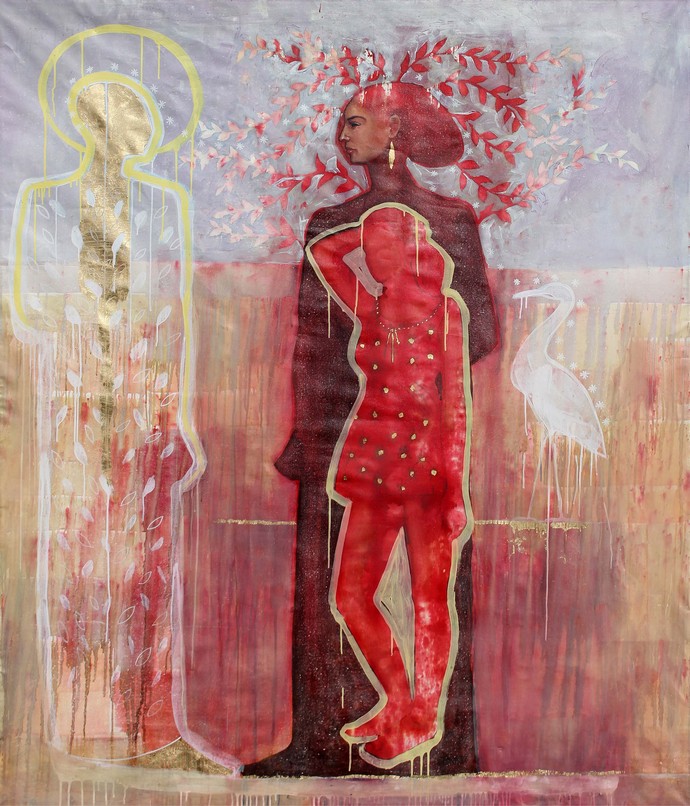 On 17 June 2014, the 6th CARAVAN Exhibition of Visual Art will open in Cairo. It will result in an unprecedented gathering of renowned Egyptian and Western artists coming together to use art as a bridge for intercultural and inter-religious dialogue. The exhibition will be co-curated by Reda Abdel Rahman, who was a participating artist of CARAVAN before. At the time, he created a series of painted donkeys. One of them represented the Muslim Brotherhood with the upper part of his body and the face of Mohammed Morsi, and the army with the lower part. It is clear that Reda Abdel Rahman is no fan of the Muslim Brotherhood and its one-year reign, and it is clear that he wants to share this opinion whether you want to hear it or not. Even when talking about CARAVAN, he laughs: "Through this exhibition, a lot of people know that there is Egyptian art, that there is something moving. That there are not only people who are being killed on the streets. Or not only Muslim Brothers. That there are artists, too." Whilst the revolution used to be one of his hot topics, he focuses more on the role of religion in society nowadays.
Myths and legends, Hasan and Naeema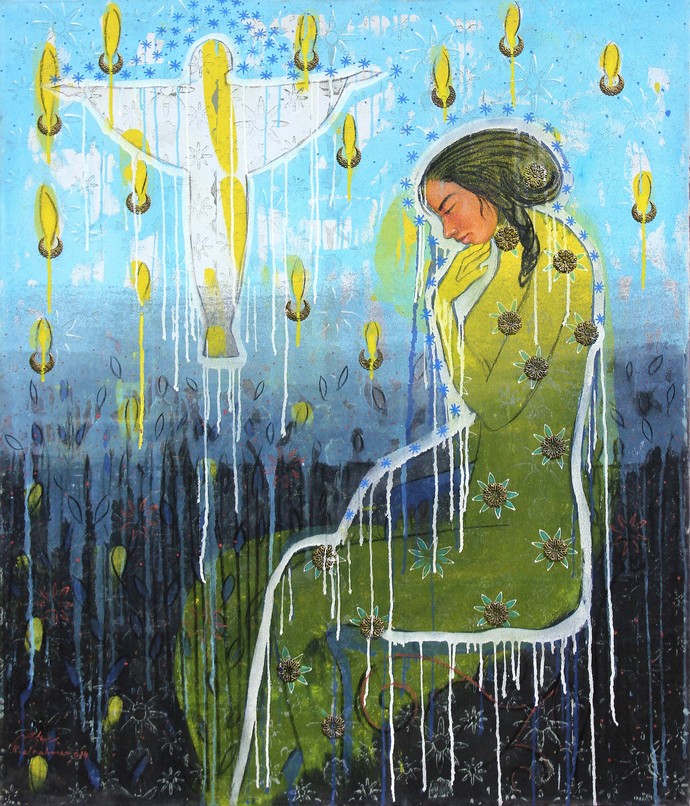 The paintings of the 'Legend' series are built on different layers. Ancient Egypt is most visible in his work but if you look closer, there is more. It contains aspects of myths and legends, contemporary icons, and social criticism at the same time. Those who know the artist personally, will even recognise his daughter's face in one of the women depicted. However, the message within the paintings is often not visible at a first glance. "If I want to portray a message directly, I use an object like the donkeys, or a drawing. As for paintings, it is important to get a positive feeling when looking at them at first. In the end it is supposed to hang on a wall in your house," Reda Abdel Rahman adds.
For the love of women, and birds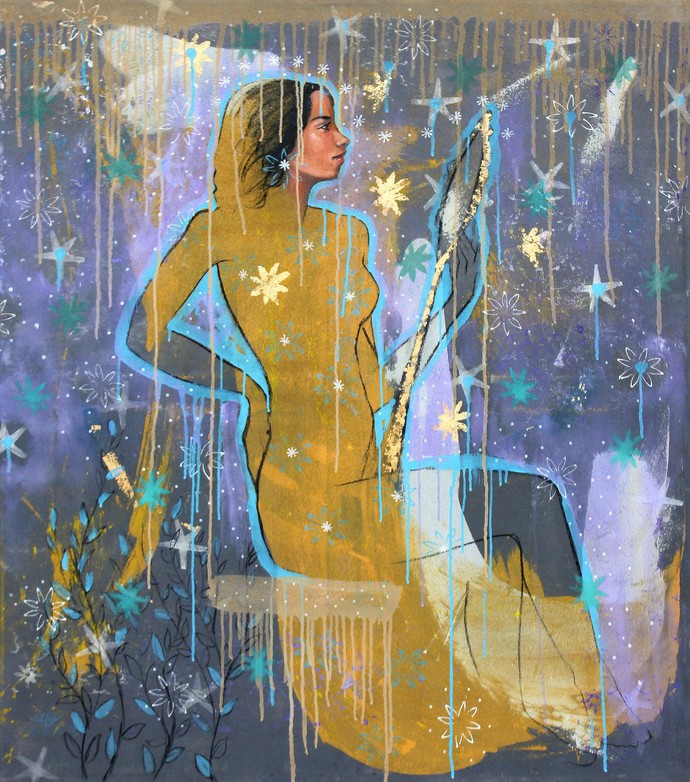 "I think that women form an important part of society. In my eyes, they are not complementary to men. No, they are more. I love The Woman, in general. As a friend, a wife, a daughter… I focus on her and on portraying her in a positive way. I want to praise her worth through my art," Reda Abdel Rahman describes, explaining the central role women play in the 'Legend' series. On the other hand, the birds in his works symbolise freedom: "These days we need freedom. It is hard to domesticate most wild birds and to keep them as house birds. If you would catch them and put them in a cage, they would die immediately. I tried several times, and it is impossible. Birds have to be able to go to places they want to go to. That's what we need to achieve in Egypt as well, for all Egyptians."
Paintings by Reda Abdel Rahman © Gallery Misr (more images available on the gallery's website)
This article was originally published on al.arte.magazine