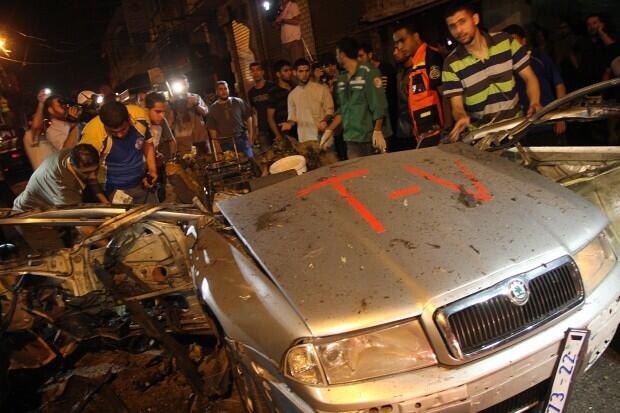 Egypt has officially opened its Rafah border crossing with Gaza for all injured Palestinians seeking medical assistance. The latest round of air-strikes in Gaza have brought the death toll to 75, according to the Gaza Ministry of Health.
Wednesday night, Israeli fighter jets targeted a media vehicle in down-town Gaza City, killing journalist Hamed Shihab and injuring five others.
On Wednesday alone, 24 Palestinians were killed in Gaza, including six women and nine children. Another 20 people, including seven women and children, were killed on Thursday morning. The ministry also reported that a total of 474 Palestinians have been wounded since Israel launched  "Operation Protective Edge" late Monday night.
There have been over 770 Israeli air-strikes and 320 rockets fired from Gaza towards Israel since the conflict started on Monday.
Despite these figures, Israeli forces insist they are exercising restraint in an attempt to limit civilian casualties. A spokesperson of the IDF has posted a video of Palestinians fleeing a house, claiming an air-strike was aborted in the interests of preventing civilian casualties.
In the past two days, Israel has been responsible for the most civilian casualties since their Operation Pillar of Defense in 2012. Haaretz reports that over 400 tons of explosives have been dropped on Gaza since Monday night.
Palestinian president Mahmoud Abbas accused Israel of committing genocide on Wednesday. Abbas, speaking after an emergency meeting with Palestinian leadership in Ramallah, said that Israel's latest offensive in Gaza is a war crime.
"This war is not against Hamas or any faction, but against the Palestinian people," Abbas said. "We must have a say about what's happening and what could happen in the coming days, which will be difficult," said President Abbas.
Meanwhile, United Nations Secretary General Ban Ki-Moon has urged Israel and Hamas to end all hostilities, warning that the "deteriorating situation is leading to a downward spiral which could quickly get out of control."
---
Subscribe to our newsletter
---