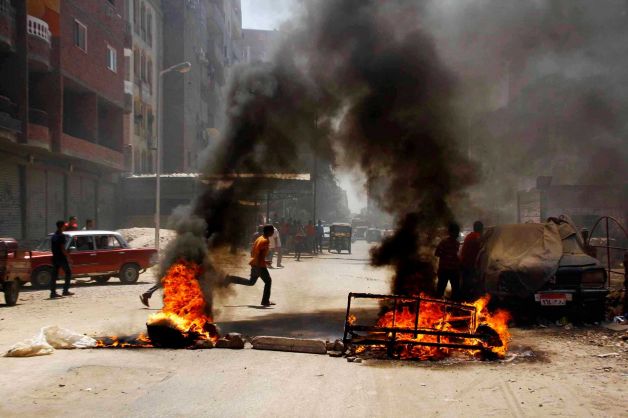 At least six people were killed and dozens arrested on the anniversary of the dispersal of protesters in Rabaa Al-Adaweya and El-Nahda Square as police forces attempted to suppress miniature demonstrations led by Islamists in several Egyptian cities.
August 14 marks the anniversary of the dispersal of pro-Morsi sit-ins at Rabaa Al-Adaweya and El-Nahda square in which security forces dispersed large encampments, leaving hundreds dead.
The Anti-Coup Alliance, an avid group of supporters of ousted Islamist President Mohamed Morsi, called for demonstrations on Thursday across Egypt under the banner of "We Demand Retribution", however, the calls failed to gather large demonstrations and the protesters were quickly dispersed by police forces.
Five protestors died on Thursday during confrontations between police forces and pro-Morsi supporters, according to a security source and Al-Ahram's Arabic news website.
The sixth death was a police sergeant, who was shot dead on Thursday morning by unknown assailants in Helwan.
"Today is a typical, recurrent scene that is emblematic of the stark contrast between desire and capability," Ammar Ali Hassan, an Islamist thinker and analyst, said, quoted Al Ahram.
"The Muslim Brotherhood has spoken of vast numbers and tremendous changes and they wind up having weak scattered protests punctuated by violence that eventually achieve nothing," Hassan added.
Police forces used tear gas on Thursday to disperse the small demonstrations across Egypt, while pro-Morsi demonstrators set tires on fire and blocked major roads.
Two dozen explosive devices were defused and 114 suspected Brotherhood members were arrested in eight governorates, said the interior ministry in a statement.
The government began a rigorous crackdown on Islamists since the ouster of President Mohamed Morsi in July 2013.
The Muslim Brotherhood was once one of Egypt's largest and most organized political parties; however, their status has since fallen.
---
Subscribe to our newsletter
---