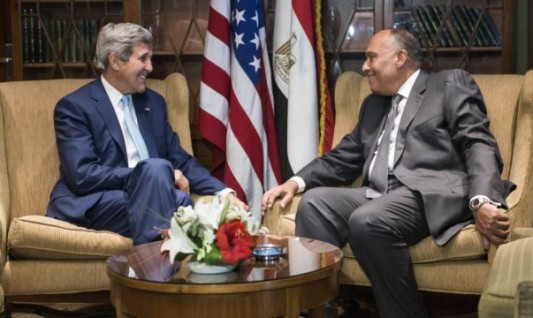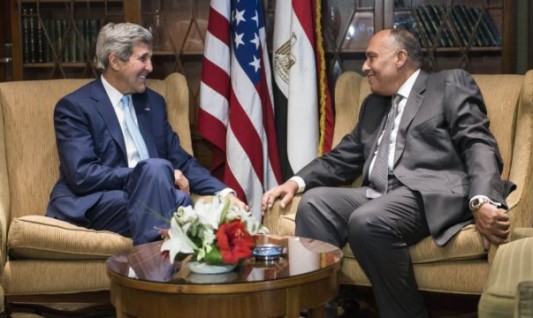 As an intellectual and cultural capital to the Muslim world, United States Secretary of State John Kerry said Egypt has a pivotal role to play in combating Islamic State fighters in Iraq.
Kerry arrived in Cairo Saturday morning for the third time in three months, two days after Thursday's Jeddah talks, hosted by Saudi Arabia to discuss means of combating extremist groups within the region.
The talks managed to grant the U.S. the support of 10 Arab countries to launch a "coordinated military campaign" against Islamic State fighters in Iraq.
In a joint press conference with his Egyptian counterpart Sameh Shokri, Kerry said that U.S. President Barack Obama earlier explained that the U.S. believes the threat of the Islamic State can be eliminated through building a global coalition. He expressed his gratitude for Egypt and the Arab League's support for the coalition.
The U.S. secretary of state said apart from the much needed military support to combat Islamic State fighters in Iraq, humanitarian aid is also needed, alongside exerting efforts to stop the flow of foreign fighters into Iraq.
"Egypt at the forefront of fighting terrorism"
The U.S. secretary of state met with the Arab League Secretary General Nabil al-Arabi in Cairo on Saturday to discuss the latest developments in Syria, Libya and Iraq, reported state-run news agency MENA.
The meeting parties discussed international efforts to combat terrorism. They also addressed the results of the Jeddah talks, MENA reported.
Kerry said Egypt is at the "forefront" of combating terrorism. He added that this is why the U.S. announced last month sending eight Apaches to the Middle-Eastern state to "face this threat."
The U.S. secretary of state stressed the importance of Egypt's support to the newly elected government in neighbouring Libya. He said this support will help the Libyan state with its fight against "extremism".
Militant fighting in Libya has recently intensified in measures unprecedented since the overthrow of late Libyan President Muammar Gaddafi in 2011. Army general Khalifa Haftar has declared war on Islamist forces within Libya since May.
Relation between Islamic State fighters and other militant groups
Kerry began a tour to the Middle East on Tuesday, and took part in Thursday's Jeddah talks.The talks included representatives from Egypt, the U.S., Turkey, Jordan, Lebanon, Iraq and the six member-states of the Gulf Cooperation Council.
Islamic State fighters have controlled large areas of Iraq and Syria recently. They have carried out a number of mass executions and beheaded two American journalists.
Shokri commented on a possible relation between Islamic State fighters and other militant groups in the region, especially in Egypt, stressing that such relation is being "monitored". He added that global action is needed to combat such militant groups.
Reuters had interviewed a member of the Ansar Bayt al-Maqdis militant group last week, largely active in Egypt's Sinai peninsula, who claimed that the group is in contact with and receives guidance from the Islamic State fighters in Iraq.
"[The Islamic State] claims to be fighting on behalf of Islam … but actually it has nothing to do with Islam," Kerry said. He added that he has "heard loud and clear from [Islamic] leader after leader" their utmost rejection of the Islamic State fighters' activities.
Kerry said he will attend on Monday an international conference on peace and security in Iraq. The conference, due to be held in Paris, will also be attended by Shokri and Arabi, Kerry said.
Arriving from Turkey, Kerry is in Egypt on a two-day visit to meet with Egyptian officials and discuss the latest developments in the region.
Egypt's role in the Gaza ceasefire agreement
Kerry, the highest-ranking U.S. official to visit Egypt, was in Cairo last July to discuss the situation in Gaza and a ceasefire initiative proposed by Egypt.
"We appreciate Egypt's leading role in reaching the ceasefire," Kerry said on Saturday.
Egypt announced on August 26 reaching a ceasefire agreement within the Gaza strip, ending a war between Israel and Gaza's ruling body Hamas that has left 2139 Palestinians killed and over 11,100 injured. On the Israeli side sixty-four soldiers and six civilians were killed.
Indirect negotiations between Israel and Palestinian factions, sponsored by Cairo, are scheduled to resume within a month after the start of the new Gaza ceasefire, as per the agreement.
Shokri described the Palestinian crisis as the "central cause in the Middle East." He stressed the importance of resuming negotiations to create a Palestinian state with east Jerusalem as the capital.
This is Kerry's third visit to Egypt since President Abdel Fattah al-Sisi, the former army chief, was inaugurated president.
---
Subscribe to our newsletter
---