Leading Egyptian thinkers, youth and entrepreneurs will be gathering in the heart of Cairo between October 12-14 to learn and inspire. With Egypt's population mainly consisting of youth, the RiseUp 2014 Summit will aim to provide an efficient way to glue an ecosystem of scattered entrepreneurs together in order to drive and accelerate growth in Egypt and beyond.
To learn more about the event, which will see local and international speakers from a wide of industries and a variety of vibrant workshops, Egyptian Streets interviewed Abdelhameed Sharara, the co-founder of RiseUp.
What is Rise Up and how did it start?
Rise Up is an entrepreneurship development company focusing on enabling entrepreneurs and the entrepreneurship ecosystem in Egypt, MENA and other emerging markets by taking on different, alternative paths and projects, while supporting the country's economy. It all started with the purpose of documenting the size and growth of entrepreneurship and start-ups in Egypt.
The company's first milestone was the biggest entrepreneurship gathering in Egypt: The Rise Up Summit 2013. As the community came together and individuals from all over Egypt marked their presence, it was clear that there was so much more we could do to support this sector which already carried so much potential – and that is exactly what we are here to do, not only in Egypt, but in all emerging markets.
Today, we are a team of four co-founders, including myself (Abdelhameed Ahmed Sharara), Muhammad Mansour, Con O'Donnell and Gehad Hussein. We also have a crazy team of young operatives, such as Hadeer, Ahmed, Mahmoud, Negm, Aliaa and Alia!
What is Rise Up's vision?
The vision was having all the start-ups and the ecosystem stakeholders in one place where they all connect, share knowledge, collaborate and have a real impact on the economy. Our role model, Mr Talaat Harb, was the best example for this vision. This is why we kick-started it on his birthday.
How did you personally get involved and what drove your motivation?
I pitched the idea to many people, however the one person who really gave me a boost is Con O'Donnel. He was heading MC Egypt's entrepreneurship program and of course the famous triplem.  Dina El Mofti, my boss at Injaz, gave me a very strong push and even helped me leave my job to start this. There was also the role of the father of entrepreneurship in Egypt, Ahmed El Alfy, who took the risk and allowed us to have RiseUp at the GrEEK Campus during the times Cairo was really on fire, especially the area surrounding the GrEEK Campus [near Tahrir Square].
Heba Gamal, MD Endeavor, Dr. Shereef Kamel, the ex-Dean of the American University in Cairo's School of Business, Hala Fadel, Chair of MITEF pan-Arab region, Ramez Mohammed, CEO of flat6labs, and Hossam Allam, founder of Cairo Angels,  all played heroic roles in bringing everyone together. It is all about people!
There was also the role of startups and entrepreneurs who actually created this event and finished all the operations in less than a week! They were all volunteers and none of them even got invited to help as they were all self-motivated. People like Gehad Hussein, who became a co-founder, Abdelrahman Zohair and Sherif Tarabishy from Morph'D, Moataz Kotb, Kareem Diaa, Irene, Veronica, Tamer Azzab, Ahmed Wasfy, Ahmed Nagy, Mohammed Dawood, Mai Medhat and Nihal Fares and many others are all amazing entrepreneurs!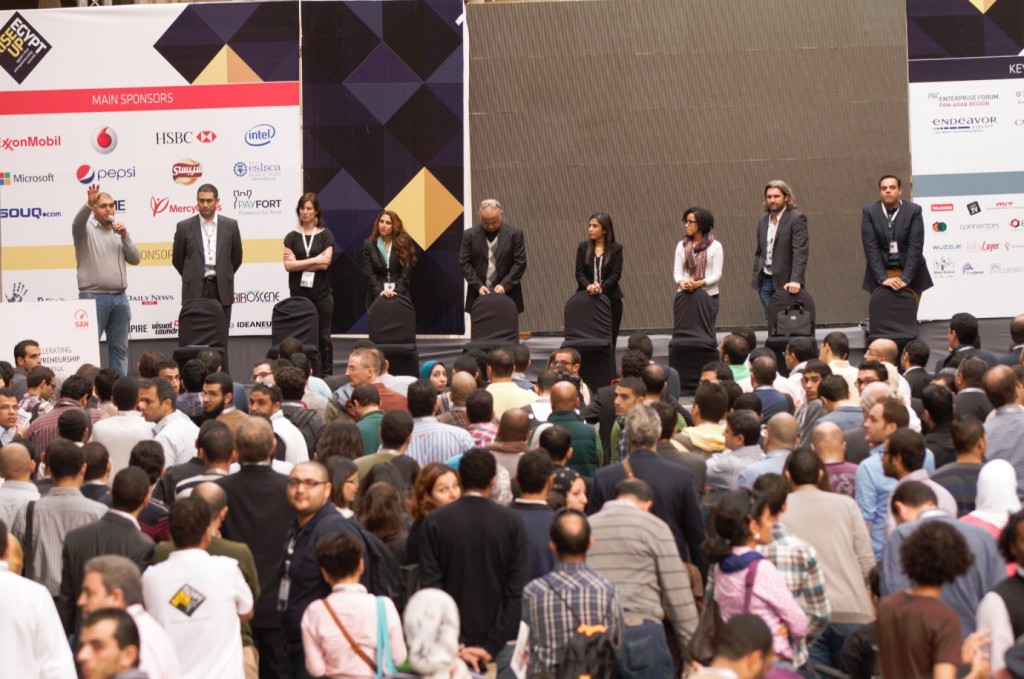 How will this year's event be different from the rest? What can attendees expect to encounter?
This year there is a very strong international presence. Some of the most successful entrepreneurs and investors from the United States and Europe are coming to Cairo, to share knowledge & insights, yes, but also to seek out opportunities.
Also, this year Rise Up is extending into traditional sectors of the economy (i.e. Tourism, Agriculture, Food & Beverages, Transportation etc.) to expose them to the ecosystem, to learn from them, and to exploit opportunities within them. Expect a lot of new faces and new energy.
The workshops this year are really focused on know-how and skills that entrepreneurs need, They are very diverse, organised by more than one-hundred stakeholders and with speakers from all over the world.
How do you see the Egyptian entrepreneurial ecosystem?
The start-up scene in Egypt is really growing at a very fast pace. Everyone is learning from their mistakes. Start-ups are now more mature and everyone realised that it is not about the idea as much as it is about the team and the execution. The ecosystem now is more connected post-RiseUp 2013 and this year it is getting more synergized. The scene is much more connected to the region, Europe and the Valley and becoming more global. Success stories in these places are getting more and more common and we are expecting some exits to happen on the local level.
Following the 2011 revolution, there has been a boost in entrepreneurship in Egypt. Do you feel that this is adequately supported in Egypt or do startups continue to struggle?
People started to have space to dream post the revolution. They saw no barriers and the hopes were really high. This had a direct effect on the number of young people who wanted to startup a business and turn their ideas and dreams into a successful reality. As the revolution's outcome was not really the best for many people, optimism level significantly decreased as we started facing real problems like energy and water shortage.
But I have a say in this, what did we expect? Everything to be solved in 18 days? It is all about persistence. If you want to solve a problem, you keep trying a thousand times until you find the solution and if you believe that you can change the universe and you actually attempt to do so, then bear the consequences of such trial. You have to understand that it is a very long and hard road and you won't succeed until you really finish it to the end regardless of what you face on your way. This is why we are doing RiseUp13,14,15,16,100. Until we reach our vision!
Regarding the obstacles from bureaucracy to politics, I think that the solution is a shift in paradigm from the government's side. They have to understand that their role is to be a catalyst not an implementer; a supporter of supporters  and not a direct investor! The good news is that The Ministry of Telecommunications is really starting to get this now and they are shifting their whole strategy towards being a catalyst for the start-up scene. This happened after a very strong panel led by the Minister of ICT and big names like Aly Faramawy, Ahmed El Alfy and Dr. Ahmed Darweesh
In one line: why should someone reading this article attend Rise Up and where can they go for more information?
Attend RiseUp if you want to get some positive energy and to meet lots of crazy people who want to change the status quo!
For more info, please visit riseupsummit.com
---
Subscribe to our newsletter
---