By Maha ElNabawi, Community Times
Sometimes, paradise is a little closer than we think. Especially in a country like Egypt which boasts utterly pristine coastlines that rival some of the best beaches in the world. That being said, often times in Egypt, resort towns develop from quaint beachside communities into cluttered, poorly envisioned monstrosities that cater predominately to cheap tourists. Take for example Hurgada, or Sharm el Sheikh – both have fallen to the waist side of inexpensive, all-inclusive packages catered towards economical tourists from Eastern Europe. On the other end of the spectrum, resort compounds in El Gouna, Ain El Sohkna, and the North Coast provide Egypt's privileged with exclusive, luxury developments that continue to surge in prices due to their years of established clientele. And while the environment surrounding Gouna, Sohkna and the North Coast are nothing short of fabulous, they offer little accessibility to a new local or foreign customer base.
Like many Egyptians, I'm always looking for new seaside destinations. So, when the folks behind the nascent, Red Sea resort town of Sahl Hasheesh offered to send me there for a press weekend, I quickly jumped at the opportunity. Having spent a childhood, and adulthood in most of the above-mentioned locations, I was a bit skeptical about what Sahl Hasheesh might have to offer compared to its competition. But I soon learned never to judge a beach town simply by its rivals, because in a seaside country like Egypt, there is always something new to discover.
The Project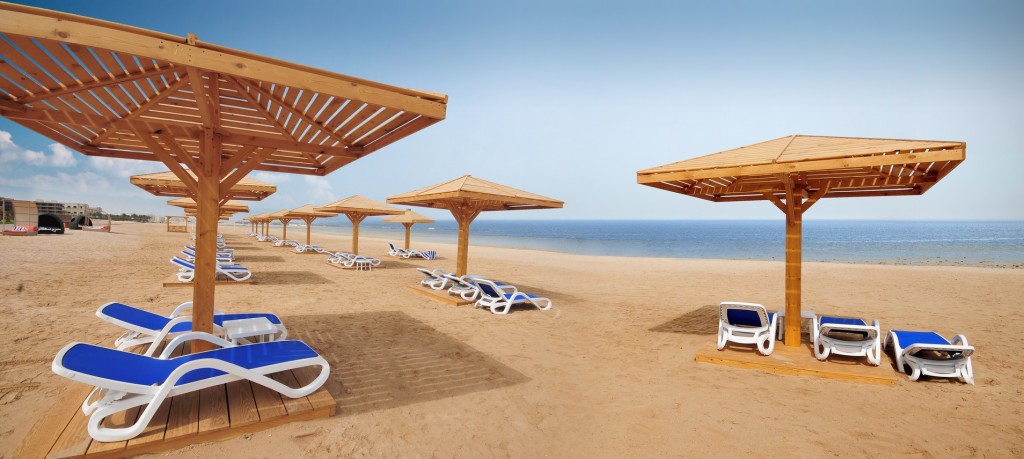 Located only 18 km south of Hurgada Airport, Sahl Hasheesh International Resort Community is the flagship development project of the Egyptian Resorts Company (ERC), one of Egypt's leading master developers and an exclusive community manager of luxury resort cities and urban development. After purchasing the land from the Tourism Development Authority in 1995, ERC broke ground in 1998 with the construction of the site's infrastructure. Now, just over a decade later, the property is operating with six, five-star hotels, residential compounds, a handful of exquisite restaurants, and two golf courses under development.
The entire property is roughly the size of El Gouna and two thirds the size of Manhattan. But Sahl Hasheesh's most remarkable quality is the 12.5 km immaculate stretch of beach that it sits upon, which gives the property the longest stretch of beach along the Red Sea.
But if you're anything like me, these figures make relatively no sense until you see the property first hand. Upon arriving in Sahl Hasheesh and entering the Azzurra residential property where we would stay for the press weekend, the stunning sight of the distant horizon instantly struck me.  But as my eyes adjusted to the poetic blending of sky and sea, I also noticed the remarkable aesthetics of the Azzurra, which holds both a hotel, and residential accommodations that blend traditional Egyptian architecture and contemporary living in one unique location. The property has a neighborhood feel to it, and while it was still seemingly empty in regards to guests and residents, it's the type of place you can imagine fruitfully filling up with families and young couples in the coming years. The Azzura offers something of an oasis of cascading pools, private tanning terraces, and scenic trails connected by batter cart paths all tucked within secured private grounds. The property also holds a health club, restaurant, poolside café, a convenience store, as well as private family barbeque areas.
Shortly after arriving, we were given a golf cart for the weekend and shown to our rooms. Rather than staying within the hotel accommodations, we were placed within the residential units; this one was made up of one bedroom, one bathroom, a sleek open kitchen, a spacious living area, and a private roof that is perfect for intimate gatherings. Later, we met down by the main pool to grab a snack and some beers before heading to a party that would take place down the beach in front of El Gusto restaurant. Overall, the service was good, the beer was cold, and the pizza made for a perfect pre-party snack. I could see myself coming back here with a group of friends for a holiday weekend in lieu of the standard options that are usually over-packed with the same faces and predictable outings.
Entertainment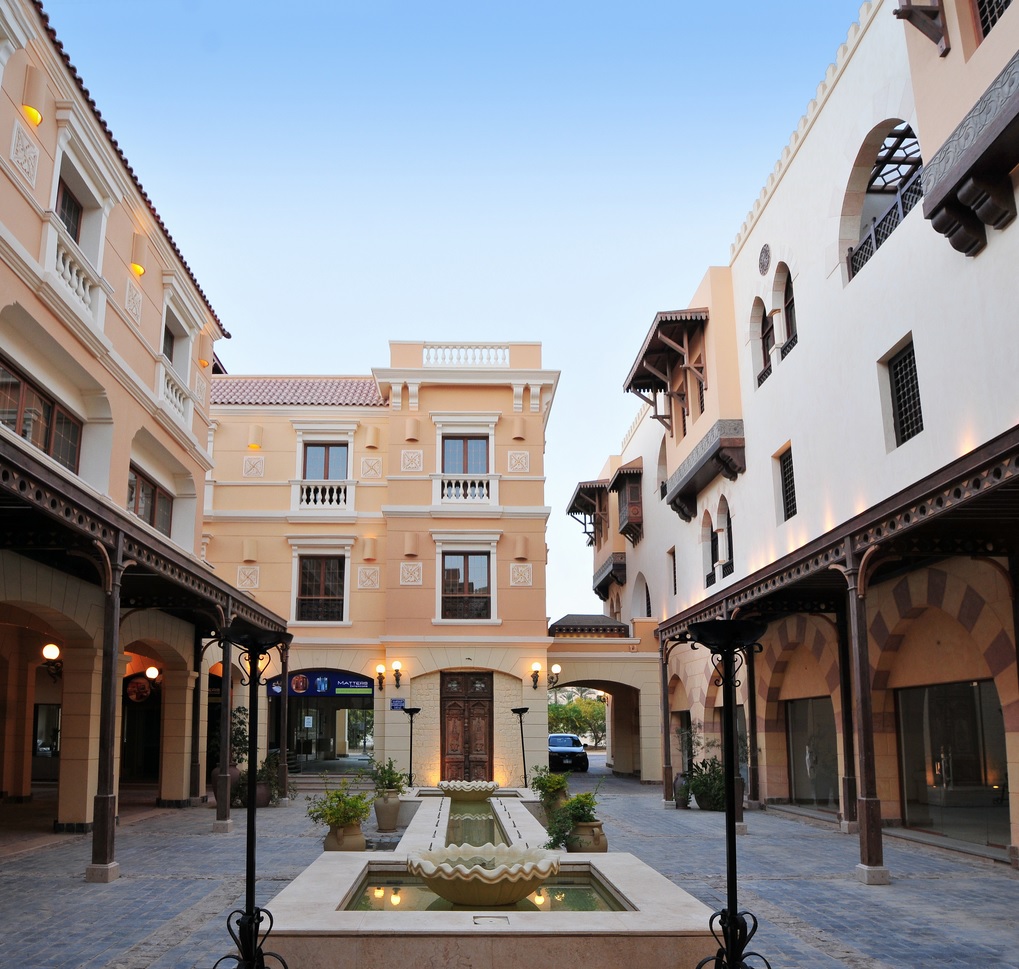 One of the charms of Sahl Hasheesh is that you can get almost anywhere by a golf cart. In fact, the entire site of Sahl Hasheesh is set up with something called a "Plug-and-Play" infrastructure that includes charging units for golf carts to allow for visitors to literally, plug and play wherever they like. After taking a joyful, 15-minute golf cart drive through the compound, past the stunning pier, boardwalk we reached Il Gusto Beach in Old Town where the party would take place.
Il Gusto's beach is utterly stunning. When standing on the shore and looking at the 180 degree spectrum of coastline almost completely covered with white umbrellas, chaise longues, blondes, brunettes, children and families, it's easy to suddenly feel transported to a different time and space. While I only spent beach time at Il Gusto, the entire beach that spreads over Sahl Hasheesh is entirely reminiscent of some beautiful, yet anonymous European beach somewhere in the Mediterranean.
The afternoon passed fantastically. The party, which was put on by the leading event planning company, ByGanz, was a perfect spectacle of unabashed beachside fun with darling faces, infectious live music, and hours of nothing but good vibrations. The evening was a necessary reminder of just how much fun Egypt can still be, even during such lamentable times. After the party, some people continued on to eat inside at Il Gusto, where they replenished their energy with gourmet burgers and pasta, while others continued on to drinks at Le Reve hotel bar. The evening was full of life, fun, delicious food and a sense of childlike freedom and discovery that has been almost impossible to reach since the start of the revolution.
The Vision
The next day, we enjoyed a lovely breakfast at Azzura near the pool. Shortly afterwards, we embarked on a tour of Sahl Hasheesh to stake out the grounds in their entirety. We started off by driving a bit outside ERC's grounds for a panorama view – from afar, the property looks like a gold mine for luxury real estate along the sea, golf courses, and the Sawari Marina that is also still under development. The site is massive, and while it is only partly completed, the overall feel and aesthetic does not leave its visitors feeling as though they are in an unfinished environment. It seems as though each structure is designed with consideration of the overall project in mind – for example, you never really hear too much construction going on while there, and secondly, there is an overall architectural cohesion and synergy from building to building.
As part of the tour, we visited several of Sahl Hasheesh's hotel development projects including, the Tropitel Hotel, the Veranda apartments, Premier Le Reve hotel, and the Premier Romance boutique hotel and spa. The hotels are each stunning, in a grand sort of way with their own certain charm. The Tropitel is known for having one of the best Mexican restaurants in Egypt, while Le Reve definitely boasts the most sophisticated bar on the block, at the same time, the Old Town residential properties give off a magnificent feel of old Egypt, coupled with luxurious modernity.
The Sites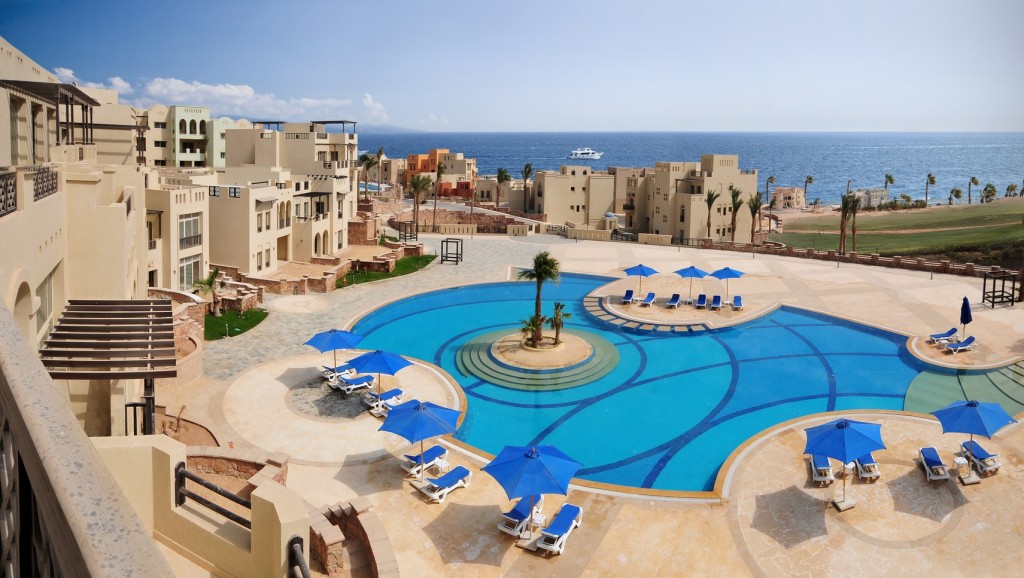 There are many attractions that make Sahl Hasheesh a stunning visual experience, however it is the massive stretch of sea that dominates one's senses.
The land developers' vision behind the project allows for maximum usage of the beach – after spending some time there, it becomes glaringly obvious that it is managed with a new standard of excellence compared to other local resort towns.
To get a good view of the shoreline, it's recommended that you take a walk across the 489-meter pier that gloriously guides you along the pristine blue sea. Upon reaching the end, you can even leap straight into the deep waters of the bay where you can see hundreds of fish swimming below. Or the pier makes for the perfect place to take a romantic walk with a loved one, as it is lined with benches that allow for deep sea gazing and hand holding. While on the pier, other sites come to life, like the Sunken City, which is now a snorkeling site inspired by the "lost city of Atlantis", this historic underwater city represents a pharonic city that was part of Sahl Hasheesh, and that sank millions of years ago.
The property also holds various outdoor activities including a rustic horse club that features several stables with pedigree horses, monkeys, and some camels for good measure. A stadium is also currently under construction, upon completion it will be the grounds for a soccer academy that will host various local and international events. Meanwhile, down by the beach there's some good old-fashioned Capoeira, which is a Brazilian martial art that combines elements of dance, music, and acrobatics. For those interested in more adventurous water sports, there are decent platforms for windsurfing, with wind reaching about 12 knots making it a bit too low for kite surfing. But not to worry, because Sahl Hasheesh's beaches are some of the first to introduce Jet Levs for those water-related adrenalin junkies. Jet Levs were officially launched in 2011, and have been the latest beach side craze since becoming the first ever water-powered jetpack available for recreational use.
Out of all the stunning sights Sahl Hasheesh has to offer, however, it is the seaside Arrival Piazza that utterly blew my mind. The elegant open space is adorned with arabesque architecture and archways leading down to the sea alongside the vast tiled fountain area that runs down the middle of the open structure. The location makes for an unforgettable backdrop for events and weddings, as it is both romantic and majestic in its architecture and energy.
After spending a few days in Sahl Hasheesh, I noticed that it is not only a great place to visit, but in some years time, it can actually be a viable beach side community to live within. It's one of those places that make you want to buy property early, because its overall vision and plan are certain to be a success. It is one of the few places in Egypt that caters to both a local residential market, and foreign tourists in a way that isn't too elitest or exclusive and yet, it has an undeniable sense of luxury and seclusion. And while it might be too soon to define the exact character of this resort town, Sahl Hasheesh is certainly a spot of paradise and a destination that makes you feel proud to be Egyptian again.
Note: this article was originally published in 2013 on Community Times.