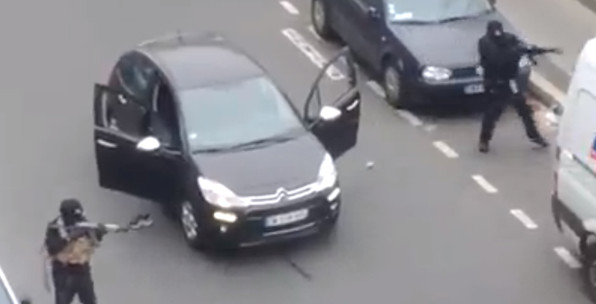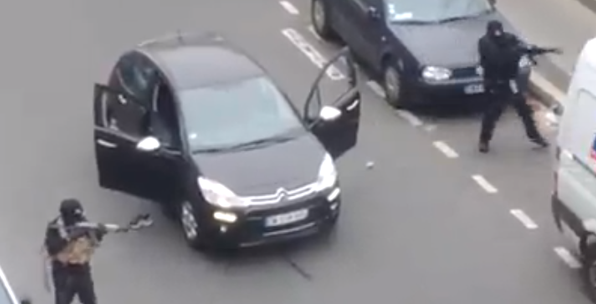 At least 11 have been killed and four 'on the verge of death' after three gunmen stormed the Paris office of satirical magazine Charlie Hebdo, said France's President Francois Hollande.
At least two police officers are among those killed, reported Paris' police authorities. Ten Charlie Hebdo staff members were also killed in the attack.
The gunmen fled the scene after opening fire on first responders and are currently at large in Paris.
The government has raised Paris' security alert to its highest following the attack.
Video footage posted by a social media user on Facebook showed two masked gunmen injuring a police officer. Moments later, one gunman walks over to the police officer and shoots him in the head. The gunmen are then shown entering a small black car before escaping the scene.
Other video has shown one of the gunmen shouting 'God is Great (Allahu Akbar)' while opening fire.
According to Sky News, the gunmen are believed to be armed with AK-47s and rocket propelled grenades.
France's President arrived at the scene shortly after the attack and declared that "We will punish the attackers."
The last tweet sent by Charlie Hebdo was one that mocked the Islamic State's leader Abu Bakr Al-Baghdadi, reported BBC.
The magazine had been attacked by arsonists in 2011 a day after it had published a cartoon featuring the Prophet Muhammad.
Police officials in Paris have urged the public to remain vigilant and report any suspicious activity.
Condemnations
The United States, United Kingdom, Germany and other countries across the globe have joined together in condemning the Paris massacre.
The Arab League and the top Sunni Islamic Authority Al-Azhar have also strongly condemned the attack. Al-Azhar said the attack is not representative of Islam and urged Muslims to stand against extremism.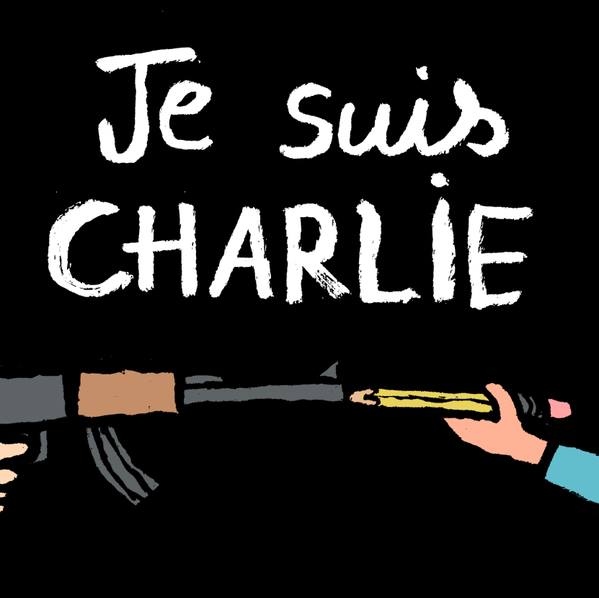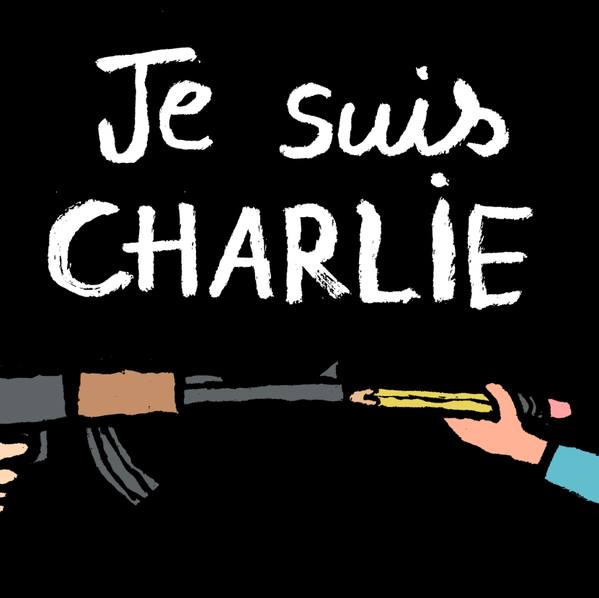 Meanwhile, in solidarity with Charlie Hebdo, social media users have started a hashtag, #JeSuisCharlie (I Am Charlie). It has been reported by AFP that Stephane Charbonnier, the editor-in-chief of Charlie Hebdo, is among those killed.
The US Embassy in France joined in the campaign and changed its own profile picture on Twitter to 'Je Suis Charlie.'
This story is developing.
---
Subscribe to our newsletter
---