By Ahmed Kafafi, Community Times
At the 2015 FINA World Championships in Kazan, Russia, Egyptian swimmers Ahmed Akram and Farida Osman broke 11 national records; a few months later, at the Los Angeles' Special Olympics World Games in July, Egypt took home 50 medals. Yet sports education at Egyptian public schools is at best limited – at worst non-existent – and pros have to look to private sporting clubs for the kind of training that they need to be internationally competitive. Ahmed Kafafi looks at the reasons behind the deterioration of sports' education at Egypt's schools.
Ali Hilal is the son of a factory worker who goes to a public school in Giza.  Although Ali's performance in most of his classes is satisfactory, Hilal is disturbed by Ali's fondness for sports.  Ali, who achieved distinction in handball at school, trains at a small club in their neighborhood in Giza.
His father thinks that Ali's free time would be better spent reviewing his lessons, and that Ali's handball training will negatively affect his schoolwork since he spends a lot of time at the club.  In reality, Ali has found a balance between study and training, but, like most Egyptian families, his father isn't convinced and continues to believe that physical education or sports should take a backseat to other subjects when it comes to the future of his children.
And if that belief still holds, it is because physical education in public as well as private schools remains a less popular subject with parents.  Unless the student becomes a world champion, families believe that physical education is useless.  Besides a negative outlook with regards to physical education at school, there are many reasons that make the situation appear more dismal.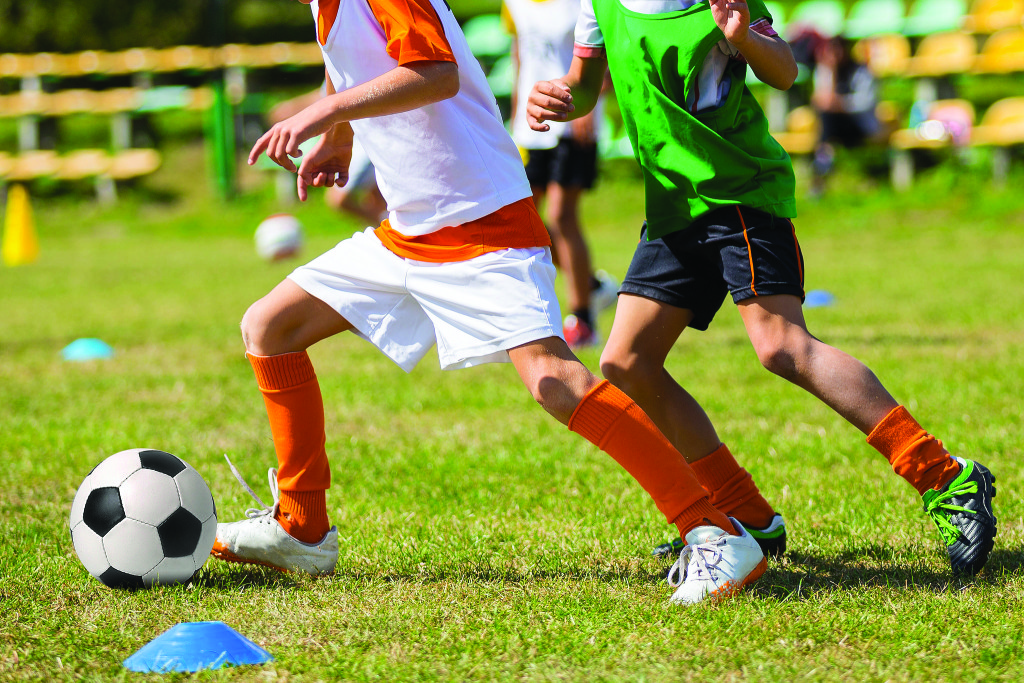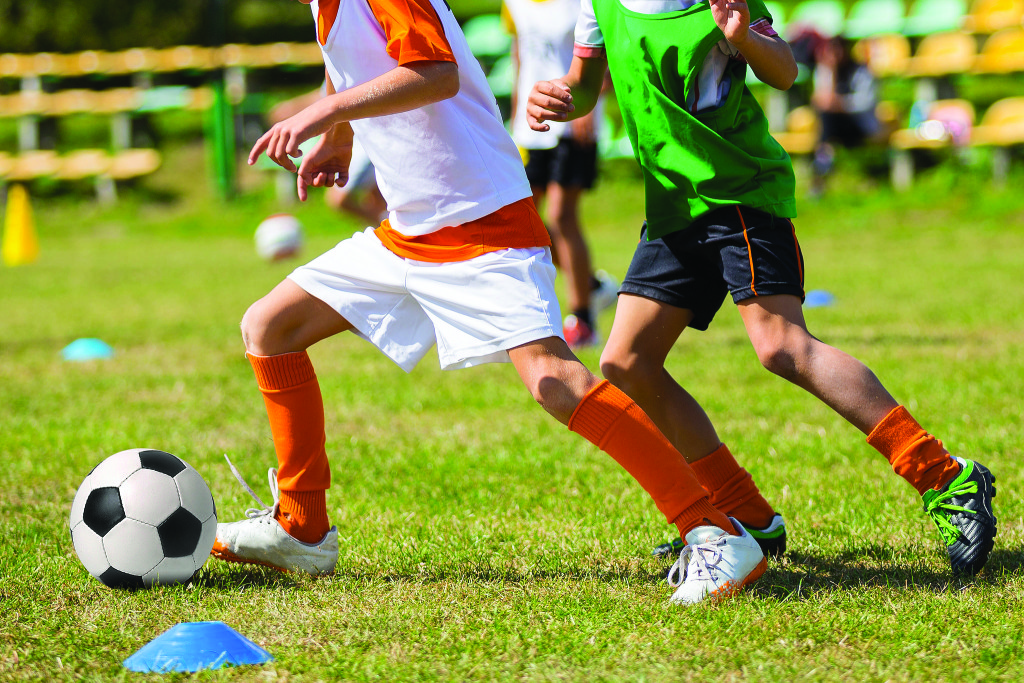 "Education in general has deteriorated in schools as well as colleges," says Dr. Hossam El Kashef, a former swimming champion who pushes his two boys to train at Maadi Club.  "So why do you expect physical education to be an exception?"
He goes on to say: "If you want your children to benefit from any sports program, don't expect school to play any effective role.  You have to register them in the different activities offered by sports clubs and monitor them yourself.  And this in itself is a backbreaking task.  Now, most kids prefer to play computer games in the comfort of their air-conditioned homes.  It's a real disaster if you imagine how these games sap their mental and physical energies.  No wonder many of them are now being treated for obesity and diabetes."
Whereas elsewhere, nations make the best of their students' sports talents, schools and parents do not regard physical education as an important subject in Egypt.  Regrettably, this comes at a time when other countries are making the best of their students' sports talents.  The attention to sports education elsewhere is based not only on the desire to excel in international and regional athletic competitions, but also stems from the belief that sports care translates into a healthier society.  Proper physical education at schools should involve checkups, nutritional guidance and developing the body with the aim of enhancing performance in class and behavior in public life, as well as encouraging teamwork and social interaction.
According to a study conducted by Alexandria University's Faculty of Physical Education: "Physical education at school should push rising talents into the championship arena, an educational-economic sphere in which human resources are invested to improve development and production rates countrywide."  It adds: "When sports merges into the world economy…it launches fresh markets, creates new categories of consumers, and gives rise to joint-ventures and mergers that target sports events on the local, regional and international platforms.  It's worth mentioning that the US has accumulated some USD 212 billion out of its sports industry, a figure that outshone its revenues from the agricultural, cinematic and industrial sectors all put together."
"Yes, I've read this study that told me in black and white that we are, unfortunately, far behind the world," Amr Hassan, a physical education teacher at a public school in Shoubra tells Community Times.  "Since time immemorial, even when the number of students was smaller, no attention was given to physical education.  People looked at sports maniacs at schools as failures, but with the increasing number of students, the situation has become even more pathetic," explains Hassan.  "Today there is no place even for those so-called failures in schools.  Sports have deteriorated like never before."
Hassan explains that, although physical education instructors have a curriculum and prepare lesson plans, those plans are rarely implemented due to understaffing of teachers and overcrowding of classrooms.  According to him, his school has just two physical education instructors who are expected to serve a school of 30 classes, with 50 students per class – making for a total of 1,500 students.
"At the beginning of the school year, I give them some Swedish gymnastic exercises, but I can't cope with such a large number of students for long, so I divide them into groups and leave each group to play their favorite game.  I have taught all levels, but primary school students have the biggest potential; intermediate and high schools students are driven by their craze for soccer.  Proper training is impossible if they have only one physical education class each week, so there is no option but to let them do what they want in the only recreational period they have all week," says Hassan.
"What else can a teacher do besides pass them the ball and let them enjoy some time off," says Islam Mahmoud, a student at Cairo University's Physical Education College who does several internships at public schools every year.  "There are no sports facilities at schools that allow instructors to diversify their activities.  It's a good thing we still have soccer courts after the spaces in most schools have been taken to increase the number of classrooms," he adds.
Mahmoud goes on to say: "To provide basic sports in schools, you should have at least three courts, in addition to a spacious gymnasium and a swimming pool.  Also, don't think that the job of a sports' instructor is limited to physical education classes.  He also organizes morning gatherings before classes and sports day at the end of the year.  This is too much work for the pay."
Many physical education instructors who spoke to Community Times bemoaned that their roles remain marginalized at schools; they stressed that sports do not matter to educational authorities or to students' families.  Their salaries are small, reflecting the second rate status of their jobs in the educational ladder.  While some have to take two or three jobs to improve their situation, others leave the profession behind altogether and attempt to find work in fitness centers or as physiotherapists.  Because physical education isn't taken seriously, neither schools nor the ministry make efforts to improve the qualifications of instructors.
In spite of these less-than-ideal conditions, the Ministry of Education still asks schools to recommend candidates for official competitions.  "I don't think the candidates sent to the ministry from schools get beyond local championships," says Amr Hassan.  "Of course, we get requests to handpick talented students, but we lack the facilities that we need to help us track down real skills.  How can you spot good swimmers or weight lifters, for example, when there is no swimming pool or gymnasium at school?"  He explains that most contestants at regional and international competitions come through sporting clubs.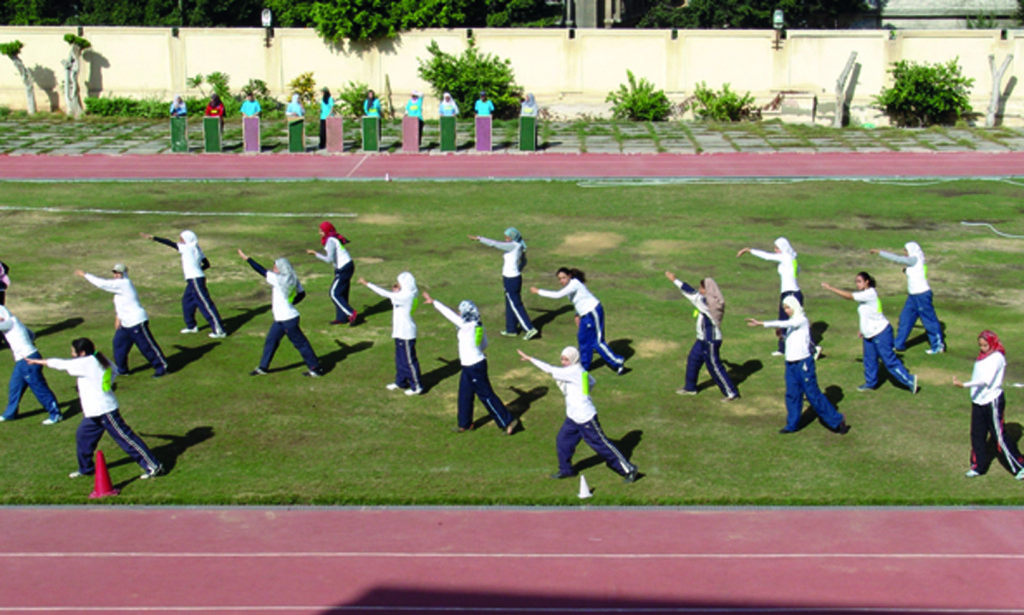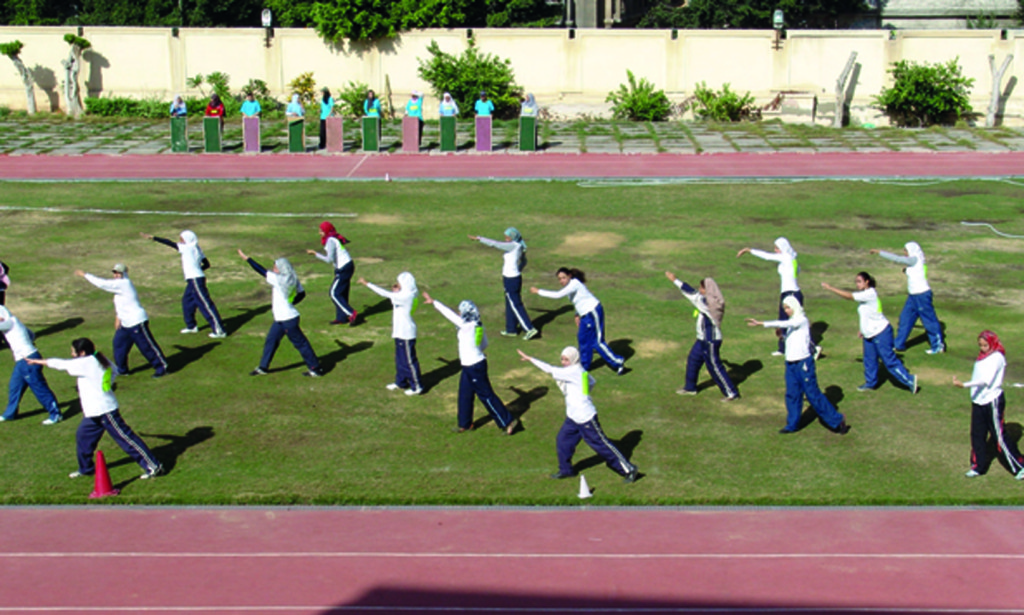 Khaled Sherif, a senior fencing instructor, agrees that sporting clubs produce more qualified athletes, although he does not believe that they produce enough.  "Clubs often fail to produce the number of athletes required for each sport.  Egypt, for instance, has only 70 fencers, as compared to 300 in each club in France," laments Sherif.  "Egyptian fencers as well as other athletes make their way to international competitions through connections or through sponsors, but nothing can be expected from schools, be they public or private."
"I don't think the situation is that much better in private schools," says Ayman Fouad, whose two children are studying at an intermediate private school in Maadi.  "How could it be different when private schools are part and parcel of the same culture?  The majority of private schools follow in the footsteps of public schools in spite of the difference in facilities," he says.  Fouad argues that a national education strategy should include both improved facilities and regular inspections.  He believes that activities like sports, art, music, and reading are sidelined and sometimes non-existent in schools – a gap that he believes is responsible for the spread of extremism among students.
"Not all private schools sideline or ignore physical education as some people say," says Amr Salahudin, a sports instructor at a private school in Giza.
"I agree that the condition of physical education in private schools isn't perfect, but we can't generalize.  Private schools have the freedom to decide what their sports' programs look like and most of them design their physical education programs according to circumstances and facilities.  International schools, on the other hand, have to abide by international standards.  At the chain of schools where I work, we follow a strict sports curriculum based on general physical education and training in soccer, handball and basketball.  We are seven teachers that also take up the responsibility of organizing sports day at the end of each year," he explains.
According to Salahudin, since there is no educational system to ensure kids' fitness in most schools, it is left to parents to look for a school with a good sports curriculum; if that proves difficult, parents can take them to a good sporting club.
"Sporting clubs – only the well-to-do can afford them!" protests Salama Hamdan, a porter in Maadi who sends his three kids to a government school in Basatin.  "The fees for public youth centers are too high for someone like me.  Now, I leave the kids to play football in the street.  What else can I do?"
His 12-year-old son Hossam complains that there are no proper sports classes at his school.  "We have one class each week.  We don't even have a sports teacher – some of them teach other subjects like math and social studies.  They kick the ball to the middle of the court and leave us alone."
"Since I began my education in a private primary school and until I graduated from a public school, I hardly knew what physical education was about," says Hatem Kamel, who started college last year.  "You could count the number of athletes at school on one hand, and choosing sports was their own decision, not the school management's."
Although physical education is just one of many subjects neglected by teachers and school administrators, most experts believe that the problem cannot be reformed in isolation from the rest of the education system.
---
Subscribe to our newsletter
---