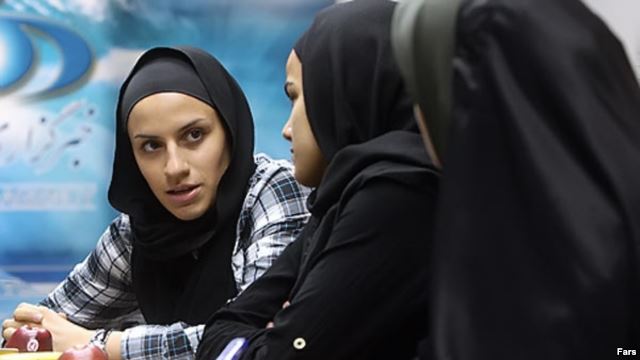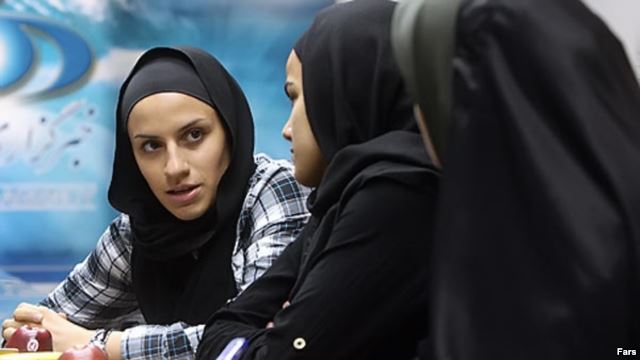 Women in Iran have long struggled with the suffocating restrictions the government imposes on women in social and professional settings, and the sporting world is no different.
Although Iran has national women's teams for sports such as soccer, taekwondo, chess, and track and field, some women are finding it increasingly difficult to fulfill their aspirations of becoming professional athletes.
In December 2007, then-Vice President of the Iranian Olympic Committee, Abdolreza Savar issued a memorandum to all Iranian sports federations outlining the "proper behavior of male and female athletes." The memorandum stipulated several strict rules, from requiring women trainers for all women athletes to banning women from sporting events that include male spectators who are not family members. Additionally, it outlined rules for women's clothes, banning them from participating in sports that require the removal of their hijab or wearing Lycra and other tight-fitting material at sporting events.
The memorandum stated that those who fail to adhere to the "Islamic rules" it set forth during local and international competitions would face severe punishment and a permanent ban from participating in any sporting events thereafter.
Despite these harsh laws, some women managed to break through and excel in their sport of choice. One of these women is Niloufar Ardalan, known as "Lady Goal" for her exceptional skills on the soccer field.
Although she has managed to achieve a considerable level of success, Ardalan still struggles with the repressive environment created by Iran's laws, such as one that requires women to obtain their husband's permission to obtain or renew a passport. As the captain of Iran's national women's soccer team, Ardalan was due to fly to Malaysia earlier this week to lead her team in the Asian Football Confederation's Women's championship in Futsal, the indoor version of soccer with five players per team.
Her husband refused to sign the necessary documents for Ardalan to renew her passport because he did not want her to be absent on their son's first day of school, causing Ardalan to miss the competition.
Ardalan's case highlights the difficulties and restrictive treatment women in Iran are subjected to. Gender inequality is rampant in Iran largely due to the country's civil law system, which includes a number of laws that favor men over women and effectively leaves the latter without any means to achieve justice.
However, there are several advocates campaigning for gender equality in Iran despite the backlash they often face from within the country. Shirin Ebadi, an Iranian lawyer, former judge and human rights activist, has continuously been advocating for increased rights in her home country. She went on to win the Nobel Peace Prize in 2003 for her advocacy work.
---
Subscribe to our newsletter
---