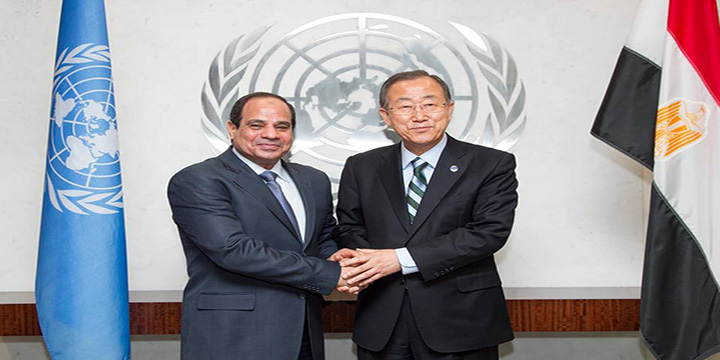 Egypt's President Abdel Fattah Al-Sisi, who is expected to address the 70th Session of the UN General Assembly in New York on Monday, has met with United Nations Secretary General Ban Ki-moon.
During the meeting, Sisi and Ki-moon discussed issues of security and terrorism, including the importance of reaching a solution in Libya that would allow for the formation of a unified government that represents all sections of Libyan society.
The two leaders also briefly discussed the Israeli-Palestinian conflict, including the recent escalation in tensions between Palestinians and Israelis following clashes at Al-Aqsa mosque in Jerusalem.
Regarding local issues, the Secretary General praised President Sisi's decision to pardon 100 prisoners, including Al-Jazeera journalists Baher Mohamed and Mohamed Fadel Fahmy.
In an interview with the Associated Press, President Sisi said he would be ready to pardon other journalists, such as Peter Greste, who were sentenced to prison in absentia, but noted limits on his Presidential powers.
"Rest assured that we are always keen on sorting out issues and problems, especially those that relate to journalists and to the media personnel," said Sisi during the interview.
President Sisi has also met with a number of world leaders. Click here to read about some of the President's most important meetings and their outcomes.
---
Subscribe to our newsletter
---