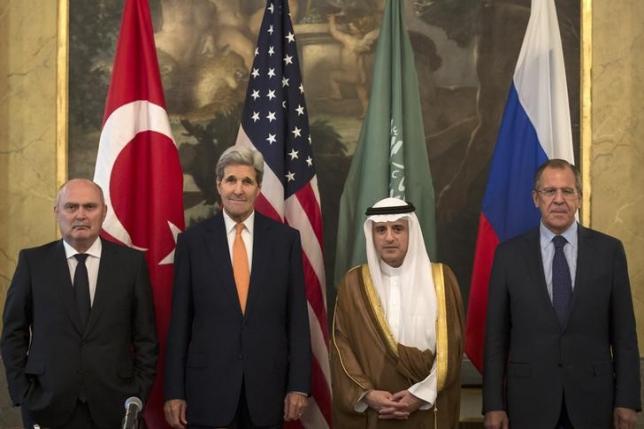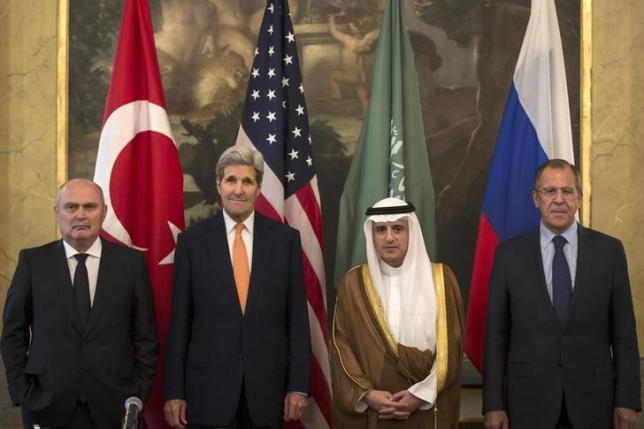 Russian Foreign Minister Sergei Lavrov called for the inclusion of Iran and Egypt in future talks on finding a solution to the political situation in Syria.
Stressing that the Syrian issue concerns many regional players and "the whole Islamic world," the Russian FM said that international organizations such as the Arab League and the Organization of Islamic Cooperation should also be included in order to hold future meetings "in a more representative format".
The announcement came after Lavrov met with the foreign ministers of Turkey, Saudi Arabia and the United States to discuss the Syrian conflict in Vienna on Friday.
After meeting with his Jordanian counterpart Nasser Judeh, Lavrov also announced that Russia and Jordan have agreed to coordinate their military operations, including airstrikes, in Syria.
According to Lavrov, the two countries will set up a "special working mechanism" in the Jordanian capital city of Amman to share information and coordinate their actions.
Jordan, who is part of a US-led coalition carrying out airstrikes against ISIS in Syria, is seeking to maintain the security of its border with Syria while also protecting Syrian rebels it supports.
The string of meetings in the Austrian capital came a few short days after Syrian President Bashar al-Assad visited Moscow in his first overseas trip since the civil war erupted in Syria in 2011.
The visit, which took place on Tuesday evening, was announced by the Kremlin on Wednesday after al-Assad had returned to Damascus.
During the visit, al-Assad thanked Russian President Vladimir Putin for Russia's military involvement in Syria, stating that the move prevented "more widespread and harmful" terrorism in the country.
Russia began launching airstrikes in Syria late last month, marking its first major military operation in the Middle East since 1941.
Moscow asserted the airstrikes were targeting ISIS militant positions in Syria but the US and rebel groups in Syria quickly disputed these claims. US Defense Secretary Ash Carter said that the Russian warplanes were not in areas with ISIS forces.
The ongoing civil war in Syria is approaching its fifth year and has claimed as many as 330,000 lives, with most of the casualties being civilians. The armed opposition to Assad's regime primarily consists of the Free Syrian Army, the Islamic Front and ISIS militants. The Free Syrian Army has captured some territories, primarily in southern Syria; however, ISIS has made much more significant territorial gains, with nine Syrian provinces currently under its control.
Several countries have intervened militarily in Syria in an attempt to quash ISIS militants, including the United States, Saudi Arabia, Qatar, Jordan and the United Arab Emirates.
---
Subscribe to our newsletter
---