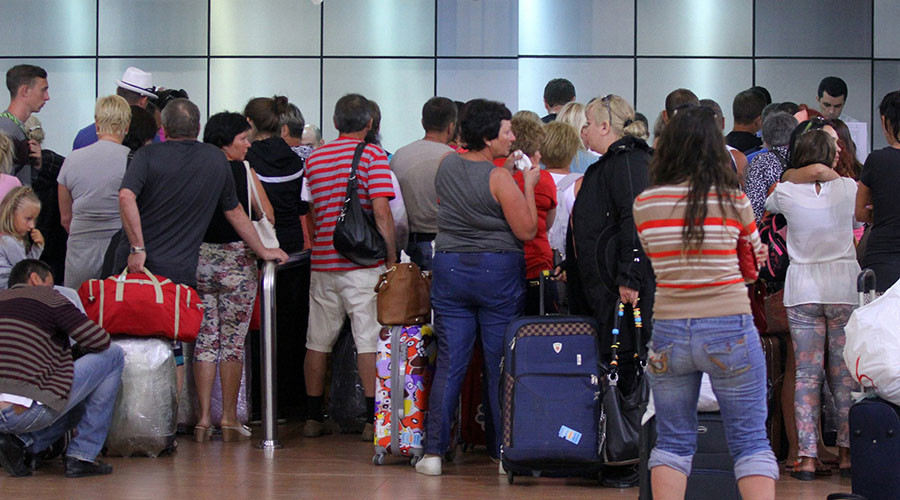 Dutch airline KLM has said that passengers departing from Cairo will only be allowed hand luggage.
In statement published on its website with the heading 'Situation Cairo', KLM said that passengers travelling with KL554 from Cairo to Amsterdam will not be allowed check-in luggage.
"Based on national and international information and out of precaution KLM will not allow check-in luggage," said the airline.
"There are no restrictions regarding flying to and from the airport of Cairo. Flight KL553 will be executed according to flight schedule. KLM offers passengers the opportunity to rebook their trip and travel with another airline if opportunities are available."
Following the announcement, the Associated Press reported that only 115 passengers out of 247 who were booked decided to fly on Friday morning to Amsterdam. The Associated Press reported that the remaining passengers refused to depart Cairo without their check-in luggage.
KLM's decision follows a similar decision by the United Kingdom which resumed flights from Sharm El-Sheikh but only for passengers who would agree to travelling with just carry-on luggage. The UK resumed flights after stricter security measures were implemented by Egyptian authorities.
The first plane to travel from Sharm El-Sheikh to London departed shortly after noon, announced Easy Jet on Twitter.
Earlier, British airliners said that Egypt had "refused to allow rescue planes" to land in Sharm El-Sheikh. However, British Ambassador to Egypt John Casson said that this was not true.
The UK's decision to suspend flights has had dire effects on tourism to Egypt. Spain, France, Germany, the Netherlands, and Belgium are among the countries that updated their travel warnings and urged their citizens against all but essential travel to the Sinai Peninsula.
On Thursday, United Kingdom Foreign Secretary Philip Hammond announced Britain had received "intelligence" suggesting there was a "significant possibility" that the Russian plane crash that killed 224 people was caused by a bomb.
Hours after news of the crash began to circulate, ISIS affiliate Wilayat Sinai (Ansar Bait Al-Maqdis) claimed that it had downed the Russian passenger plane. However, Egyptian and Russian officials and security analysts were quick to dismiss the claims.
Egypt's Ministry of Foreign Affairs has blasted the UK's decision as "premature" and said that investigations are underway to determine the cause of the crash.
"The British decision was taken individually, without consultation with Egypt despite high-level contacts conducted between the two sides hours before the decision taken," Egyptian Foreign Ministry spokesperson Ahmed Abu Zeid.
Russia has also dismissed the "speculation" and said there was no evidence yet to support claims that a bomb caused the plane to crash.
"Frankly speaking, it is genuinely shocking to think that the British government has some kind of information that could cast light on what happened in the skies above Egypt. If such information exists, and judging by what the foreign secretary has said it does, no one has passed it to the Russian side," said Russia's Foreign Ministry spokesperson Maria Zakharova.
The full impacts on tourism, which is central to Egypt's economy and employs up to four million Egyptians, remain to be seen.
---
Subscribe to our newsletter
---