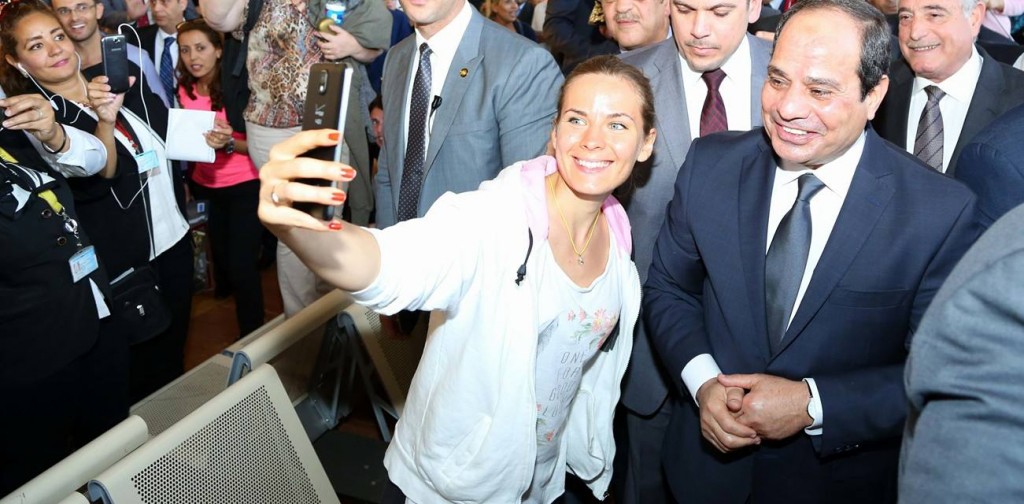 In an unannounced visit to Sharm El Sheikh on Wednesday, Egyptian President Abdel Fattah El Sisi declared that "the lights will not go out" in the Red Sea resort.
"I came here to send a message to investors in Sharm El Sheikh and Hurghada" that the region continues to be safe for business, Sisi told press at the Sharm El Sheikh airport, where he arrived after attending a two-day summit in Saudi Arabia.
According to Alaa Youssef, spokesman for the presidency, Sisi inspected the airport's security to ensure all procedures live up to "international standards" in an attempt to quell fears of lax security making attacks easier to carry out.
Speaking to a correspondent for television channel Al-Nahar, he said, "I don't want the Egyptian people to worry. Egypt will continue to be strong as long as its people are strong and stand together."
Sisi's visit comes 11 days after a Russian passenger plane crashed in Egypt's North Sinai, killing all 224 onboard.
There has been much speculation surrounding the cause of the crash, particularly as ISIS affiliate Welayat Sinai released a statement claiming it had downed the plane using a missile.
Although Russian and Egyptian officials were quick to slam the claims as "untrue" and "not possible," these reassurances seemed to fall on deaf ears as several airlines and countries halted flights to Egypt.
The British government decided to suspend all flights to and from Sharm El Sheikh after receiving intelligence pointing to a "strong possibility" that the plane crash was caused by a bomb onboard.
Shortly after Britain's decision, Russia followed suit as President Vladimir Putin agreed to a recommendation from the Federal Security Service to suspend all flights to Egypt.
Minister of Tourism Hisham Zaazou said the lack of British and Russian tourists will cost Egypt USD 280 million per month in lost tourism revenues. Zaazou also said he is seeking to compensate for these losses by promoting domestic tourism and turning to the Gulf and North African countries for international visitors.
Egypt's tourism industry, once the flagship of the country's economy, suffered a major downturn after the January 25, 2011 revolution that brought down then-president Hosni Mubarak. In its peak in 2010, tourism employed 12 percent of Egypt's workforce and accounted for approximately 11.3 percent of the country's GDP, bringing in nearly 15 million visitors. These indicators dropped dramatically following the revolution to 9.8 million visitors in 2011 and 9.5 million visitors in 2013 – a 36 percent drop from 2010.
The Ministry of Tourism has been working hard to boost tourism back to its former glory: In August, then-minister Khaled Ramy announced signing a three-year campaign deal with JWT, a global marketing and advertising agency. The contract, which will cost the government USD 22 million annually, aims to repair Egypt's image to the world and encourage visitors to return to the country.
---
Subscribe to our newsletter
---