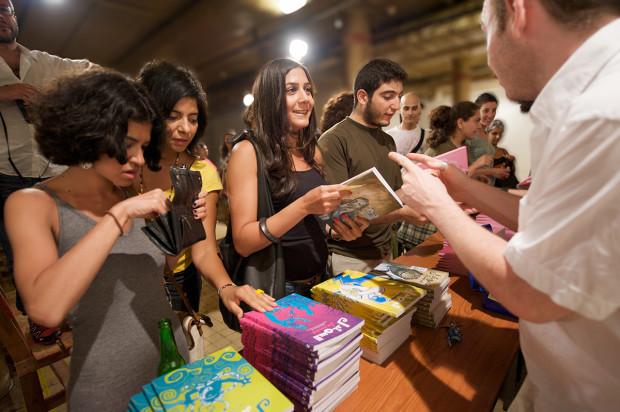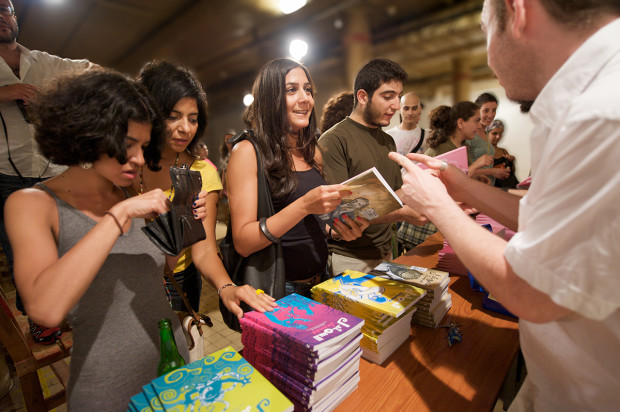 An unnecessary fight with religious censors has pushed a co-operative Lebanese comic book to the brink. It's another frustrating episode for comic book fans across the region who are starved of local titles while US comic books dominate the shelves.
Samandal, a non-profit publisher run by volunteers, is in the middle of a crowdfunding campaign to raise $US 60,000 for future issues after three of its editors were found guilty of denigrating Christianity.
"The Samandal NGO has buckled under the weight of these fines and our latest issue, 'Geography', looks to be our last," says the Indiegogo campaign. "We are launching a crowdfunding campaign in a last ditch effort to help Samandal fight this unjust ruling and continue publishing comics."
Samandal's problems began in 2010 when three of its four editors, Hatem Imam, Omar Khouri and Fadi Baki, were hauled before Lebanon's censorship authority at the Directorate of General Security headquarters for a grilling about two comics from their seventh issue, titled 'Revenge'. They were later charged four times under article 25 of Lebanon's publications law for "inciting sectarian strife", "denigrating religion", "publishing false news" and "defamation and slander".
The images had to be taken well out to context to engineer offense for Christians. Furthermore, the censors interpreted the theme of revenge to mean these drawing were payback for the Danish drawings of the prophet Muhammad, which one of the editors has described as "really dumb".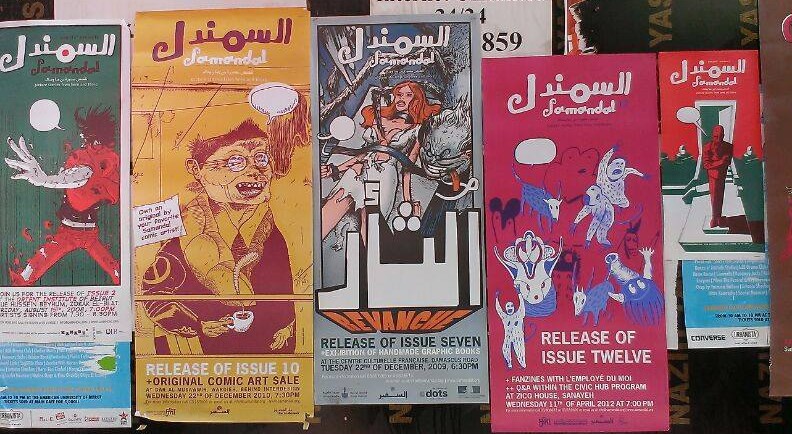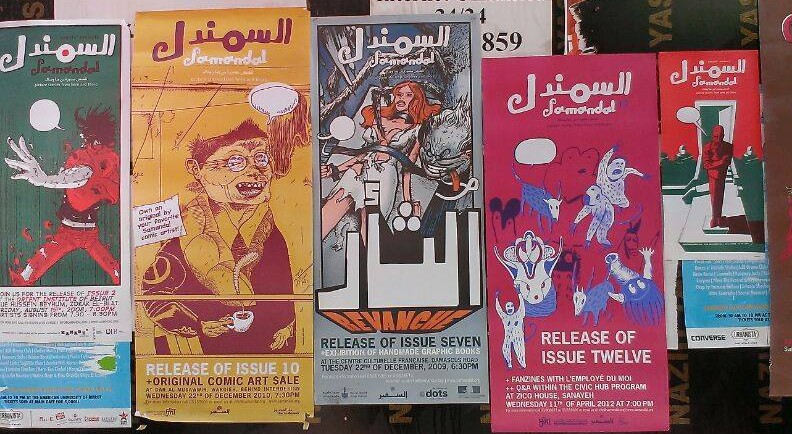 Regardless, it took until April this year for them to be found guilty and lose a quick appeal. Yet to this day, this trio doesn't know which charges were actually carried.
"We do not have any official transcript of the verdict," says Imam in an email to Lebanese Streets. "Our lawyer informed us that we lost the case and we assume that it is for all four charges."
They were fined a combined 30,000,000 Lebanese pounds ($US 20,000), which is equivalent to the publishing budget for an entire Samandal issue. Meanwhile, the publication itself was never a subject of the state's wrath.
"Funnily enough though, no legal action was taken against the organization, and the offending issue seven was not even revoked from the market," says Imam. "It is as if we were personally being taught a lesson by the patriarchal religious authority."
For those five years, the Samandal editors continued to publish, on a volunteer basis, in the shadow of this court battle. They've conceded that if this fundraiser fails, it could be the end of the comic book.
The struggle against censorship on religious grounds is something comic book publishers in Lebanon and across the Middle East are more familiar with than perhaps most other arts forms.
Take The 99, a highly successful comic book series of Kuwaiti psychologist Dr Naif al-Mutawa, which he created to help reclaim the religion of Islam from extremists in the wake of 9/11. The superheroes of the series are based on the 99 attributes of Islam.
It should come as no surprise that Saudi Arabia declared the series blasphemous and that the Kingdom's Grand Mufti described it as the "work of the devil".
It's certainly not a surprise to Henry Matthews, author of The Encyclopedia of Lebanese Comic Books. Matthews ran into the same troubles when he was translating American titles into Arabic for the Lebanese market from as far back at the late 1970s.
"When I was translating comics of Superman, that was the problem everybody was facing," Matthews tells Lebanese Streets. "They told me we do not find enough comics that are acceptable for the Arab world."
Today, Matthews says this legacy continues. Some mainstream American titles make it to shelves across the Middle East, where they're given prominent position, but many don't.
"If you look at the stories nowadays, much of it cannot be translated or accepted in the Arab world. There's a lot of violence, there's a lot of sex and sometimes spiritual, metaphysical things, demons and devils and all that. These are certainly topics that would not be accepted by the censors around the Arab world, or even the societies themselves."
This is doubly frustrating for readers in Lebanon because the humble comic book looks to be at the zenith of an amazing resurgence, thanks in large part to the success of US comic books on the big screen.
Comic book sales have quadrupled to almost $US 1 billion annually in North America alone since 2000, according to statistics compiled by Comichron and ICV2.com. This is filtering down into the Lebanese market where comic book stores are steadily opening up across Beirut, while regular book stores across the country are beginning to stock the odd comic book title.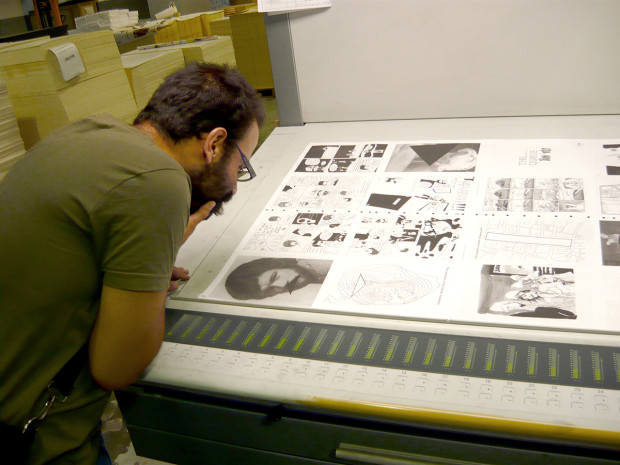 "The movies are definitely a catalyst," says Samer from Beirut's Geek Express. "They're bringing the culture back to the forefront. We go to Comic-Con and get some products from there and people get really excited that we've been there."
But these American titles, the ones that get past the censors, are the ones increasingly dominating bookshelves in Lebanon. Matthews is "not optimistic" about the prospect of the west's comic book resurgence inspiring a Pan-Arab comic book renaissance.
Imam is a little more sanguine. The Samandal model has been picked up in Cairo with Tok Tok magazine, and more recently in Casablanca's Skefkef, both of which Imam says are "run by friends we often collaborate with".
This gives him confidence that if Samandal fails to raise the required funds to secure its future, a small number of outlets will remain available for artists across the region.
---
Subscribe to our newsletter
---