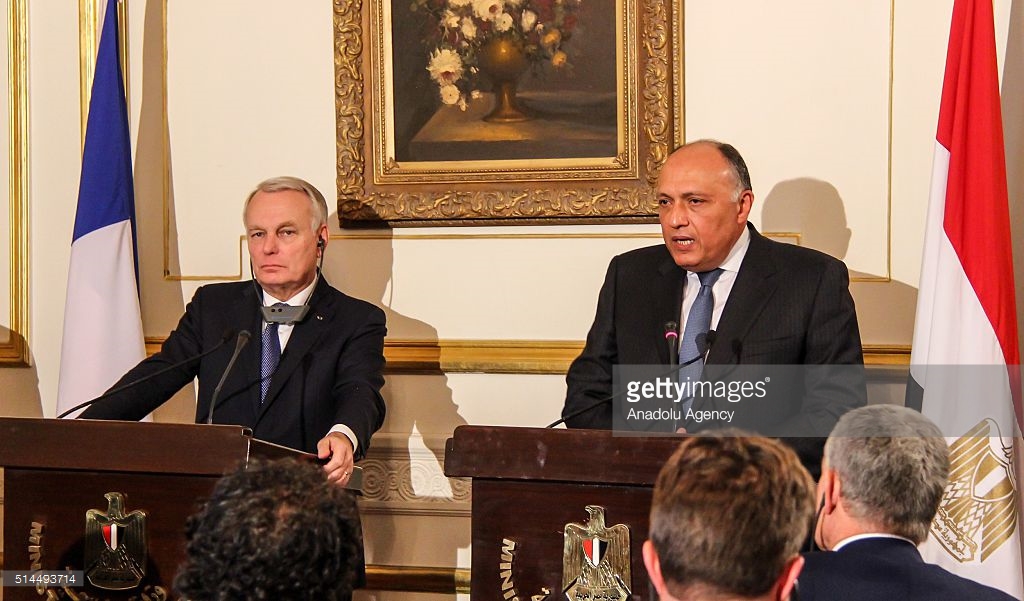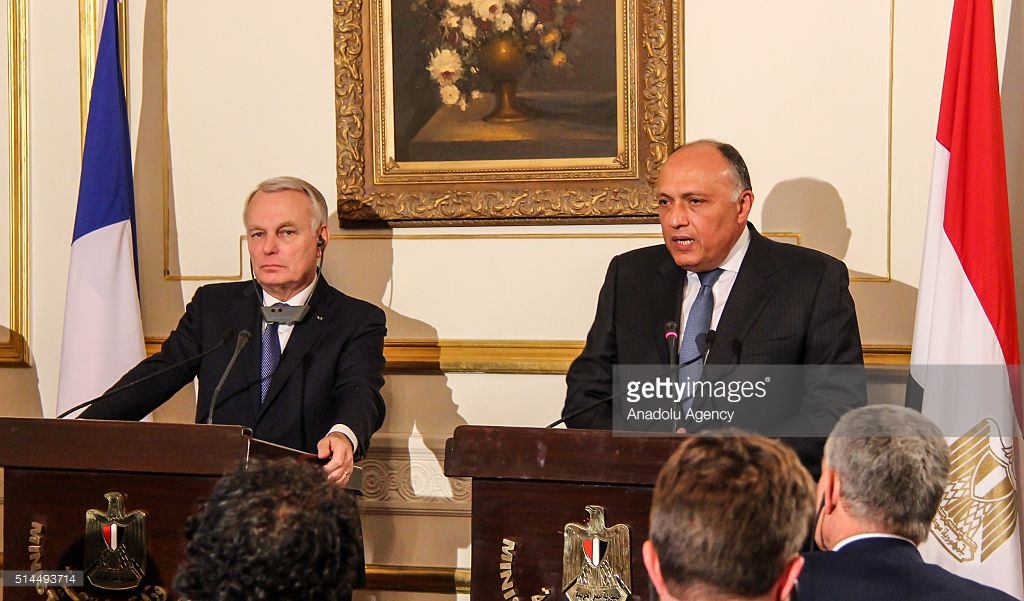 France's foreign minister pushed for restarting dialogue between Palestine and Israel  on Wednesday during a press conference in Cairo, where he met his Egyptian counterpart.
France wants to rally the international community behind supporting the two-state solution and intends to invite the Palestinians and Israelis to talk, a proposal that aims to end what Foreign Minister Jean-Marc Ayrault described as a "vicious circle", in a press conference aired live on Egyptian state television.
Numerous international efforts have been made to resolve the Arab-Israeli conflict but the two sides have not reached an agreement on several contentious points including the division of Jerusalem, home to holy sites for Muslims, Christians and Jews.
The last round of peace talks started in 2013, through an American-led initiative but talks collapsed in April 2014, upon reaching a pre-planned deadline.
Over a year after the talks collapsed, former French foreign minister, Laurent Fabius went on a regional tour, kicking it off in Egypt in June 2015, to push for the revival of talks. After Cairo, he visited Jordan, the Palestinian territories and Israel.
Egypt has often been involved in talks between Israel and Palestine as a mediator. When Egyptian President Abdel Fattah al-Sisi met with Fabius in Cairo last year he told him that  "a comprehensive and permanent settlement would involve the creation of a Palestinian state with the 1967 borders, with east Jerusalem as its capital."
Shortly after Fabius' stop in Egypt, the Director-General of Israel's Foreign Ministry Dore Gold met with Egyptian assistant foreign minister for neighbouring countries, in Cairo, to discuss advancing the peace process between Palestine and Israel.
Egypt and Israel signed a peace treaty in 1979 after months of negotiations, ending a state of war and normalising ties. Egypt was the first Arab country to recognise the Israel.
Speaking today at a joint press conference with Egyptian counterpart Sameh Shukri, Ayrault addressed other countries in the region including Libya and Syria, as well as bi-lateral ties.
In 2015, in a 5.2 billion-euro deal with France, Egypt secured the purchase of a multi-purpose frigate and two dozen Rafale fighter jets.
Ayrault's two-day visit comes ahead of an official trip by French President Francois Hollande, who is scheduled to visit on Apr. 18-19, at Sisi's invitation.
This is Ayrault's first time in Egypt after succeeding Fabius. The French minister is due to meet with Sisi, according to a statement issued by the French foreign ministry. He is scheduled to hold meetings on Mar. 10, and is due to meet with civil society representatives.
This content is from: Aswat Masriya
---
Subscribe to our newsletter
---