Mention "brain drain" to any Middle Easterner and they'll nod sadly: yes, we have this problem in our country, too. Tracing the history of emigration in Egypt specifically, we see that it is a relatively modern phenomenon. There are few recorded instances of emigration from Egypt prior to the 1960s, the decade when government policy first permitted emigration visas to Egyptian nationals.
This partial relaxation of emigration policy, permitting travel but with certain quotas on professions like doctors and engineers so as to not disturb the national economy, came after President Nasser's 1961 Employment Guarantee Program to all public university graduates. Feeling the capacity strain to provide all graduates employment within the public sector, the government slowly permitted emigration until President Sadat officially claimed emigration as a citizen right in his 1971 Constitution.
Men socialise at Elhoriyya Cafe. Elhoriyya is a "balady" bar in Cairo, popular with both foreigners and locals. Credit: Razan Alzayani Photography
As similarly with many neighbouring societies, family priorities mean that it is an emotional struggle for most to leave their families and move abroad. Especially in the early days of emigration, the majority would make such a difficult decision for economic reasons: to pursue a better work opportunities elsewhere, to have greater financial wherewithal to support their families back home. Of the 655,000 Egyptians recorded who lived abroad in 1975, the majority were manual labourers drawn to the Gulf states during the 1970s oil boom. In the 1980s and into the 2000s, "skilled" emigration rates from Egypt begin to rise steadily to an estimate of 6.5 million Egyptians living abroad by 2008.
While "there's obviously reasons regarding religious persecution, lifestyle, desire to adventure – the core of the issue is related to economic instability, political instability, these kinds of conditions now," says Iman Dawood of our present-day emigration phenomenon. Dawood complete her Masters thesis in 2012 on the Egyptian diaspora based on interviews with Egyptian policymakers and experts.
We see a discernible shift in the desire to leave pre and post revolution: in May 2011 after the first revolution in Egypt, the International Organisation for Migration in Cairo reported only 15% of Egyptian youth surveyed thought to migrate; most were optimistic about the economy and country, despite the fact that in the aftermath of the revolution, industry across the board suffered. Tourism alone, which is said to employ 1 in 7 Egyptians, plummeted 35% the year after the first revolution.
A driver takes a moment in an intersection around the Sayyida Zaineb Mosque in Cairo. Credit: Razan Alzayani Photography
Fast forward two years to the lead-up to the second revolution or coup d'etat in June 2013, the Central Agency for Public Mobilisation and Statistics (CAPMAS) reported that 61% of Egyptian youth were willing to emigrate due to unemployment. Depending on whom you ask, national unemployment ranges between 13-25%. While emigration statistics are hard to pin down precisely (because many leave "irregularly" (without formal visas), do not register with their local embassies in their new place of residency out of suspicion of being taxed or monitored, etc), the most accepted estimate is 13 million Egyptians currently live outside of Egypt, more than 10% of the 90 million population in-country.
This ranks Egypt as the Number 1 labour exporter in the Middle East and North Africa region. At first glance, emigration seems like a fairly straightforward issue: most Egyptians are leaving for work, and why shouldn't they? "Others say no, the people leaving may not be a huge percentage of the overall population, but they represent the most educated, driven, innovative people. And the effect that their leaving has on Egypt is profound," argues Iman.
This is a particularly pertinent point when we realise that 65% of Egyptian migrants have secondary education and above; statistically higher than the average of the remaining population who stay in Egypt. "I really respect people who took the challenge and said, 'we're not going to leave our country; we're going to fight for it,' says Ahmed Yossef, a software engineer at Facebook in Seattle, USA, who left Egypt five years ago just after the 2011 revolution. "But if you sign yourself up to go back to Egypt, you're signing up for a big fight." This "big fight" points to circumstances such as corruption, bureaucracy, infrastructure weaknesses, gridlock traffic, and, according to 2011 estimates, 40% of Egyptians live on less than USD 2 per day….
But, if some of the most talented Egyptians continue to leave – then how is anything ever going to change? "It's not going to change," says Yossef. "This is the point when we started to give up."  And yet, many Egyptians who choose to stay in-country feel contrarily, "Egypt has negatives, yes, there's no denying that," admits Tarek Mahdy, a financial controller for a multinational in Cairo. "But not to the level of abandoning the country, which I think many people are doing. Things get on my nerves, of course. But you flip once every couple of days, for a second, and that's it. And maybe one of the things that makes me flip is because you feel that this country deserves better. Simply deserves better."
For those Egyptians who cannot make it work at home, of course it makes sense to leave. And, there are still ways to positively impact from afar by sending remittances back home to Egypt (remittances alone tallied USD 22 billion last year, roughly 8% of Egypt's GDP) research collaborations, exchange efforts, etc. But for those Egyptians who can, arguably, "make it work" anywhere, what do they owe to the communities that raised them?
A couple look down at fruit and vegetable sellers in Mounira, Cairo. Credit: Razan Alzayani Photography
"I don't think I owe anything to Egypt," says Tarek Hosny, co-founder of Schaduf, a rooftop farming and sustainable development company in Cairo that trains families to farm, creates a marketplace to purchase their yields, and shares in the revenues with the families. "It's more to the people. I think being born an Egyptian is an unfortunate thing…. I went to a good school; I was lucky. If someone like me wants to leave, then what about the rest?"
Hosny was raised in Egypt and then moved to the States for his undergraduate and graduate studies at Stanford and Berkley. He had the option: he could continue to live and work in the States and not return to Egypt. But in 2013, at the politically and economically unstable time in between the two presidents Morsi and El-Sisi, he decides to return to home. That's not to say he didn't weigh the consequences: the move back home came with jumping into instability, a downgrade in salary, and renunciation of luxuries like easy public transportation and a mortgage. "When I told my family I was coming to Egypt after the revolution, my dad told him that I shouldn't come back. But I feel more at home [in Egypt]. If I go down the street, everything makes sense, even though it doesn't. But you understand it. You're just going back to where you belong."
And yet, when we speak about "moral obligation" and "positive impact" on the places that raised us, there's the very real consideration of resources and capacity. Would the first Egyptian Nobel Peace Prize winner Ahmed Zewail, for example, have been able to achieve his full potential had he only access to the funding and research facilities in Egypt? "I don't know, but I'd say probably not," muses Hosny. "He would have been the same smart guy – and he was the same smart guy because of his education in Egypt."
While perhaps Ahmed Zewail had to leave Egypt to contribute to society on the scale he has, for others staying in or returning to Egypt may bring other necessary contributions. "It's wrong to think you can change the world and influence the 90 million [in Egypt], but you can't underestimate the value of your contribution even if it's just being a professional person in the economy and doing your job well," says Hosny. Upon reflection of Schaduf's impact working with 150 low-income families in Cairo to train farming techniques towards additional financial livelihood for these families, Hosny concludes, "What's my value? I don't know; I can't quantify it – perhaps it's not that big. But it's something."
Guests featured on podcast episode:
Iman Dawood is a researcher with a BA and MA in Political Science from the American University in Cairo (AUC). She has also worked in various development organizations such as UNFPA, Misr El Kheir Foundation-UK, and Big Ideas Foundation. More recently, she has been admitted to the MRes/PhD Program at the London School of Economics (LSE) where she intends on exploring the political remittances of Egyptian migration to the Gulf.
Abdelrahman Erlebach graduated from Ain Shams University in Cairo with a Bachelor's degree in Computer Science. After working with enterprise consulting software companies in Egypt, he joined and continues to work with Microsoft in Munich as a Dynamics Support Engineer.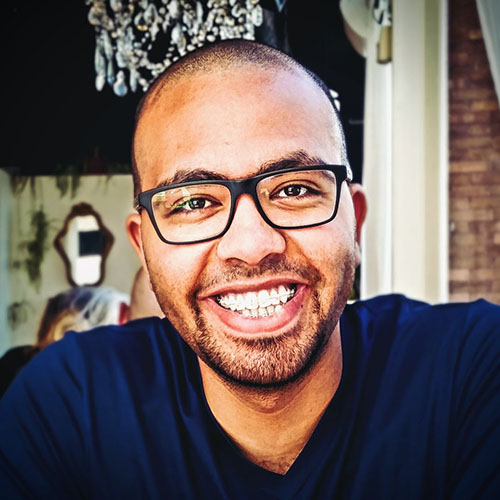 Alaa Shaker is an Egyptian software engineer currently working at Microsoft. Before that, he worked at the International Monetary Fund in Washington, DC. He has a MSc in computer science, with a focus on A.I. and HCI. Alaa was born and raised in Cairo, Egypt, and now lives in Seattle, WA.
Sylvia manages an immigration services company based in Egypt. She has recently returned home to Cairo after 28 years of living in the UAE and writes a Facebook blog called The Cairo Chronicle. The Cairo Chronicle is a collection of stories on her experience of setting up house, meeting her neighbors and adapting to living in Cairo after being away for so long.
Ahmed Yossef was born and raised in Egypt. He graduated from Ain Shams University with a Bachelor's and Master's degree in Computer Science. After working for almost 7 years in Egypt, he moved to the US to join Microsoft as a software engineer. Currently he works as a Software Engineer at Facebook in the distributed infrastructure team.
Episode Credits
Written by Hebah Fisher with co-production by Razan Alzayani and Lilly Crowne.
Sound design and editorial support by Ramzi Bashour.
Additional music credit to Rachid Taha – Ya Raye7 (Chapter 1), Orchestra Tetouan-Asmir  (Chapter 1 and 2), and Oum Khalthoum – بعيد عنك (Chapter 2)