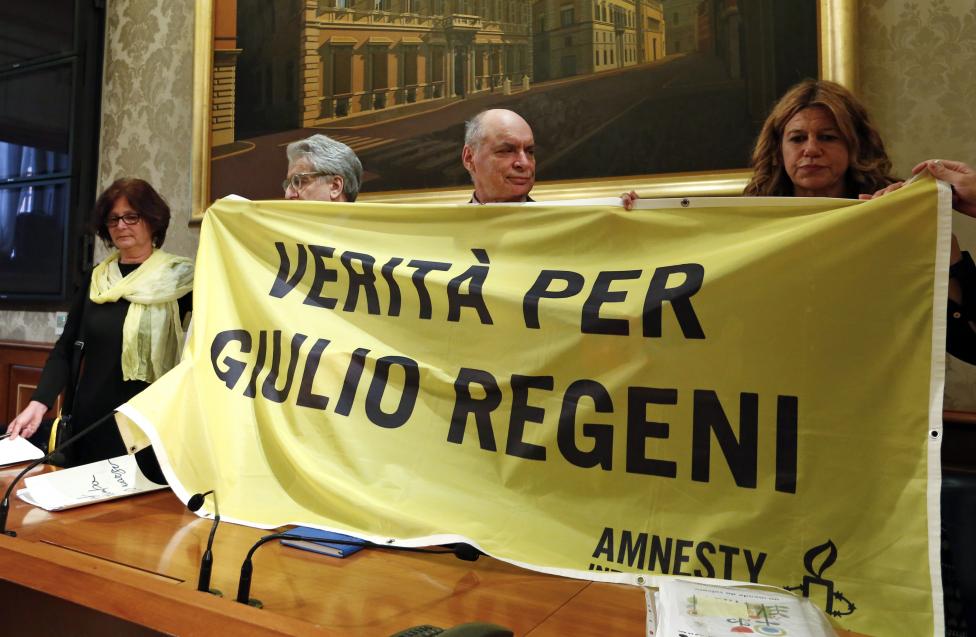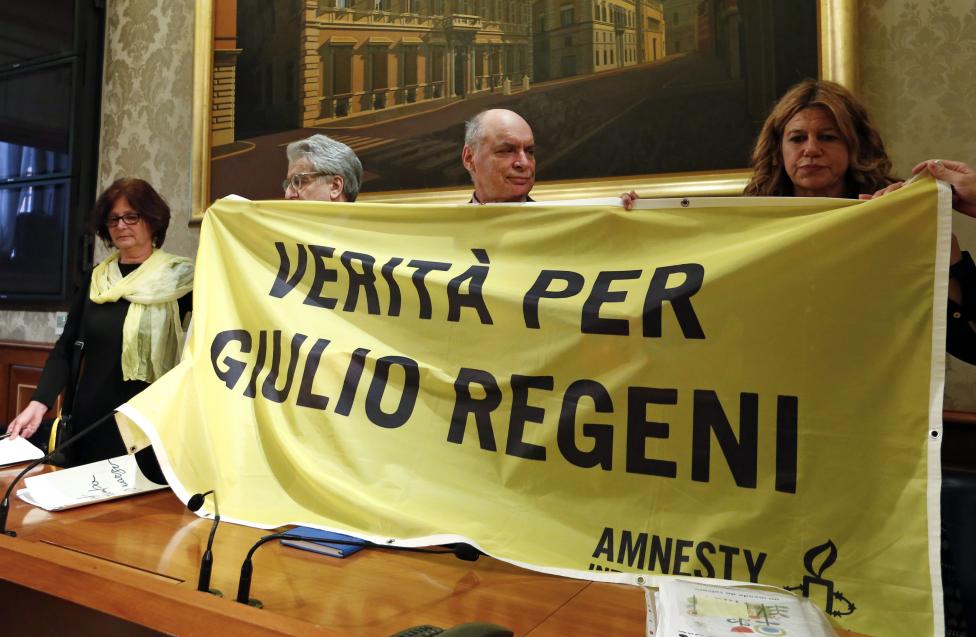 The parents of Italian doctoral student Giulio Regeni, whose tortured body was found in a ditch in Cairo in early February, demanded on Tuesday a strong response from Italy if the truth behind Regeni's death is not revealed.
Speaking at a televised press conference at Italy's Senate, Paola Regeni, the mother of the Italian student, said she barely recognized her son when his body was shown to her at the morgue.
"At the mortuary I only recognized Giulio by the tip of his nose," she said at the first press conference since her son's body was found.
She said that what she witnessed was "the world's evil," and "what they did to him is unspeakable."
The 28-year-old PhD student went missing on January 25, the fifth anniversary of the 2011 uprising. Human rights groups have said the torture marks on his body – burns, stabbings, pulled out fingernails – resemble the methods used by Egypt's security forces, pointing to the involvement of Egyptian authorities in Regeni's death. Egypt's government forcefully denies the accusation.
At the press conference, Regeni's parents refuted Cairo's latest claim that a criminal gang, the members of which Egyptian security forces killed in a shoot-out last week, had been responsible for the death of their son.
The Ministry of Interior had issued a statement after the exchange of fire between the gang and security forces, claiming police raided a Qalyubiya apartment belonging to the sister of one of the slain gang members, where evidence was allegedly discovered proving the gang's connection to Regeni.
Egyptian officials are set to visit Italy on 5 April to discuss the ongoing investigation.
Commenting on the visit, Paola Regeni said, "If April 5 proves to be a wash-out, we expect a strong response from our government, a really strong one."
She also said that if the investigation does not yield satisfactory results, Italy should declare Egypt to be an "unsafe" country for Italian tourists, according to the Associated Press.
Head of the Italian Senate's human rights commission, Luigi Manconi, called on the Italian government to return Italy's ambassador to Cairo for "consultations" in order to put further pressure on the Egyptian government.
"I think it is necessary to consider the revision of diplomatic and consular ties between the two countries," Italian news agency ANSA reported.
Regeni's father, who spoke at the press conference, agreed with Manconi's suggestion.
"I believe that the proposals made by Senator Manconi are the correct response in the absence of cooperation," he said.
Italian Prime Minister Matteo Renzi has insisted Italy will not accept anything but the truth concerning the circumstances of the student's murder.
The Regeni family lawyer, Alessandra Ballerini, described Egypt's claim that a gang was behind the murder as a "grotesque" attempt to conceal what really happened.
Ballerini disclosed that the autopsy carried out by Italian investigators showed Regeni died after "protracted torture" and "whatever the truth, it is clearly very uncomfortable for the [Egyptian] regime."
---
Subscribe to our newsletter
---