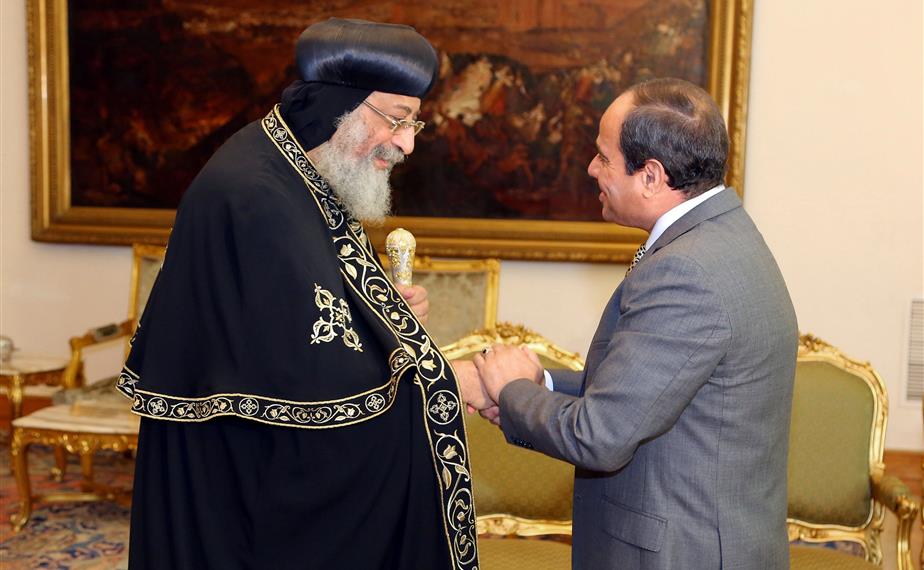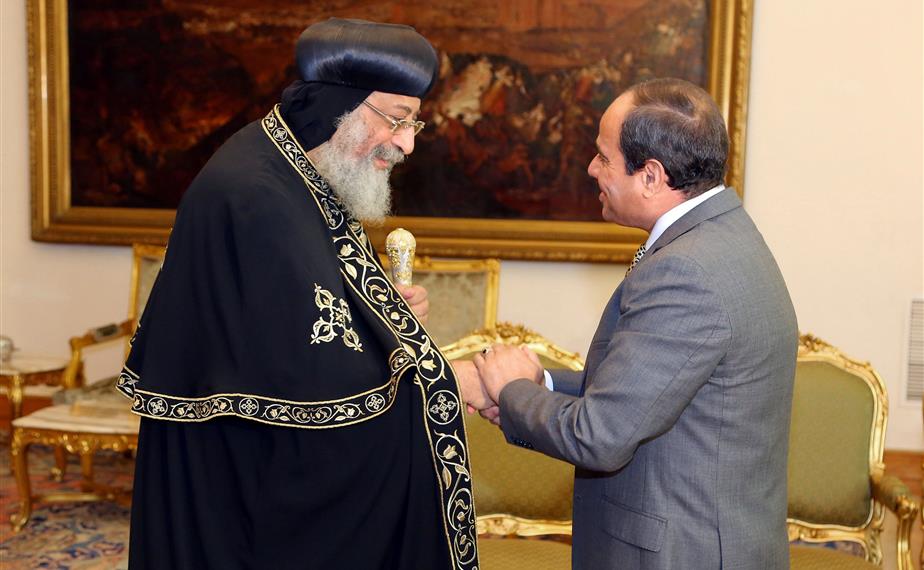 In attempts to ease tensions, Egyptian President Abdel Fattah Al-Sisi stressed in a meeting with Coptic Christian Pope Tawadros II that all Egyptians are equal under the Egyptian constitution.
The meeting, which was held after multiple incidents of sectarian violence in Egypt, saw the President stressing the importance of unity despite such attacks. President Sisi praised the spirit and role Coptic Christians have displayed in Egypt since the January 25 revolution.
The President continued that recent incidents should not damage relations between different Egyptian communities and that unity is paramount.
Meanwhile, the Coptic Pope stressed the importance of standing together for the future of the country, but stressed that Copts should be allowed to practice their religion freely and without fear.
During the meeting, the President said that initiatives such as the Family House are positive steps that eliminate extremist ideas and promote unity. Family House is an initiative between the Coptic Orthodox Church and Al-Azhar, Sunni Islam's top authority, that sees scholars and clerics from both faiths working together on various projects for the community.
Earlier this month, 15 people were arrested for setting fire to Coptic Christian homes in Egypt's Minya. One Coptic Christian was also killed during the recent violence.
Since becoming President, Sisi has called for greater religious tolerance and reform in Islamic discourse. The Egyptian President also became the first Egyptian head of state to attend Christmas Mass in 2015. In 2016, during his second appearance at Christmas Mass, the Egyptian President vowed to rebuild all churches destroyed in the aftermath of the ouster of former President Mohammed Morsi.
Sectarian tension between Muslims and Christians has been rife in the past decade, with clashes often taking part in rural Egyptian cities. Coptic Christians make up approximately 16 percent of Egypt's population, with 15 million Copts in Egypt.
---
Subscribe to our newsletter
---