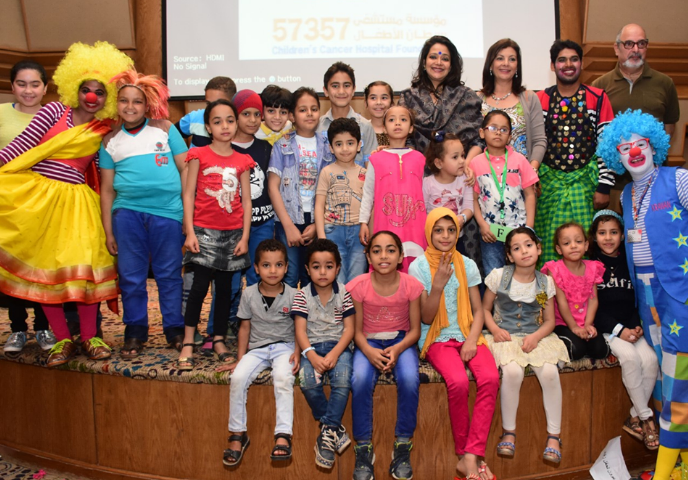 As part of the India by the Nile cultural festival, the Embassy of India in Egypt has invited prominent Indian puppeteer Dadi D. Pudumjee and his troupe Ishara Puppet Theatre Trust to give a workshop for children at the Children's Cancer Hospital Egypt 57357 on April 27.
The workshop included presenting some kinds of puppets for children and also performing two small sketches, one of them was a clown show to entertain the audience.
The miring event was attended by Mrs Ranu Bhattacharyya, the spouse of the Indian Ambassador to Egypt Sanjay Bhattacharyya.
"I visited the hospital many times before, and I was always struck by the atmosphere of hope and joy in this place. And I wanted to contribute in whatever small way that we can towards sustaining that atmosphere," Mrs Bhattacharyya Said.
The event was attended by children who are being treated at the hospital as well as their families.
"Every time I visit this hospital, it's never been a sad visit. It's always been hopeful. I go back  thinking that these children have this wonderful place to come to," she added.
Mrs Bhattacharyya also said that the true heroes are the children who are being treated in the hospital, the staff who work in such a dedicated manner and the parents who come from all over Northern Africa to giving their children the treatment.
"We wanted to bring a little bit of our festival to them," she said.
Hanaa Farid, strategic manager of the Children's Cancer Hospital Egypt 57357, said that the workshop and sketches have drawn a smile on the children and their families' faces. It also helped children to feel positive towards the treatment in the hospital.
"We are always keen on making the children feel that this is not a hospital where they only come to take the medicine and be treated, but also there are other entertaining activities that they can make," Farid told PTI.
Farid also added that the most lovely thing about this performance is that it made children interact with it.
"We thank the Indian Embassy for bringing this show as they helped our children to spend their morning singing, laughing and engaging in this event," she said.
The show is based on the ideology of Mahatma Gandhi. The performance by Prominent Indian puppeteer Dadi Pudumjee and his troupe is a non verbal, musical adaption on India's iconic figure Gandhi.
"Through India by the Nile this year we wanted to reach out to youth and different audiences all over Egypt. To a large extent, that has been very successful. We created new audiences with the classical performance that we had. We interacted with children of different generations with street art, football teams and this event in the hospital is another one of those venues that we are trying to bring a little bit of India to our friends in Egypt," explained Mrs Bhattacharyya.
---
Subscribe to our newsletter
---