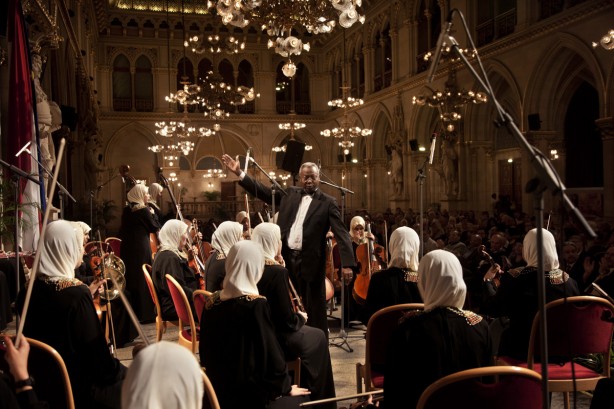 Egypt's Al Nour Wal Amal – or Light and Hope – Chamber Orchestra to perform three concerts in China, for the first time, on 2, 5 and 6 August.
The program consists mainly of Western European classical music compositions, in addition to "a special surprise for our audiences", Amal Fikry, vice president of Al-Nour Wal Amal Association told Ahram Online.
From souls rich with music and hearts vibrant with hope, symphonies fill up concert halls with various compositions by Egyptian and western composers like Brahms, Mozart, and other composers.
Egyptian women musicians redefined perseverance, hard work, and passion when joining the first non-governmental association in the Middle East to help visually impaired girls and women.
The orchestra consists of 44 blind female musicians between 20-40 years old. The orchestra has traveled around the world, visiting multiple Asian countries. There is also a junior orchestra of around 27 girls from 8-20 years of age.
The orchestra stages regular monthly concerts in Cairo and travels annually to perform abroad in support its initiatives.
Not only do women enjoy their time playing music, but also the Al Nour Wal Amal Association works hard to secure decent education and personal growth for blind girls. However, following the events of January 2011, it became harder for the association to gather funds.
Al Nour Wal Amal Association, a nonprofit institution in Egypt that provides blind women with education, literacy programs, and professional training, it is best known for its chamber orchestra Al Nour Wal Amal – or Light and Hope.
The musical institution depends on donations in order to offer its education and facilities for free to its students. Furthermore, it is in constant pursuit to secure high-quality instruments in order to improve the orchestra's sound.
Ali Osman, composer and conductor of Egypt's Al Nour Wal Amal Orchestra, (1958-2017) trained the musicians for many years.
Since Osman's death in February, leadership has been given to the composer Mohamed Saad Basha, who has experience working with younger visually impaired musicians from the same association.
---
Subscribe to our newsletter
---