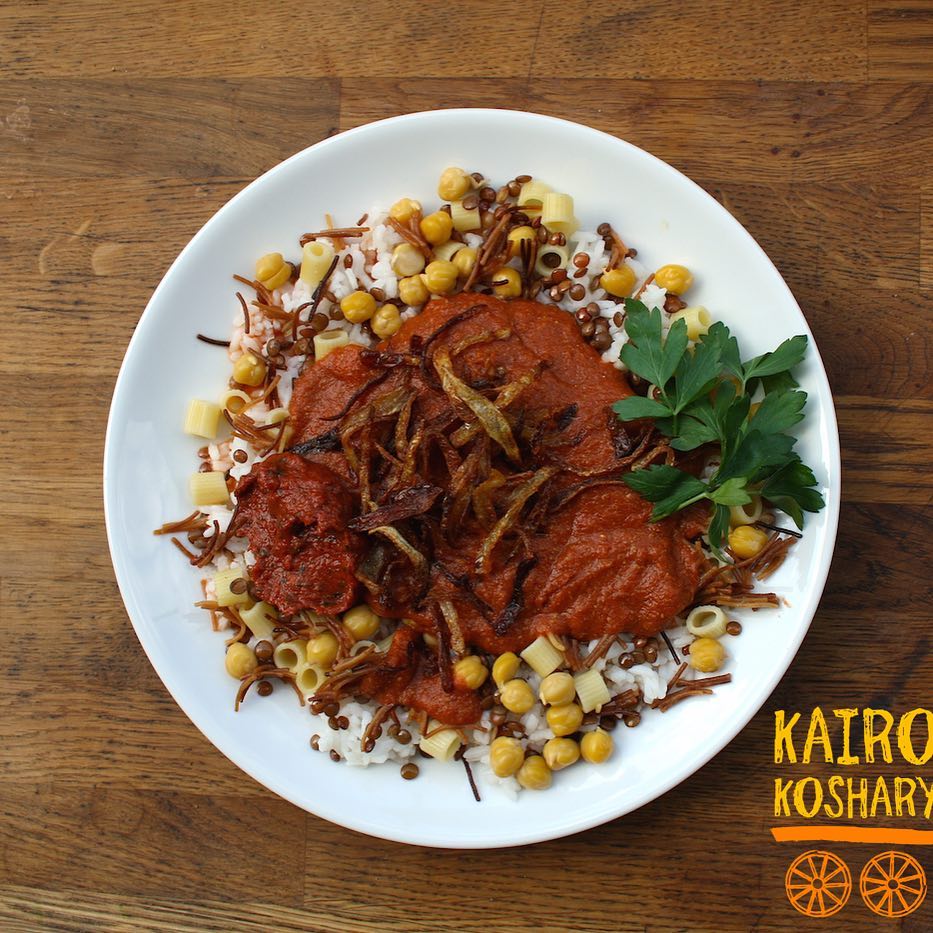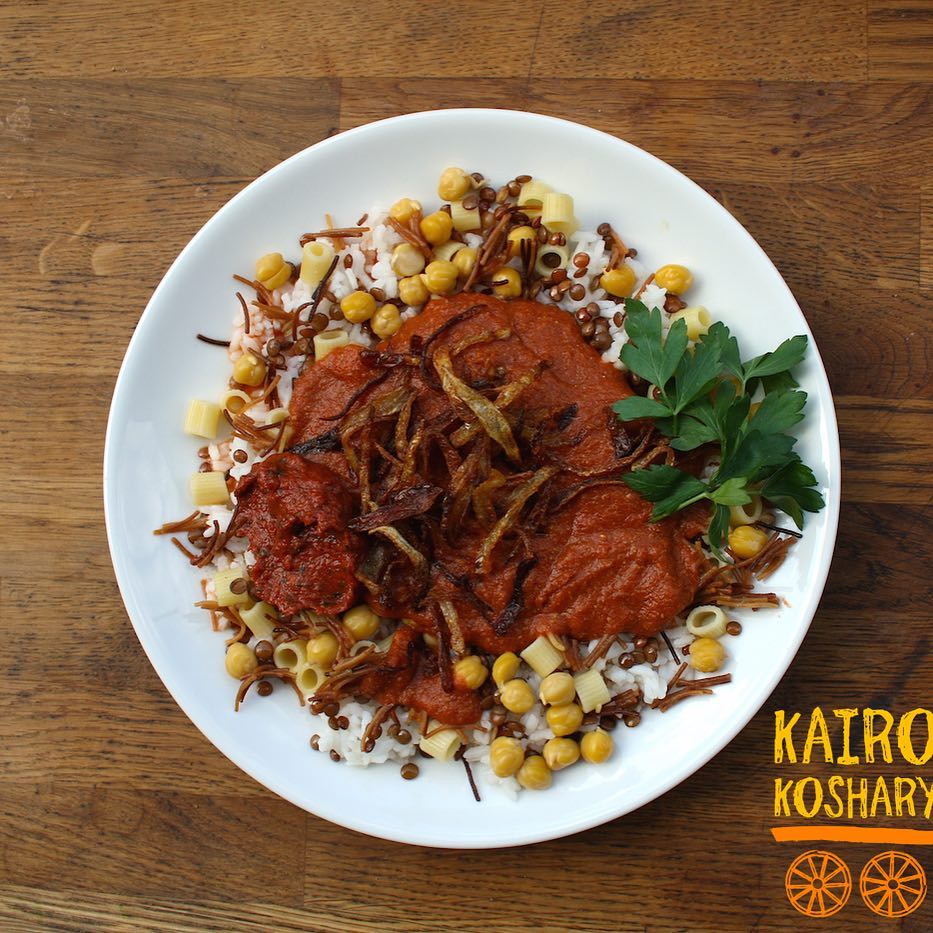 Kairo Koshary, the Berlin based food truck provides an opportunity to indulge in one of Egypt's favorite foods. Whether you are a vegan, vegetarian, or carnivore, Koshary is what you're looking for!
Egyptian Streets spoke to Muhammad Radwan, one of the founders of Kairo Koshary.
How did you come up with the idea of Kairo Koshary in Berlin?
We thought that the Egyptian kitchen was under represented in Berlin's massive foodie scene.  There is plenty of Falafel, but barely any Egyptian.  We wanted to come with the most famous Egyptian street food which hardly exists here in Germany. Kairo Koshary was born out of a series of pop-up kitchens around Berlin in 2016. In 2017, we wanted to enter the market with a branded food truck representing Arab cuisine through a different lens.
What is special about your Koshary?
Firstly, we believe in the 'Right to Onion'. We give extra onions at no extra charge as a protest to all Koshary restaurants in Egypt. Ward zeyada – Egyptian slang for requesting extra crispy onions served with Koshary – is music to our ears and ambrosia in our stomach.  We also decided to cater to Berlin's experimental and adventurous foodie scene by introducing variations on the original bowl we know back home.
We introduced Kalifornia Koshary and Kalamata Koshary each with very special fresh ingredients like avocado, quinoa, bulgur, olives and more!
There is an unwritten rule that Koshary must remain the same. However, we wanted to cross the Koshary red line, as we have done with other red lines. We decided to fuse different cultures cuisines specifically for Berlin's pluralistic society that embraces change and accepts different.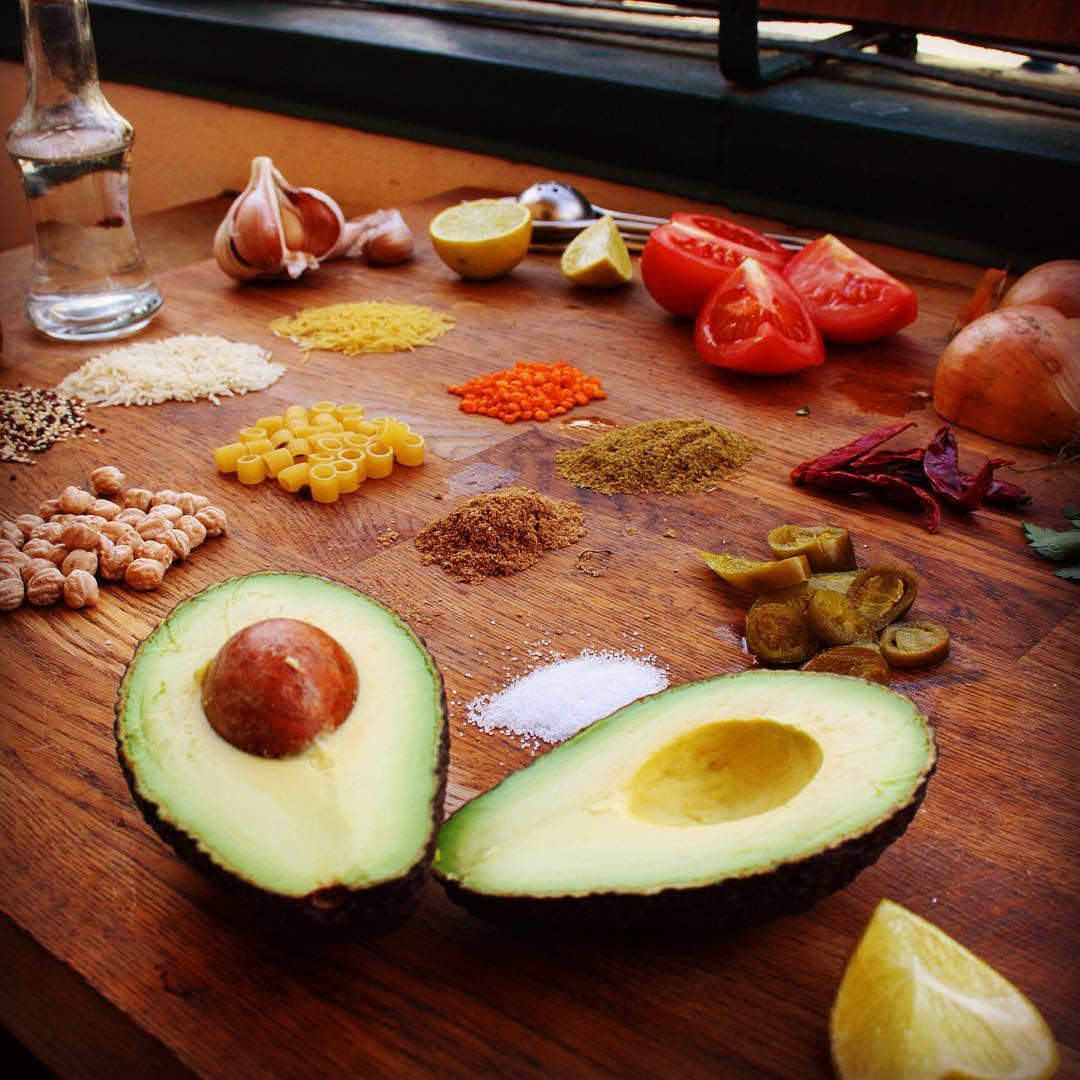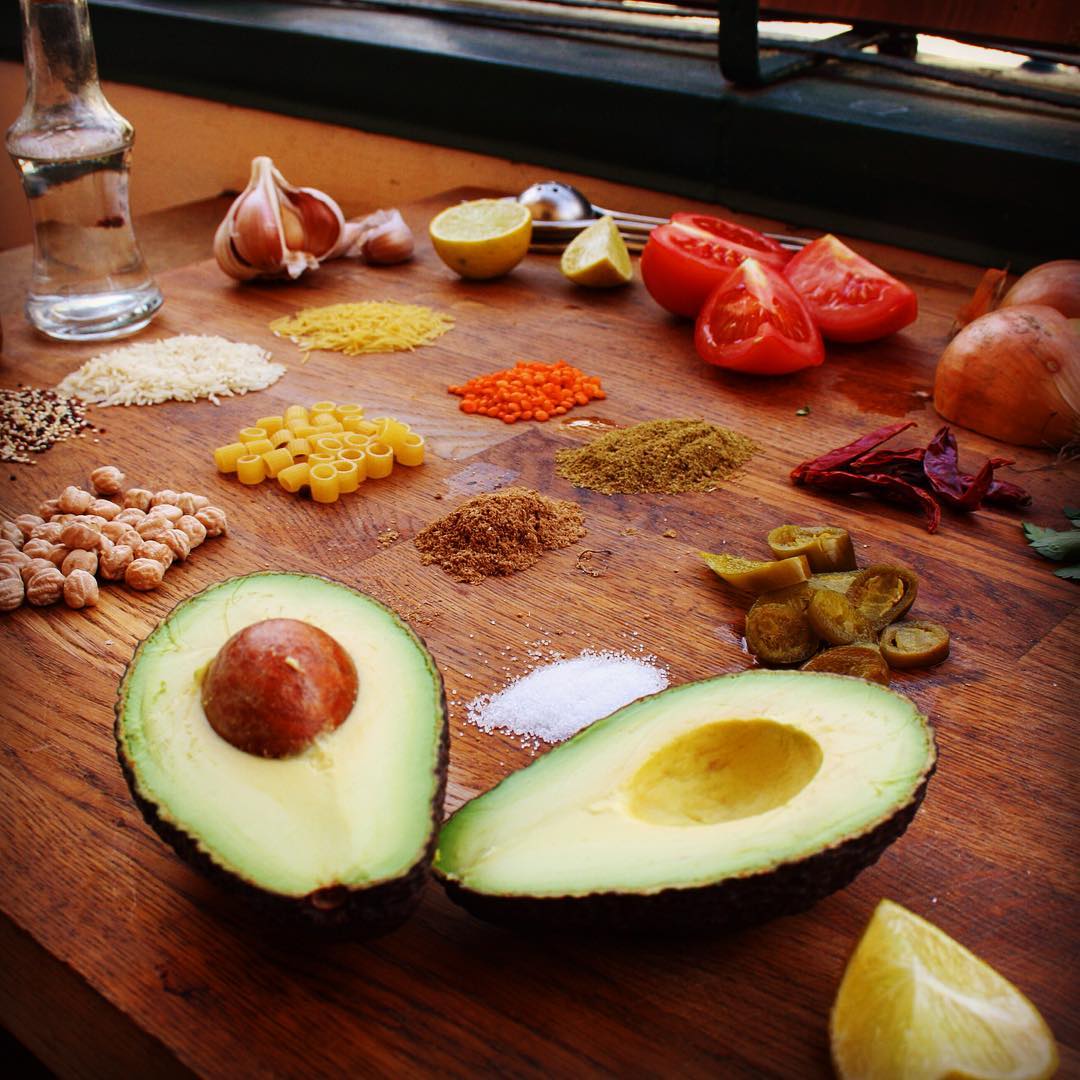 What culture do you want to bring to Egyptian street food in Berlin?
We want to bring Egypt's street food culture to Berlin. However, we wanted to present Egypt and Arabs in a different light. The dominating narrative, of course, is filled with negative images. Berlin's stereotypes of Arabs focus on the newcomers from Syria and Iraq in addition to a previous wave of migration, 3o to 40 years ago, from Lebanon and Palestine. Back then, integration was not enforced resulting in isolating these communities. This isolation left the average person here susceptible to the images emerging since the beginning of the 21st century. Yet, things are quickly changing.
Kairo Koshary and several other startups, entrepreneurs, small businesses, NGOs, activists, and artists are actively seeking to portray a different image of Arabs through cultural events that we organize.
Can you share a story or a funny comment you received from someone who tried Koshary for the first time?
We asked a gentleman to come and try the Koshary, especially as we made our special versions. He waited and heard the whole pitch and seemed convinced, but his facial expressions showed confusion. We asked him if he already knew Koshary, and he said, "Of course, but isn't Koshary more of a Jewish tradition?"  Of course, he was referring to Kosher food instead of Koshary, which incidentally happens to be kosher too, or halal.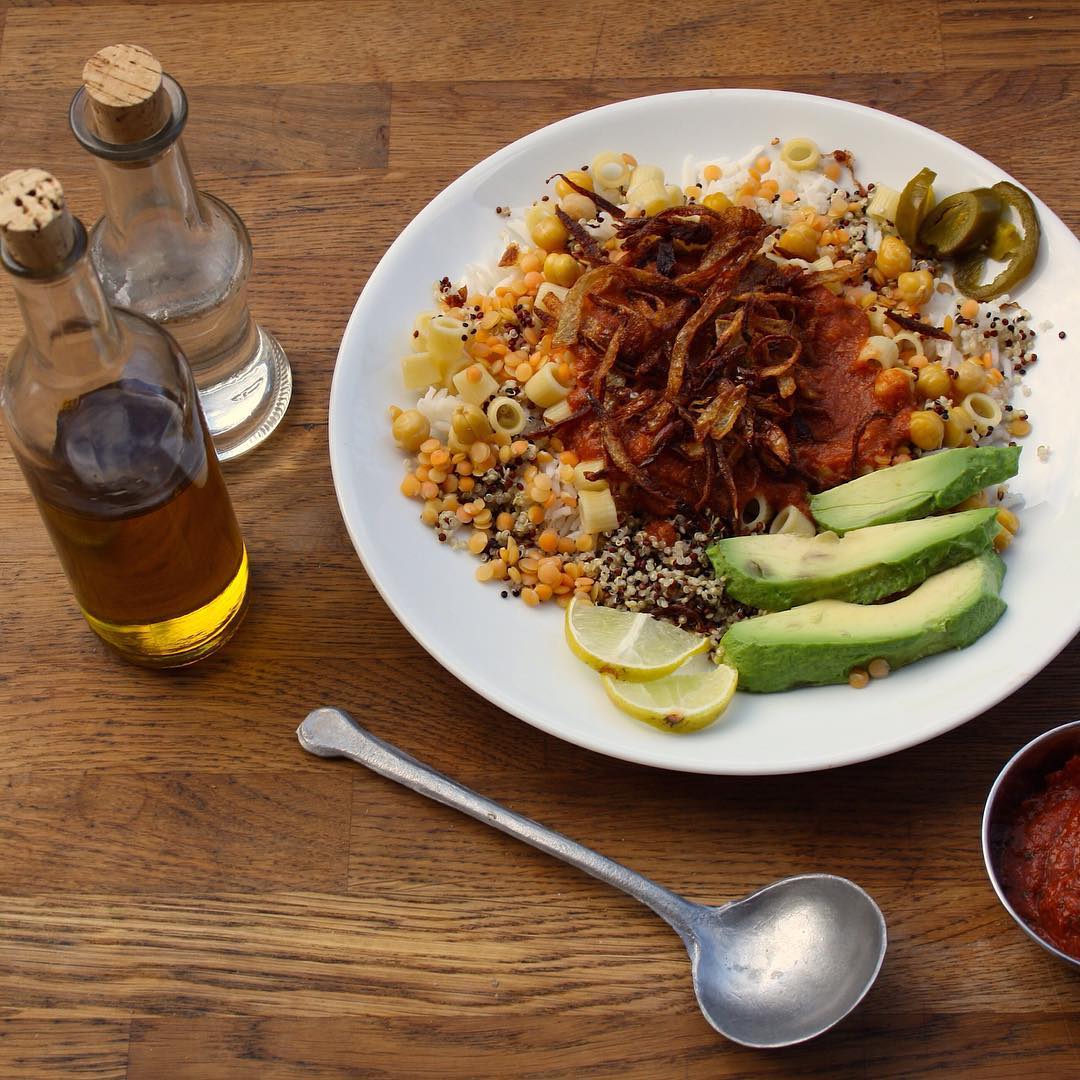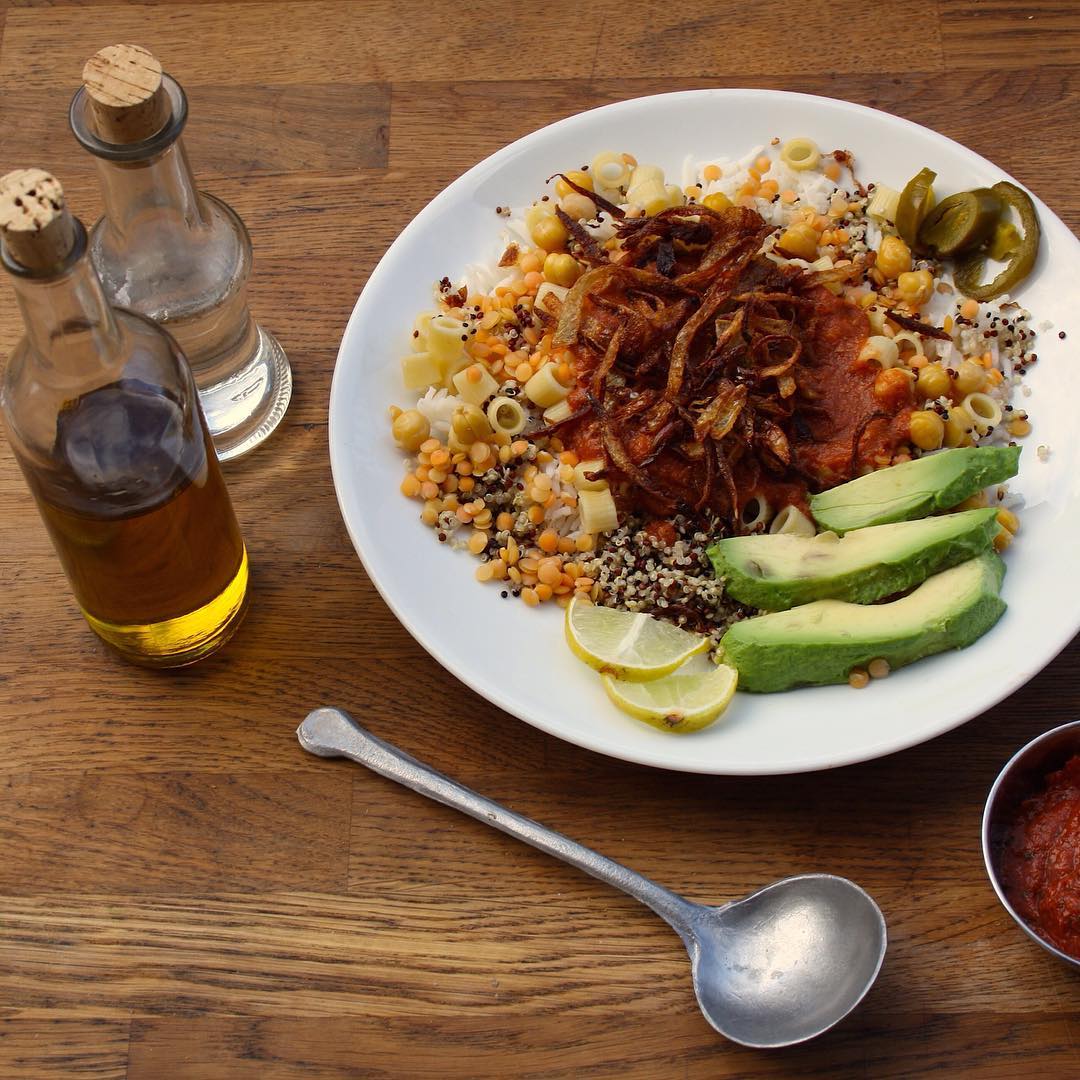 What are the challenges you face in Kairo Koshary?
The Berlin foodie scene is quite competitive. Even though there are many events, the number of amazing projects are numerous. Luckily we have a unique product that helps us compete.
Another challenge is the high cost of doing business in Europe compared to Egypt which forces us to drive the price up. Lastly, some of us are still working on the German language which is imperative to dealing with the administration here. And Deutsch is not an easy one.
What motivated you to start and continue Kairo Koshary?
As a former industrial engineer who graduated from Texas A&M University in the US, I thought it would be nice to do something completely different.  After moving to Berlin, I started Kairo Koshary as a way to bring part of Egypt to the city.
I enjoy bringing people together and I thought, by teaming up with the many cool initiatives in Berlin, we would be able to create a cultural scene here that is inviting to Germans and other non-Arabs, creating a bridge in a time of rampant disinformation that aims to do the opposite.
What keeps me going is the love of cooking out of a truck.  It is hard work but multi-disciplinary, keeping it very interesting by solving all kinds of challenges that constantly arise.
What milestones have you reached and aim for?
We are cooking for events around Berlin like Lange Nacht der Museen – Long Night of the Museums – and Green Market, but we would like to attend larger festivals around Germany next summer. We also want to introduce a few extra Koshary types on the menu.
From the very beginning, we use compostable plates and spoons from processed sugar cane made from renewable energies. We also want to implement our sustainability plan by installing a solar panel for alternative energy and retrofitting the truck to bio-diesel to reduce carbon emissions.
Is there anything else you would like to add?
We are a team of Egyptian and Germans that are gastronomy lovers. You can find us on Facebook and Instagram!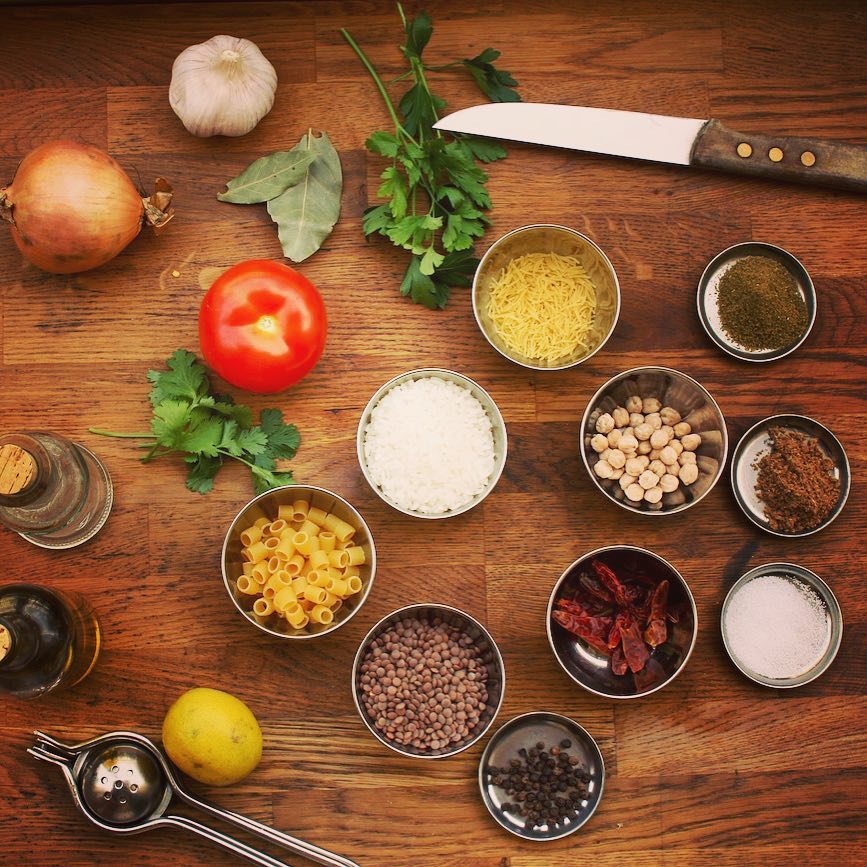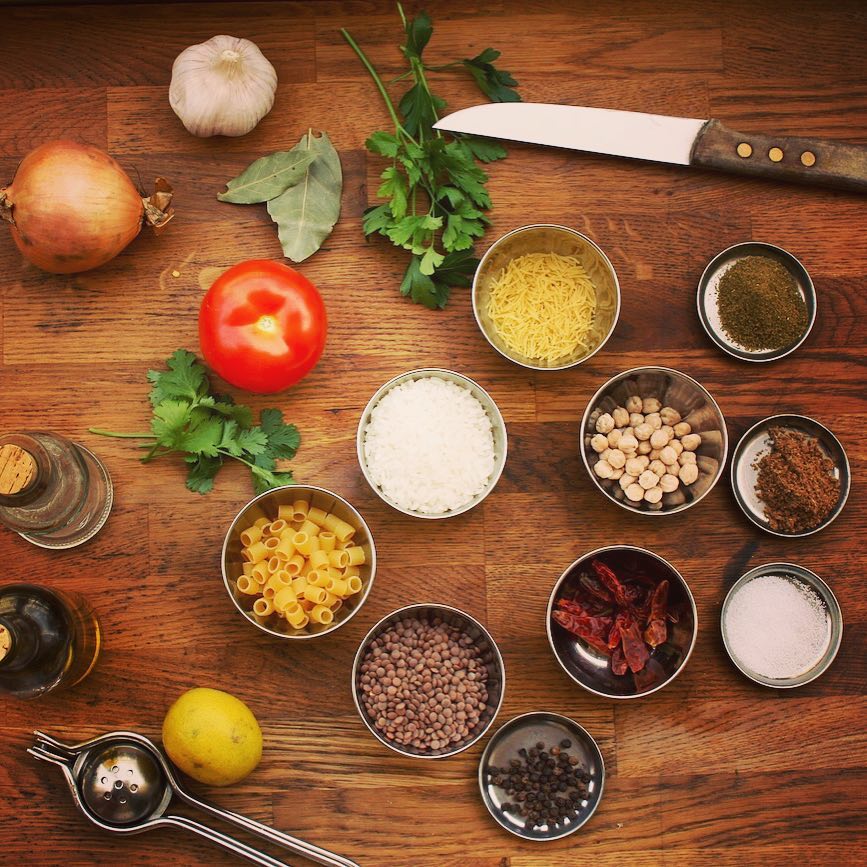 ---
Subscribe to our newsletter
---