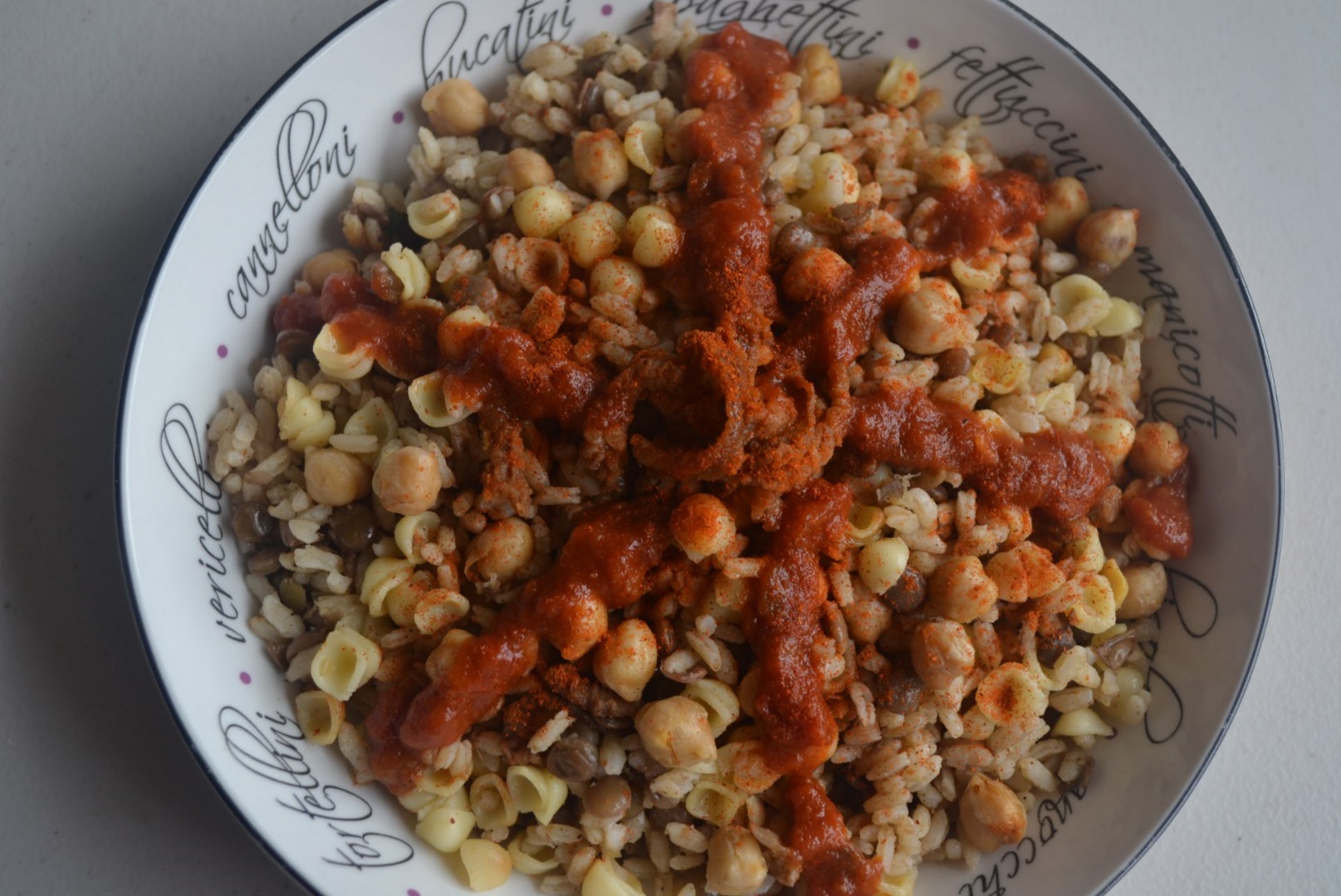 Koshari is the ultimate Egyptian comfort food. Whether it's a family recipe, or a bustling Cairo street vendor, Koshari never disappoints. If there's one food all Egyptians cherish, it's this.
Believed to have originated in the 19th century, this vegetarian street food staple is made of rice, lentils, and chickpeas, topped with delicious fried onions and a spicy tomato-based garlicky sauce.
While we all love our street Koshari, getting a whiff of its exquisite aroma in your kitchen makes the experience as a home-cooked meal worth it. Our family recipe, written below, can be found in our 100% non-profitable cookbook, Minnie's Taste of Mediterranean Delight along with a myriad of classic Egyptian recipes.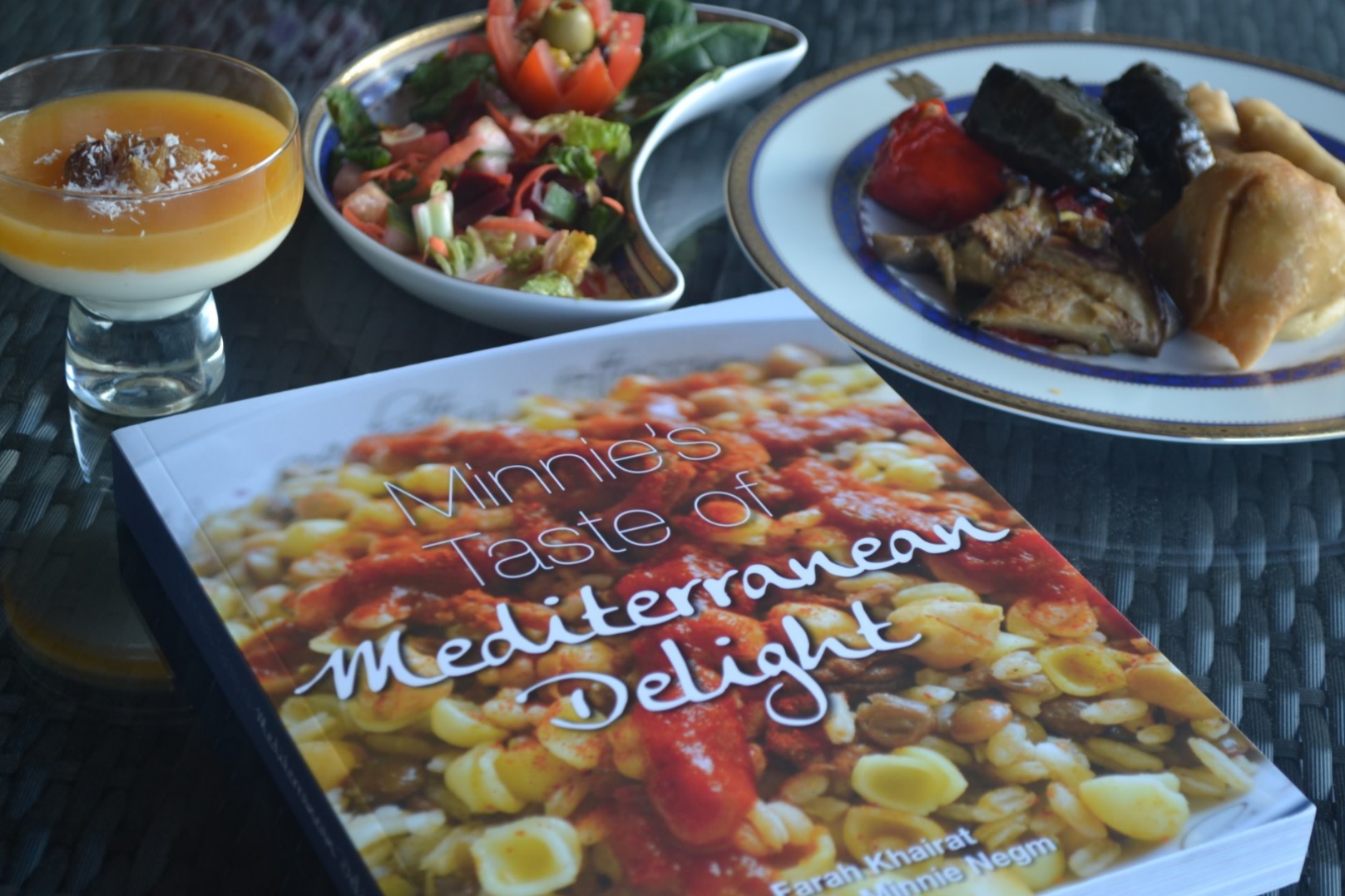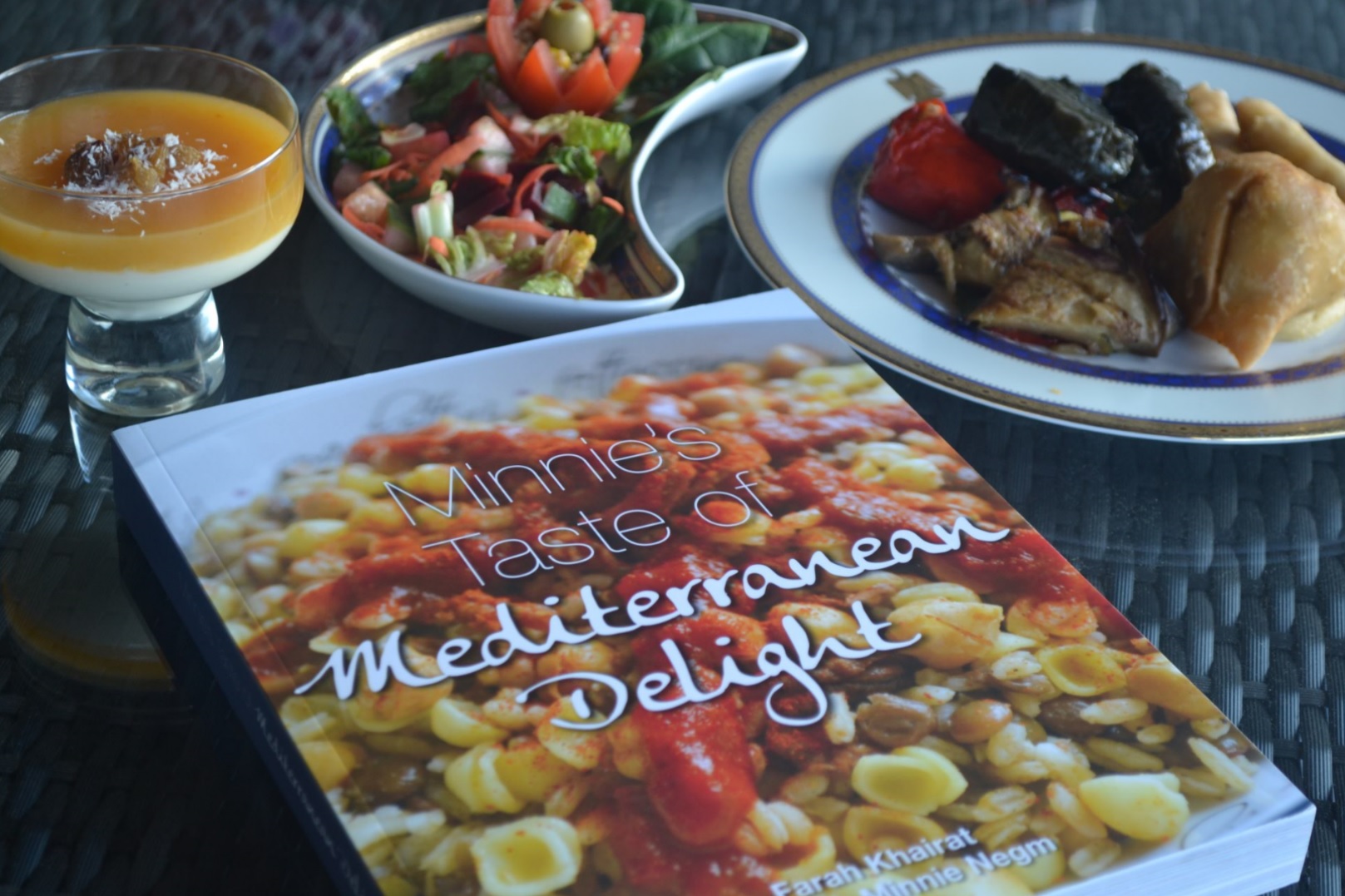 Minnie's Taste of Mediterranean Delight is a project to help disadvantaged people in Egypt to be able to put food on the table for their families. This cookbook, made from the heart and filled with more than 150 authentic recipes, hopes to support the impoverished with all proceeds going to charity. With recipes handed down over various generations to more modern ones, the pages on this book will not only transport you to the Mediterranean but will also support those in the most desperate locations in Egypt.
If you love the recipe below, you can purchase Minnie's Taste of Mediterranean Delight  by contacting [email protected]. One book purchase feeds a family of five for one week.
How to Make Koshari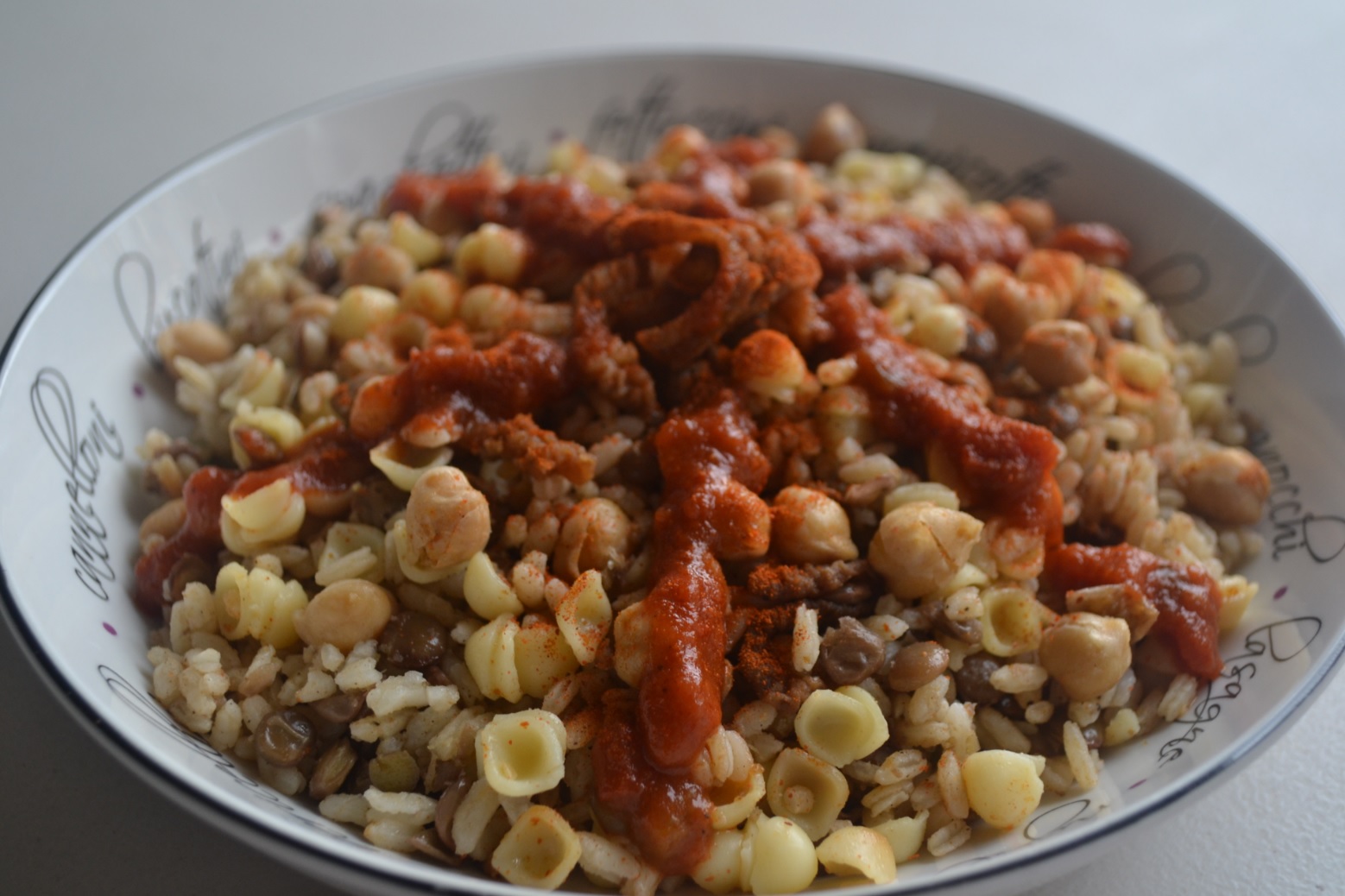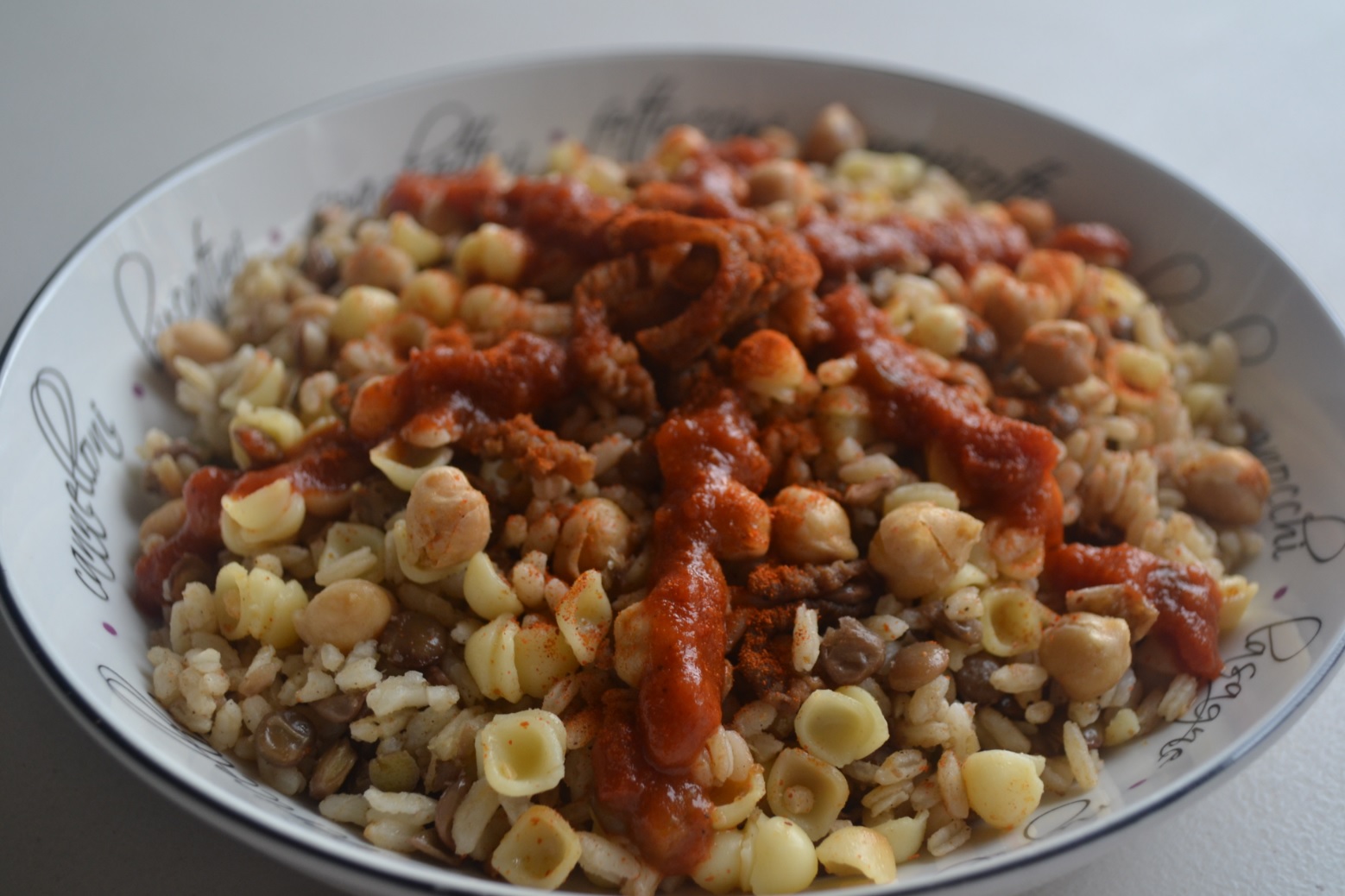 Directions
(See below for ingredients required)
Step 1: Make sauce by mixing ingredients (see below) in a pot. Bring to a boil on low heat for 15 minutes. Continue on to the next steps while the sauce is cooking.
Step 2: Rinse and boil the lentils in 3 cups of water, and ½ tsp of cumin for five minutes. Drain and rinse with cold water.
Step 3: Cut the onion into rings, and sprinkle with flour. Deep fry the onions until dark brown. Place them on kitchen paper and set aside.
Step 4: Boil the pasta and drain. Set aside.
Step 5: In a large pot, add the oil, lentils, rinsed rice, and a pinch of salt, pepper, and cumin. Add 3 cups of boiled water to the pot. Allow it to boil for two minutes. Cover and simmer for 15 minutes on low heat.
Step 6:  Wash and drain the chickpeas then put in a frying pan for one minute on high heat. Add ½ tbsp of butter, a pinch of salt, pepper, and paprika. Stir for one minute, and set aside.
Step 7: Serve the rice and lentils onto a large plate.
Step  8: Rinse the pasta with hot water, and drain. Pour the pasta and chickpeas on top of the lentils and rice in the plate.
Step 9: Garnish with the fried onions, and paprika powder.
Step 10: Serve hot with a drizzle of sauce on top, and the rest of the sauce on the side.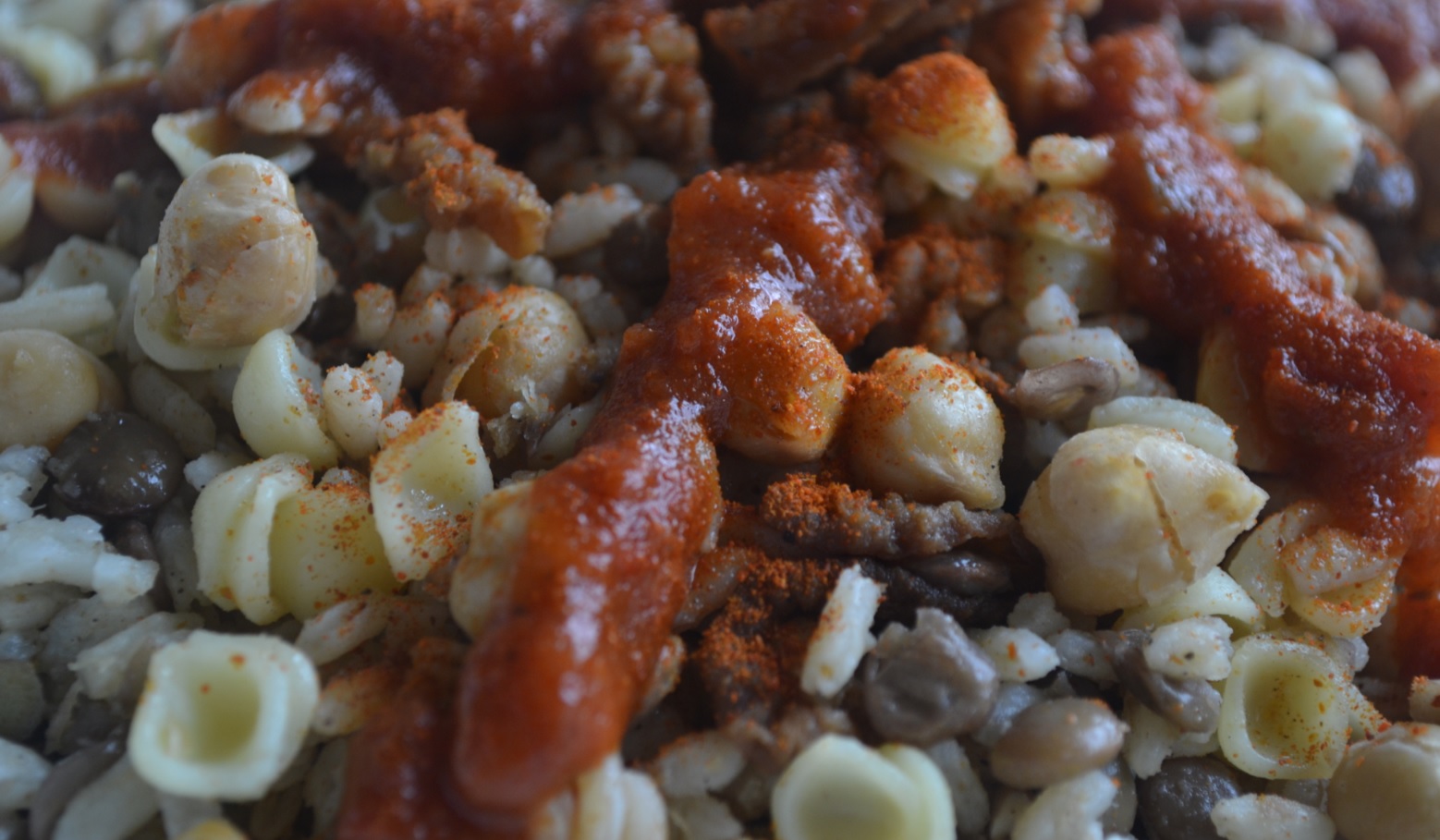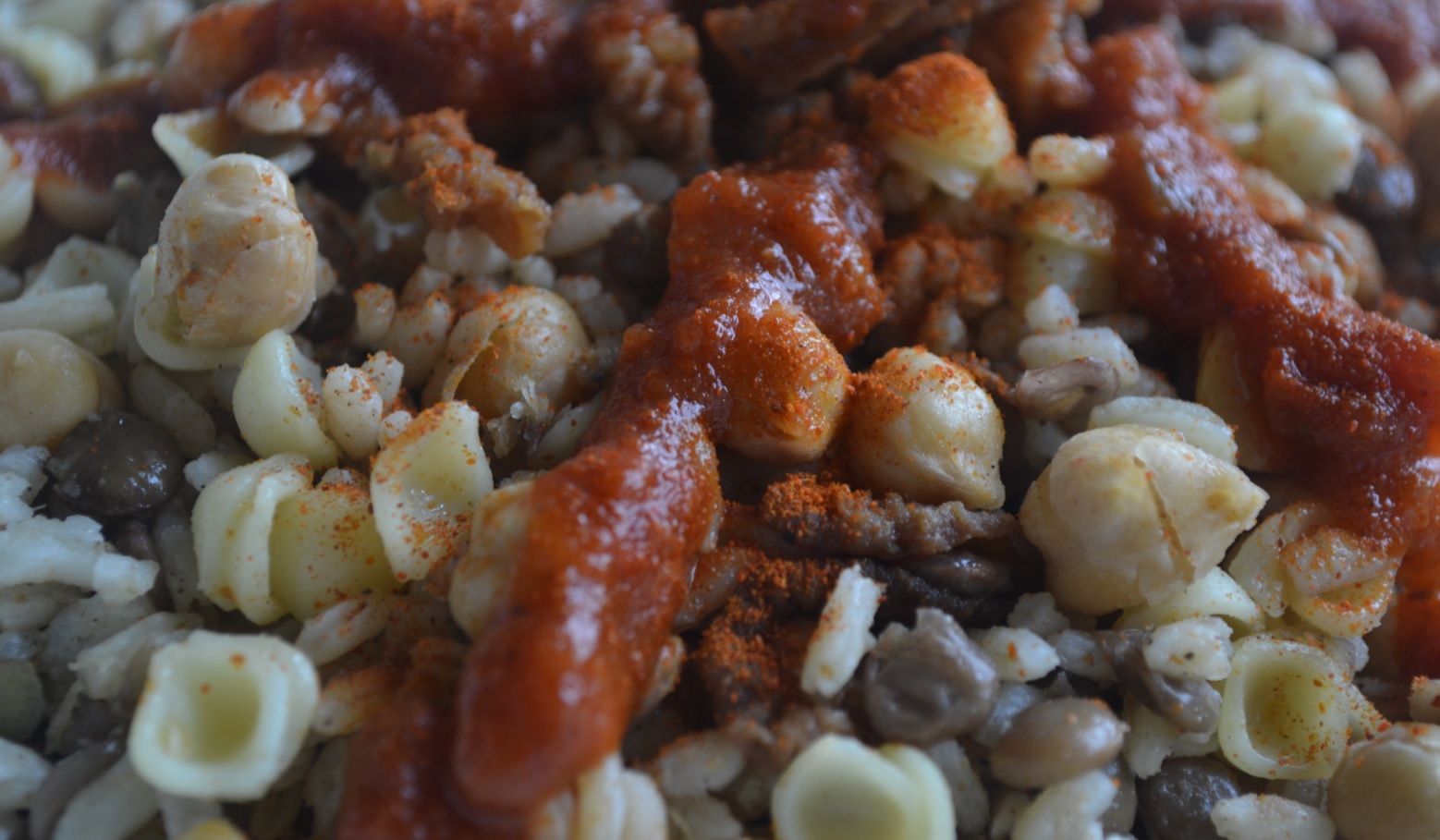 Ingredients (Serves 6-8 people)
Ingredients:
– 2 cups medium grain white rice
– 1 cup green lentils
– 1 cup small pasta (preferably ditalini)
– 1 can of chickpeas
– 2 white or brown onions, sliced into rings
– ¼ cup oil
– pinch of salt, pepper, and cumin
– 3 cups water
Sauce:
– 2 white onions, finely diced
– 1 green capsicum, diced
– 6 cloves garlic, diced
– 4 large tomatoes, diced
– 2 ½ tbsp tomato paste
– ½ cup vinegar
– 1 cup water
– 1 tbsp of oil
– pinch of salt, pepper, paprika and cumin
---
Subscribe to our newsletter
---