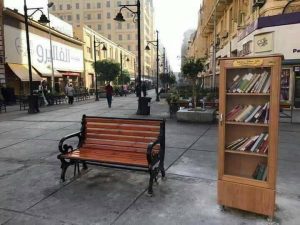 One of the most iconic streets of Downtown Cairo has in the past few days witnessed a peculiar little change. In the middle of the street, which earlier this year was transformed into a refurbished pedestrian boulevard, a free-for-all library in the form of a book cupboard has been set up.
"Take one book and leave another," reads the copper-colored metal sign at the top of the picturesque wooden library which sits between two benches.
The new initiative, which has also been established on Downtown's Emad al-Din street, was the idea of Egyptian businessman Nader Riad, whose assistant Samir Labib says that it was a way for him to contribute something to the community.
"This is our initiative to give back to the community of Cairo," he says, adding that since people usually have lots of books lying around at home without reading them, they might just as well let others use them.
A number of initiatives have emerged in recent year aiming to promote a more vibrant reading culture in Egypt. Last year's edition of the country's annual book fair saw the Batana foundation offer a 90 percent discount on any book to any citizen who holds a supply card. The initiative, dubbed "Bread and Book," aimed to foster a stronger tie between people's everyday lives and reading.
In its 2012 annual cultural development report, the Arab Thought Foundation said that the average Arab child reads a mere six minutes per year, compared to 12,000 minutes that its European counterparts spends.
The mini-libraries on Cairo's Alfy and Emad al-Din streets may be a small, but no less important, step in changing those statistics.
---
Subscribe to our newsletter
---