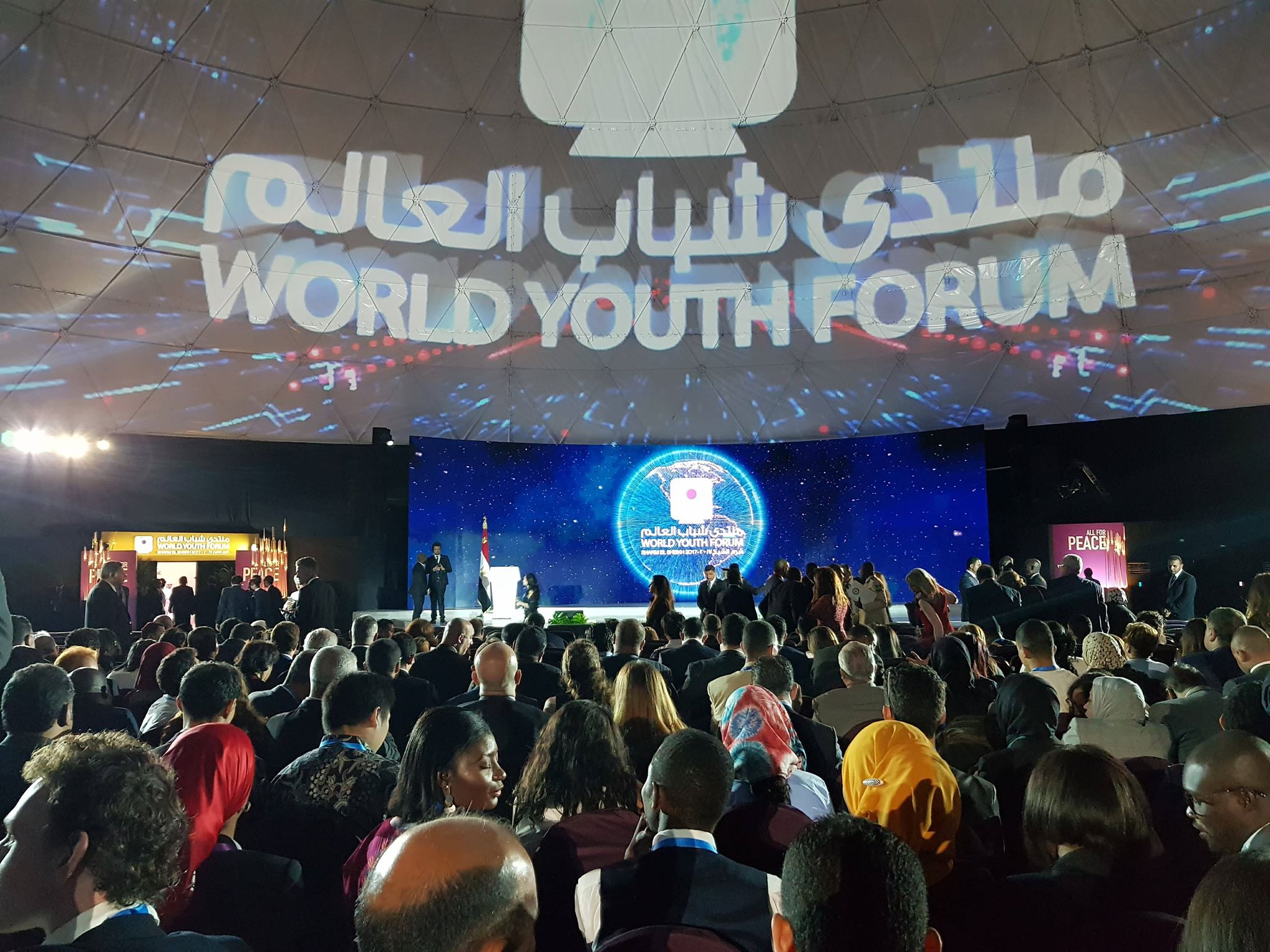 This week in the Egyptian coastal city of Sharm el-Sheikh, thousands of young people from all over the world gathered for the 'World Youth Forum'.
Many Egyptian human rights activists denounced the conference as a token and superficial public relations stunt by the Egyptian government, with a now notorious open letter being addressed to American actress Helen Hunt to criticize her involvement, touting it as a validation of human rights abuses.
"They said, 'You can't kill an idea,' but what use are ideas lost in the eternal noise of gunfire," wrote blogger and activist Mona Seif of the event, posting a photo of jailed activist Alaa Abdel Fattah to her Twitter feed.
The letter, written by Seif, is part of a wave of criticism around the event.
"This isn't just any forum that you chose to endorse," the letter to Hunt read.
"This is a youth forum with the slogan 'We Need To Talk' called for by a dictator who cannot stand any form of opposition or real criticism. He jails journalists for doing their jobs, youth for expressing their opinions, writers for writing fiction that violates 'public morality,' gays for coming out, supporters of LGBTQ for daring to support diversity, and he has blocked more than 400 different websites and media platforms."
Still, I'm of the opinion that Egyptians should be willing to give this event, with all of its limitations and within the context of a government which has been so consistently accused of quashing the rights of young people, the chance to mean something.
According to its website, the World Youth Forum is a platform built by 'promising youth' that sends a message of "peace, prosperity, harmony and progress" to the entire world.
"Engaging youth from around the globe in an enriching convention, allowing them to express their views and recommend initiatives to decision-makers and influential figures," the event website went on to say.
Activists have lambasted the hashtag #WeNeedToTalk because of the conversation that includes no mention of Egypt's ongoing human rights abuses, yet there are two points to note on this count.
Firstly, the human rights violations of pre- and post-revolution Egypt are well known. It isn't just Egyptian youth like Alaa Abdel Fattah and Khaled Said who have been mistreated, but foreigners like Giulio Regeni, who the Italian Government is still pursuing a full coronial inquest for. There is no escaping the notoriety of such heinous and well-publicized abuse and a boycott only serves to encourage further silence on other important topics like health and education.
Secondly, tourism really is a major component of the Egyptian economy and if this event helps raise revenue for this struggling industry, this is not an insignificant contribution to a country whose people have been brought to their knees by the loss of this mainstay of their daily income. Street hawkers, tour boat operators, guides and restaurateurs depended on tourism for their survival and the international forum, attended by a total of 3200 participants, 1200 of whom are foreigners from 113 countries, can provide a viable source of revenue for everyday Egyptians like these.
As for the conference itself, it is noteworthy to see such a gathering of young people, both from Egypt and the rest of the world, involved in a forum, even notionally, about "harmony and progress." There have been few, if any, events like this under previous Egyptian administrations.
To this end, the event has given a platform to artists and other skilled professionals to highlight the way their work is a means for social progress and development.
For example, Egyptian actress Esaad Younis, spoke as a member on a panel on Monday entitled, "How Can Literature and Arts Mend What Conflicts and Wars Destroy?"
The screen industry, of which Younis is a member, has been on the forefront of highlighting social ills in Egypt. Multiple films of the last decade, like 'The Yacoubian building,' 'Heya Fawda,' released under the English title 'Chaos,' 'After the Battle,' and 'Clash,' have won international acclaim for their bold and striking portrayal of everyday life in Egypt and the traumas of corruption and state violence. International events like the World Youth Forum, only serve to highlight and promote this valuable sector.
Additionally, the social media hype the forum has ignited and the influx of international youth it has brought to Egypt, have helped to re-surface a dormant conversation about human rights in Egypt. Whether or not a healthy human rights framework exists presently in Egypt should not invalidate the possibility of talking about one which might exist.
One area where the nation's track record has reportedly proven abysmal is the safety and welfare of women. Thomson Reuters classified Cairo as the most dangerous megacity for women in terms of sexual harassment, stating that 99 percent of women have faced some form of sexual harassment- verbal or physical.
President Sisi, responding to a speech by Lamiaa Haggy, a 19-year-old Yazidi activist, as she recounted her suffering at the hands of Islamic State fighters, said, "Women empowerment is a right and not a privilege."
Whether President Sisi's government responds to the crisis of women's safety in Egypt today remains to be seen. On this count, and on the many other challenges facing Egypt's youth, words aren't action, and progress demands structural policy change and a commitment to genuine dialogue.
However, boycotting the World Youth Forum consolidates the dark silent void so many claims followed the Tahrir Square protests of 2011. The conference, whether it intended to or not, provides an impetus for a conversation about human rights in Egypt. Already, its detractors have used the hashtag #weneedtotalk to do this with enormous success and its participants, given the chance, might do the same.
---
Subscribe to our newsletter
---