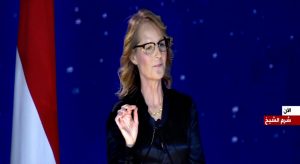 Egyptian human rights activists condemned on Tuesday American award-winning actress Helen Hunt for her participation in the state-sponsored World Youth Conference they claim glosses over authorities' rights violations.
In an open letter, Mona Seif and a host of other prominent activists slammed Hunt for "support[ing] a dictator responsible for thousands of deaths, arbitrary detentions and disappearances."
On Wednesday morning, the letter had garnered nearly 500 signatures.
The letter went on to say that Hunt's visiting Sharm al-Shaikh, the Red Sea resort where the conference is being held, does not "convey the reality of what it means for Egyptians to live under military rule."
Signatories of the letter included former political detainee Mahienour El-Massry, human rights activist Aida Seif Eldawla who ran the now-closed Nadeem Center and Mohamed Zaree, who last month won the prestigious Martin Ennals Award for Human Rights Defenders.
The activists claim that the youth conference represents a "whitewashing campaign" by President Sisi, concealing rights abuses that his government is carrying out.
The open letter comes amid a storm of criticism on social media gathered under the hashtag #WeNeedToTalk, ironically the youth event's official hashtag, which has been overwhelmed with images of Egyptian police brutality and calls for human rights to be discussed.
"This isn't just any forum that you chose to endorse," the letter read. "This is a youth forum with the slogan 'We Need To Talk' called for by a dictator who cannot stand any form of opposition or real criticism. He jails journalists for doing their jobs, youth for expressing their opinions, writers for writing fiction that violates 'public morality,' gays for coming out, supporters of LGBTQ for daring to support diversity, and he has blocked more than 400 different websites and media platforms."
Human rights organizations have criticized the government for politically-motivated detentions, enforced disappearances, torture in prisons, wide-ranging arrest campaigns, and targeting the LGBT community.
President Sisi says that Egypt does not have political prisoners and that the foreign press obsesses over human rights issues instead of focusing on the country's economic development and security situation.
The World Youth Forum was inaugurated on Monday and will last until November 10.
---
Subscribe to our newsletter
---