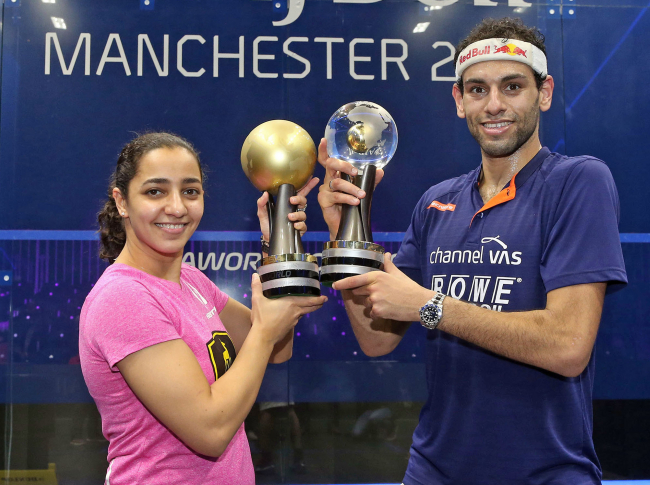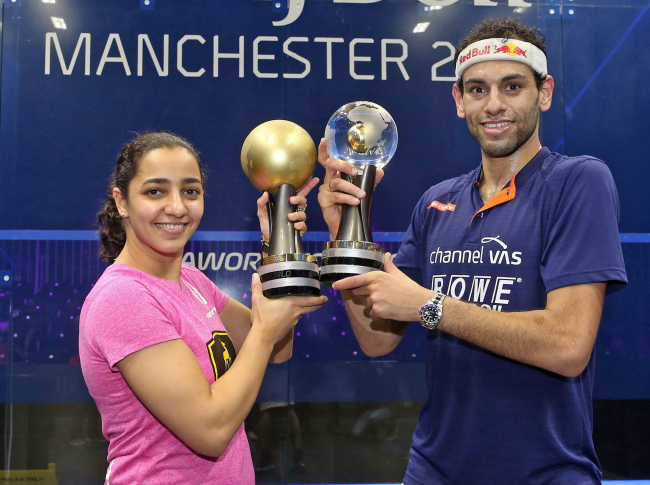 England's city of Manchester celebrated the AJ Bell PSA World Squash Championships 2017 which took place from 10 December to 17 December and named Raneem el-Welily and Mohamed el-Shorbagy champions of the competition.
It was an all Egyptian women's final which took place between Nour El-Sherbini, ranked the first internationally, and Raneem el-Welily who is ranked the second.
El-Welily won by a score of 3-1 (3-11/12-10/11-7/11-5).
Commenting on her victory el-Welily said, "I will never forget what Nour el-Sherbini said about me after the final last year, I'm sorry you were at the losing end today, but I'm sure you'll be at the other end so so many times, she did an incredible job."
In 2016, the Women's World Championships took place in El-Gouna, Egypt under the name of Orascom Development PSA Women's World Championship. Its final also took place between el-Sherbini and el-Welily. The first beat the second by (11-8/11-9/11-9).
Moving to the 2017 men's final, it was also an all Egyptian men's final which took place between Mohamed el-Shorbagy ranked the second internationally, and his brother Marwan el-Shorbagy ranked the fifth.
Mohamed won the final by 3-2 (11-5/9-11/11-7/9-11/11-6).
Mohamed said in this regard "When my brother won the semifinal yesterday I was very happy. Then when I remembered I had to meet him in the final today I was choked. It was one of us that had to stop the other from being the 2017's world champion."
The Men's World Championship last year, 2016, was held also in Egypt at the Pyramids under the name of Wadi Degla PSA Men's World Championship. The final was between Egyptian champions Karim Abdel Gawad and Ramy Ashour. The result was 2-1 (5-11/11-6/11-7) to Abdel Gawad. Ashour then retired for injury in the fourth game and Abdel Gawad became 2016's world championship.
---
Subscribe to our newsletter
---