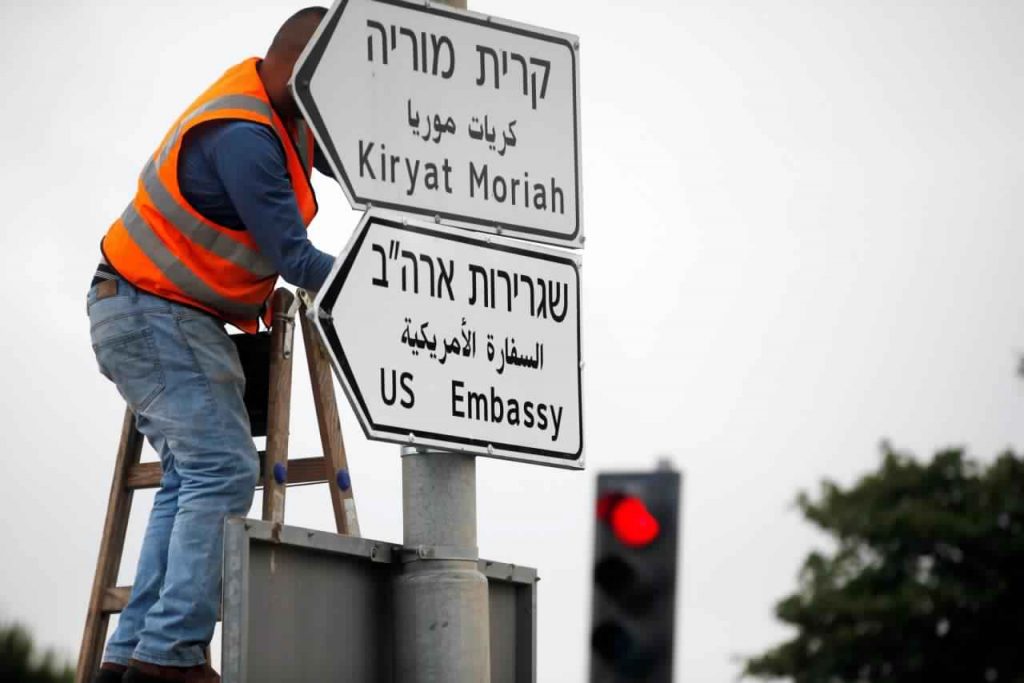 The new US embassy is set to open in Jerusalem with top US officials attending the event, reported the BBC.
Once announced by US President Donald Trump at the end of 2017, the decision was heavily criticized by the EU, world leaders and Palestinians, although it was praised by Israel.
Currently there exists a US consulate building in Jerusalem. As of Monday, a small interim embassy will start operating while the rest of the embassy is established following the move from Tel Aviv.
Among those expected to attend the opening ceremony are senior White House advisers Ivanka Trump and Jared Kushner as well as Treasury Secretary Steven Mnuchin and Deputy Secretary of State John Sullivan.
Although Egypt was invited to the opening ceremony, it declined the invitation according to Egypt Today. Haaretz reported that most EU nations will also be skipping the event although countries expected to attend are: Albania, Angola, Austria, Cameroon, Congo, the Democratic Republic of the Congo, Ivory Coast, Czech Republic, Dominican Republic, El Salvador, Ethiopia, Georgia, Guatemala, Honduras, Hungary, Kenya, Macedonia, Burma, Nigeria, Panama, Peru, the Philippines, Romania, Rwanda, Serbia, South Sudan, Thailand, Ukraine, Vietnam, Paraguay, Tanzania and Zambia.
Recently, the Israeli Embassy celebrated the anniversary of Israel at the Nile Ritz Carlton in Tahrir, in Cairo, although the event was met with social media backlash.
Adding further to the controversy, the opening ceremony of the new US embassy coincides with the state of Israel's 70th anniversary, or, close to the commemoration of the Nabka or Catastrophe by the Palestinians on May 15 annually.
Recognizing Israeli sovereignty over Jerusalem has been not finalized even if Israel has occupied East Jerusalem since the 1967 Middle East war. According to the 1993 Israel Palestinian peace accords, the final statue of Jerusalem was still up to negotiation in future peace talks. Accordingly, President Trump's recognition of Jerusalem as Israel's capital broke with decade of US neutrality on the sensitive issue and is categorically rejected by Arab and Muslim countries.
However, for years Israeli built numerous settlements in East Jerusalem illegally although this has been disputed by Israel and overlooked by the US.
Last year, demonstrations sparked across Cairo, Alexandria and other cities and countries protesting against Trump's decision to move the American embassy in Israel to Jerusalem. In Cairo, hundreds of students at Ain Shams University protested the decision raising signs and chanting slogans against the US and Israel. More students demonstrated in University of Zagazig denouncing the decision.
In Alexandria, dozens of protesters gathered at Al-Qaed Ibrahim mosque where they chanted against the decision in support of the rights of the Palestinians.
It is expected that worldwide demonstrations will be held on Monday on the occasion of the opening. Palestinians in Gaza have already clashed with Israel troops and nine Palestinians have been killed so far.
---
Subscribe to our newsletter
---