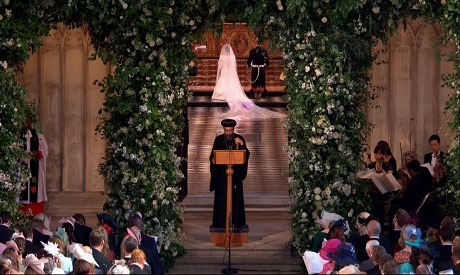 Anba Angaelos, the first Coptic Orthodox Archbishop of London who represents Egypt's Coptic Orthodox Church in the UK, appeared in Windsor to give a prayer at the wedding of Prince Harry and American actress, Meghan Markle.
The Coptic Archbishop, who served as General Bishop of the Coptic Orthodox Church in the UK from 1999, and who received the Order of the British Empire from Queen Elizabeth in 2015 on account of his services to international religious freedom, lead the prayers after the blessing of the marriage. He did so with the Reverend Prebendary Rose Hudson-Wilkin, in what was an inspiring – and highly unusual – royal wedding that also hosted a gospel choir and an arousing, passionate speech from the Most Reverend Michael Curry, Presiding Bishop and Primate of the Episcopal Church of the United States, who had the British royalty and their guests smiling and laughing.
Archbishop Angaelos was born in Egypt and emigrated to Australia as a child. After completing his undergraduate degree in Political Science, Philosophy, and Sociology and postgraduate degree in law, he returned to Egypt in 1990 where he was consecrated a monk at the Monastery of St Bishoy in Wadi-El-Natroun by Pope Shenouda III. Having been delegated to the United Kingdom in 1995, he obtained his current post in November 2017.
---
Subscribe to our newsletter
---