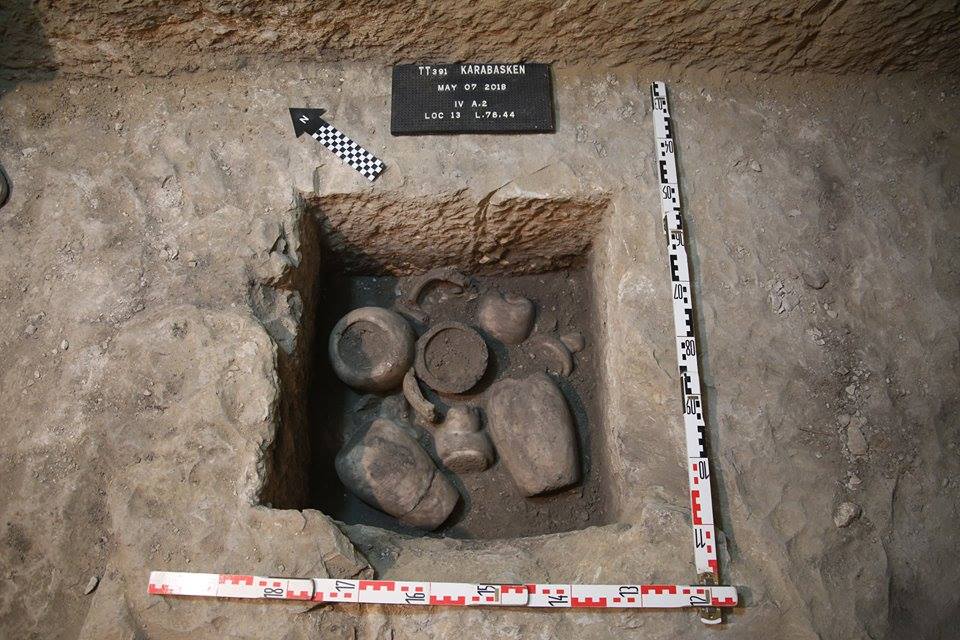 An Egyptian-American mission from the South Asasif conservation project has discovered a well-preserved collection of canopic jars dating to the 26th Dynasty in Karabasken's tomb on the West Bank of Luxor.
Dr. Mostafa Waziri, General Secretary of the Supreme Council of the Ministry of Antiquities, who made the announcement of the discovery, said the canopic jars were found in an almost cube-like cutting in the floor measuring approximately 0.60m by 0.60m and 0.50m deep into the southside wall of the Kushite tomb of Karabaske (TT 391) in the South Asasif Necropolis.
Canopic jars were particularly important in ancient Egypt as they used to store the internal organs of the deceased during the mummification process.
The jars have been affected by the pressure of floodwater and one of them has even broken into several fragments under the pressure. In an effort to preserve the remains, a restoration team performed emergency cleaning and consolidation on the pieces.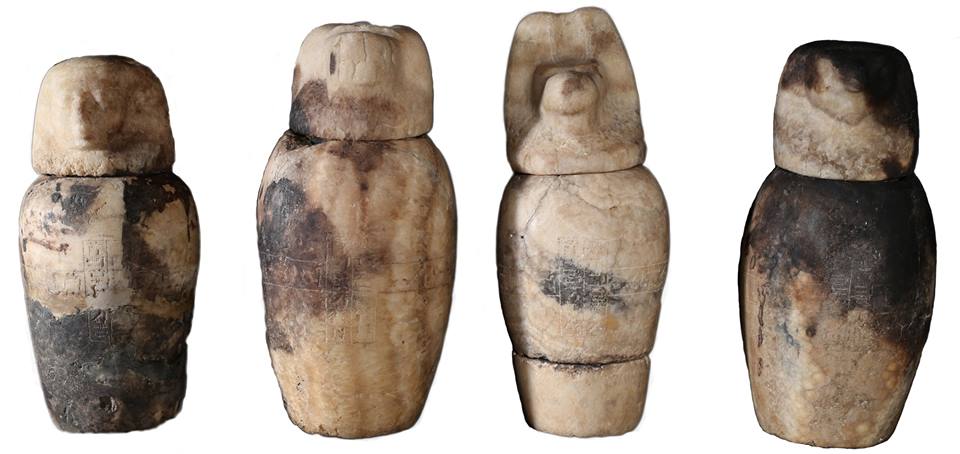 Although the floodwater damaged the contents of the jars, they still contained a large amount of resin. The jars (with lids) which vary from 35.5cm to 39.4cm in size have lids depicting a human, a baboon, a jackal and a falcon which are skillfully carved and modeled by three different artists.
Dr Elena Pischikova, Director of the South Asasif Conservation Project, said that the jars are inscribed to "Lady of the House Amenirdis".
The South Asasif Conservation Project, working under the auspices of the Ministry of Antiquities, was founded in 2006 with the objective of restoring and reconstructing the damaged and partially collapsed Late Period tombs of the South Asasif necropolis: Karabasaken (TT 391), Karakhamun (TT 223) and Irtieru (TT 390).
During the project's 12 years of work, it has found thousands of fragments of the collapsed decoration of the toms and reconstructed the Second Pillared hall and part of the First Pillared hall in the tomb of Karakhamun.
The restored tomb will showcase sophisticated relief carving and painting of the 25th and 26th Dynasties.
This year appears to have been particularly important with regards to archaeological discoveries with roman temple remains unearthed near Siwa as well as the discovery of an old kingdom tomb dating back to the 5th Dynasty.
---
Subscribe to our newsletter
---